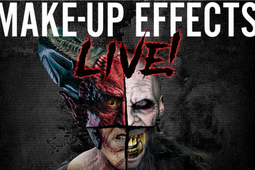 This is a conversation you'll definitely want to be in on.
New documentary PENNYWISE: THE STORY OF IT dives into Derry.
Makeup and hair designer Sarah Rubano discusses all the Killer FX in Ti West's X.
Makeup FX artist Rick Pour walks us through the character covered in callbacks, plus other nods in the new film.
Plus exclusive behind-the-scenes transformation photos!
And for our grande finale, Brett Freedman turns our reigning queen of horror into... ELVIRA, Mistress of the Dark!