The Latest
From
The Fango Free Press
Peele's horrors join The Weeknd, KILLER KLOWNS FROM OUTER SPACE, La Llorona, and more!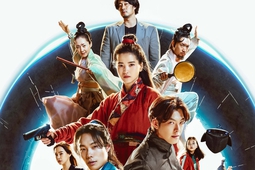 Korean cinema's known hitmaker welcomes you to his newest big-budget, two-parter ride.
It's free, it's awesome, and it's nothin' but King, baby.
Who among us hasn't longed to give Leatherface an assist?
The horror movie that sent tongues a-wagging at Sundance is headed to theaters (and Shudder) next month.
This year's Fantastic Fest will play host to the premiere of BIRDEMIC 3: SEA EAGLE in September.
"Who the f**k is Lottie Matthews?"
The director and lead of Fantasia Film Festival's Lovecraftian nightmare chat about harnessing pandemic angst into their single-location horror, plus dirty details on the monster and the blood.
Part six of our new weekly webcomic!
Piranhas, murder, mystery, mayhem. All in all, typical Wednesday fare.