For as little respect as horror has received over the years in the industry at large, it sure can be depended on to put meat in seats when the chips are down. Case in point, since the pandemic upended the movie industry, horror has been one of the only genres that can consistently deliver the goods like clockwork. Outside of superheroes, it's the most reliable thing Hollywood has going for it. 2022 was, safe to say, no exception in that department, with everything from Barbarian to Halloween Ends delivering week in, week out.
But what movies did the most business at the box office this year? What horror flicks cut through the noise and managed to count themselves among the biggest movies of 2022 overall? From aliens to living vampires and everything in between, here are the highest-grossing horror movies (worldwide) of the year.
5. The Black Phone - $161 million
It always seemed like good things were going to happen when Sinister director Scott Derrickson and writer C. Robert Cargill reunited for their first horror movie in years. The movie in question, The Black Phone, also had the benefit of adapting Joe Hill's source material, meaning a lot of great pieces were on the board. The resulting film was not only a hit with critics but proved to be one heck of a crowd-pleaser. Despite coming out in the heat of a competitive summer moviegoing season, the movie opened to $23 million on its way to $89.8 million domestically and another $71.3 million overseas, making for a $161.2 million global total. Not bad for a movie that only cost $18 million to produce. So…sequel maybe?
4. Morbius - $167 million
The superhero movie boom has been going on long enough now that it has come back around to horror, nearly 25 years after Blade helped make Marvel a viable cinematic brand. Unfortunately, that journey back to horror left much to be desired, as Morbius, a movie centered on the Marvel Comics character known as "the living vampire," was a pretty epic disaster. After suffering years of delays, the Jared Leto-fronted superhero flick topped the box office in its first weekend, and it was all downhill after that. So yeah, it did good business for a horror movie, a genre where the budgets are typically lower and, therefore, expectations are lower. But in the superhero movie realm, $73.8 million domestic and $93.5 million overseas is bad news. Sony will have to rely on Venom 3 to deliver the goods instead, it seems. The big hope here is that this doesn't discourage studios from further big-budget horror-centric superhero flicks.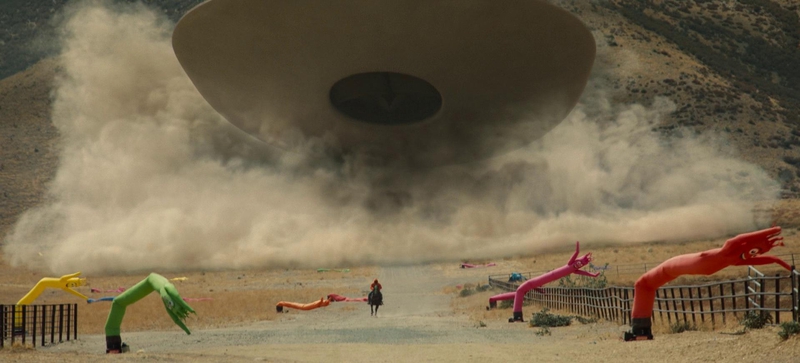 3. NOPE - $171 million
Jordan Peele, in relatively short order, became one of the most cherished genre filmmakers working today. Between his breakout debut, Get Out, and his follow-up Us, horror fans were prepared to follow him just about anywhere. Case in point, even in a far more uncertain post-pandemic marketplace, Peele's ambitious alien movie (that was secretly kind of a giant monster movie) NOPE ended up delivering the goods. The movie earned $123.2 million domestically and $47.9 million overseas for a very solid $171.2 million global total. The only problem for Universal Pictures is that the movie cost $68 million to produce, before marketing, far more than his previous two efforts. As such, it probably didn't actually turn a profit in its theatrical release, but it should get into the green between VOD, Blu-ray sales, and other revenue streams. Though I would bet every dollar I have Universal will still be happy to bring us whatever Peele cooks up next.
2. Smile - $216 million
If we were awarding a prize for the most surprising success story at the box office in 2022, it would probably go to Smile. Director Parker Finn's original horror flick turned out to be an absolutely gigantic hit for Paramount Pictures, released at the very end of September, just in time for the Halloween season. With a not-at-all-huge $17 million budget, this was originally supposed to go directly to Paramount+. However, the studio was smart as hell and realized what they had. So, they decided to pivot to a theatrical release and were rewarded handsomely. With $105.9 million domestic and $110.2 million internationally, this was a global hit to the tune of $216.1 million. Safe to say, Paramount will make a killing on this one, and Finn has secured himself a promising career. An original horror movie from a first-time feature director ended up earning more than Peele's latest, Derrickson's latest, and a Marvel movie. That's impressive.
Jurassic World Dominion - $1 billion
Granted, Jurassic World Dominion is not as much of a "horror" movie as the rest of the entries on this list, but Jurassic has featured heavily in the pages of Fango over the years, and this latest entry even made the cover. Ostensibly, it's a global-scale creature feature with a PG-13 sensibility. And that was good enough to make it one of only three movies to pass the $1 billion mark in 2022. That includes $376 million from domestic audiences and $625.1 million overseas. Even if it didn't quite match the first Jurassic World or Fallen Kingdom, Universal's latest dino-filled romp, directed by Colin Trevorrow, brought out audiences in droves all around the world. The promise of seeing dinosaurs out in the real world in and amongst humans was too tantalizing to pass up for many, many moviegoers and, as such, we're left with the third highest-grossing movie of the year overall, behind only Avatar: The Way of Water ($1.1 billion and counting) and Top Gun: Maverick ($1.48 billion). Not too bad for the sixth entry in a nearly 30-year-old franchise.
Topics: