All week long, I've been annoying this website's editor Angel Melanson and Fango's creative director Jason Kauzlarich with one question: "When are we going to the gas station from The Texas Chain Saw Massacre?" I've been before; I wrote about the locale and its owner Roy Rose in FANGORIA #3, but I wanted these two to experience it and, selfishly, I wanted to experience them experiencing it. And I know how it goes at Fantastic Fest; you kick a nebulous plan down the road long enough, and before you know it you're all boarding your flights home, having never gotten to do that thing y'all said you were gonna do. So I was getting antsy.
Thankfully, day five is when it happened. The Gas Station is closed on Monday, but checking out the iconic exterior was better than nothing, so we hit the road with friend of Fango Dorina Arellano and trekked to the spot. As I mentioned in my article two years ago, part of the fun of this trip is watching the sprawl of stores, strip malls and housing developments fall away until the terrain of Tobe Hooper's 1974 classic slowly reveals itself to you. Traveling down Rt 304 feels a bit like time travel until, bit by bit, you're there.
We also lucked out, as Rose's wife Lisa was there to let some contractors in. So even though it was closed, we were kindly given a private tour of the restored gas station, as well as the event and lodging space (sleeping cabins!) Rose has installed behind the locale. One day I will spend the night here. In the meantime, photo ops were seized.
We were racing against the clock to get back to the fest for our next screening, but we made it just in time to see Jim Cummings and PJ McCabe introduce their new film The Beta Test. I was already in the bag for whatever Mr. Cummings did after The Wolf of Snow Hollow, so I went in cold, without reading so much as a plot synopsis. In short, I was blown away as Cummings takes his particular brand of funny, awkward, uncomfortable authenticity and maps it to the kind of erotic thriller Adrian Lyne used to make. The effect is singular, yet wholly of a piece with his growing CV.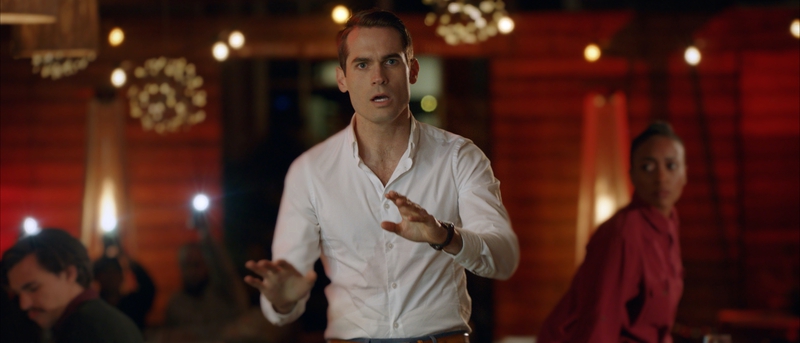 The film's premise finds Cumming as a douchebag Hollywood agent who receives a mysterious letter offering him a no-strings-attached sexual encounter in a hotel room with someone who, somehow, is a perfect sexual match for him. Six weeks out from his wedding, he goes through with it, and the rest of the film is a hilarious nightmare as he tries to uncover who sent him the letter, who was in that hotel room with him, and why he was targeted. The film is a riot while going into some extremely dark yet truthful places. And I don't know if watching Jim Cummings yell at various service industry workers will ever stop being funny, but so far it's still a delight.
The next movie had me a little worried going in, not gonna lie. Someone remade Slumber Party Massacre for SyFy? Why? How? What is that gonna look like? Is it even possible to recreate or reinvent what makes that movie special? The short answer is yes, and the less short answer is that the film works not just as a meta remake but as a kind of bespoke parody of the original. Specific shots are faithfully recreated; there are easter eggs for fans of the original franchise; even the performance of Russ Thorn, the Driller Killer, is reverent of Michael Villella's work in the original, which strikes me as no small feat. Elsewhere it veers wildly from the original, but in ways Amy Holden Jones' 1982 film might've wished it could. If Rita Mae Brown's script for the original was meant to, as has been reported, be a piss-take of slasher films, this year's model is a promise kept.
But more importantly, this film is directed at fans of the original who love the original in a very specific way. It's hard to be specific without spoiling, but suffice it to say there's a very particular type of Slumber Party Massacre fan out there who's going to come away feeling like screenwriter Suzanne Keilly and director Danishka Esterhazy made this film for that person's birthday. It's exactly the kind of knowing, hilarious, flirting-with-ridiculous reboot this franchise and its fans deserved. Gory as hell too. Don't miss it.
Next: A secret screening.