Alamo Drafthouse and Fantastic Fest are getting us hyped for SAW X by reminding us how it all began.
The gritty witch horror will play Fantastic Fest later this month.
SMILE premieres at Fantastic Fest 2022
Embracing and reconnecting with the animal within.
Of hellbenders, Kingcasts and blasphemous nuns.
We took a field trip and saw two great films!
Watch the surprise video introduction from Fantastic Fest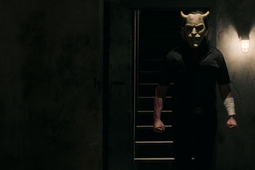 Festival goers were treated to an early look at THE BLACK PHONE, a front-runner for 2022's best horror film.
Eating disorder horror, an abuela with a shotgun, and Edgar Wright too!
Hitting the ground (eventually) in Austin, our EIC reports on his findings at this year's essential genre fest.
Exclusive statement from director Johannes Grenzfurthner on crafting this eldritch terror and excitement for the film's Fantastic Fest premiere.