Last month we brought you the second-wave lineup for the Fantasia International Film Festival's 27th edition. Highlights from that second-wave announcement included Pascal Plante's Red Rooms kicking things off, Nicolas Cage asking for a little Sympathy For The Devil, and the Phillipou Brothers' Talk To Me making its Canadian premiere. You've heard us talking that last one up plenty in recent months, for good reason.
First-wave highlights included Theresa Sutherland's Lovely Dark And Deep with Barbarian's Georgina Campbell, a new Larry Fessenden werewolf movie, and a new feature from our favorite creepy filmmaking family, the single "d" Adams Family premiering Where The Devil Roams. In this final wave announcement, we are very excited to learn the festival will be honoring Nicolas Cage with this year's Cheval Noir Career Achievement Award.
Other program highlights include the festival's closing film, We Are Zombies, from "internationally beloved Quebecois cult collective RKSS" known to us as the masterminds behind Summer of '84, Vinegar Syndrome's debut production Eight Eyes, restorations of four extraordinary dark fantasy films from Slovak filmmaker Juraj Herz, and Fango Fam Michael Gingold holding an in-person conversation with one Mr. Charles Band. Check out some more highlights from the festival's final-wave press release below, and visit their official site for the full lineup and tickets.
---
EMBRACE THE MONSTER WITHIN WITH THE ROARING TIGER STRIPES
The first amongst her group of friends to hit puberty, 12-year-old Zaffan (Zafreen Zairizal) feels her body changing. In the small rural village in Malaysia where her life is structured around the rules of school and Muslim faith, this could become a problem…a monstrous problem. The first Malaysian film to win the Grand Prize at Cannes' La Semaine de la Critique, Amanda Nell Eu's TIGER STRIPES is a delightful addition to the canon of feminist, horror-tinged coming-of-age films: a striking debut that showcases an infectiously rebellious filmmaking spirit and aDIY energy that comes once in a blue moon. Cheval Noir Competition. North American Premiere.
A GRIPPING, CHARACTER-DRIVEN THRILLER THAT PACKS HEARTSTOPPING SURPRISE: NEW LIFE
A mysterious woman (Hayley Erin) is on the run, a fixer (Sonya Walger) is assigned to bring her in, and the stakes of the pursuit rise to apocalyptic proportions. Writer/director John Rosman's NEW LIFE is a thriller that doubles as an unexpected emotional powerhouse, with its dimensioned, atypical duo both struggling to learn the what and why of their circumstances. NEW LIFE keeps the viewer on edge as its many layers begin to unravel, conjuring considerable tension in unpredictable ways. From the producers of SOMETHING IN THE DIRT and THE MORTUARY COLLECTION. World Premiere.
A TENSE REVENGE THRILLER RE-INTERPRETATION: FEMME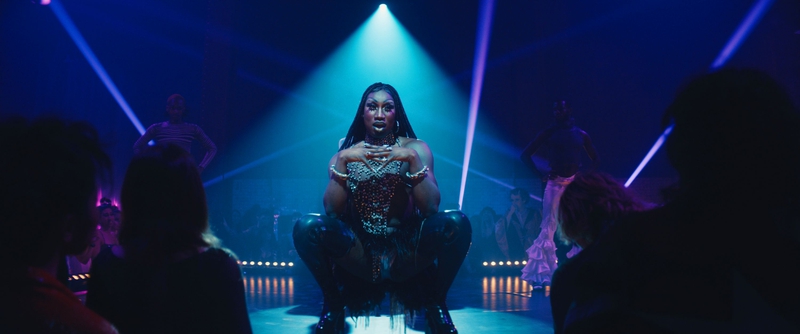 Performing as Aphrodite Banks, Jules (Nathan Stewart-Jarrett, CANDYMAN) has become one of London's most celebrated drag artists. After a show, he steps out to get some cigarettes when he is brutally attacked by a gang of racist homophobes. Jules withdraws from the drag race entirely, traumatised and despondent. Months later, while at a gay sauna, he recognizes a familiar face: his attacker Preston (George MacKay, 1917), whom he starts dating, hatching a plan for revenge. Sam H. Freeman and Ng Choon Ping's debut FEMME is a jaw-dropping thriller built around the notion of code-switching along sexual orientation, but also racial and ideological lines. A perfectly calibrated queer thriller, it subverts the tired trauma narrative and instead focuses on drag as a powerful force. Cheval Noir Competition. North American Premiere.
FICKLE FRIENDSHIP AND CLAY CREATIONS: FANTASTIC GOLEM AFFAIRS
Rudderless bachelor Juan (Brays Efe, PAQUITA SALAS) and his best friend David play charades on the rooftop. When David falls to his death, his body disintegrates into a thousand clay pieces.He was…a golem all along? Juan González and Nando Martínez's latest collaboration is an unpredictable sci-fi comedy that feels part telenovela, part sketch comedy – all subverted by original offbeat humor and wacky world-building. Shot on 16mm and co-starring Spanish superstars Luis Tosar (MIAMI VICE) and Javier Botet ([REC]), THE FANTASTIC GOLEM AFFAIRS is a colorful creation dismantling the façades of everyday life. Camera Lucida Section. North American Premiere.
A HALLUCINATORY VISION OF HELL: PANDEMONIUM
Winner of Fantasia's 2016 Jury Prize for Best International Short for A NEARLY PERFECT BLUE SKY, celebrated writer/director Quarxx returns to the festival with the stunning new feature PANDEMONIUM. Drawing on themes found in Dante's Inferno and Milton's Paradise Lost, the film is a multi-textured existential fantasy topped with signature notes of visceral horror, disturbing fairy tale, wry comedy, and thrills. Exploring the many faces of death — suicide, murder, illness, accident — Quarxx dives deep into the notion of sin without redemption and the frailty of the human condition through the waking nightmare of one confused traveler (Hugo Dillon) who refuses to abandon all hope as he enters the gates of hell. North American Premiere.
VINEGAR SYNDROME'S DEBUT PRODUCTION MELTS RETINAS WITH EIGHT EYES
At the breaking point of their dysfunctional marriage, Cass (Emily Sweet) and Gav (Brad Thomas) take a trip through Serbia. After meeting a mysterious local, Saint Peter, who eagerly offers to be their guide, the couple embark on an impromptu sightseeing expedition that soon takes a series of sinister turns. The inaugural production from beloved restoration label Vinegar Syndrome, shot on location in 16mm  with mind-bending cinematography, EIGHT EYES shocks hard. Director / co-writer Austin Jennings' feature debut channels the spirits of exploitation cinema's past to construct a film that is as ghoulish as it is captivating. Featuring an original score by Morricone Youth. World Premiere.
The call is coming from inside the house in HOME INVASION
"Made in bed during the pandemic" by playful experimentalist Graeme Arnfield, HOME INVASION is one of the most chilling cinematic experiences of the year. A nightmarish essay film doubling as an experiential horror film framed through an oppressive peephole, this genre-defying documentary takes the viewer from the invention of the doorbell to the arrival of Amazon's ghoulish Ring, showing how this history intertwines with film technology, horror cinema and labour struggles. Composed from a mix of archival patent illustrations, domestic security footage and classic film clips from Hitchcock to Haneke, HOME INVASION asks what happens when our homes and dreams have been invaded. Official Selection: Berlinale 2023. Camera Lucida Section. North American Premiere.
BIRTH/REBIRTH (USA) – Dir. Laura Moss
A single mother (Judy Reyes) and a childless morgue technician (Marin Ireland) are bound together by their relationship with a little girl they have reanimated from the dead. A brilliant, provocative film that reimagines Mary Shelley's Frankenstein with such a contemporary understanding that it becomes something new and singular. Official Selection: Sundance 2023. Camera Lucida Section. Quebec Premiere.
HUNDREDS OF BEAVERS (USA) – Dir. Mike Cheslik
A zany and anarchic homage to the silent film era pits a drunken applejack salesman against hundreds of beavers. An endlessly inventive freakout from the makers of the 2019 Fantasia audience award-winning LAKE MICHIGAN MONSTER. Comparisons range from Tex Avery to William Castle, as the film's relentless pace captures a style of filmmaking mostly lost in our modern era. Winner of a slew of awards on the festival circuit. Underground Section. Canadian Premiere. 
IT LIVES INSIDE (USA) – Dir. Bishal Dutta
An Indian-American teenager (Megan Suri) struggling with her cultural identity unwittingly releases a demonic entity that grows stronger by feeding on her loneliness. A frightening meshing of the tensions of the immigrant experience with ferocious supernatural horror, finely crafted and exceptionally well-performed, with fresh concepts taking the film into severe nightmare territory. Winner of SXSW's Midnighters award. Quebec Premiere.
RAGING GRACE (UK) – Dir. Paris Zarcilla
An undocumented Filipina caregiver (Max Eigenmann) desperate to provide for herself and her daughter Grace (Jaeden Paige Boadilla), discovers a dark secret hidden by her wealthy employer (David Hayman). A gripping film that compassionately addresses real-life horrors, billed as a "coming of rage" thriller. Winner of a 2023 SXSW Grand Jury Award. Canadian Premiere.
A CHINESE GHOST STORY (Hong Kong, 1997) – Dir: Ching Siu-Tung
The ultimate cult classic from producer Tsui Hark and award-winning action director Ching Siu-Tung (SHAOLIN SOCCER), A CHINESE GHOST STORY rejuvenated the swordplay fantasy genre with fresh excitement and an over-the-top style, spawning two sequels and countless imitations. Think EVIL DEAD meets wuxia with humour, a tragic love story, a rap song, eye-popping effects, kinky undertones and exhilarating action. Archival 35mm print.
ARTIST TALK: CHARLES BAND
In celebration of THE PRIMEVALS' world premiere at the festival after decades in completion, Fantasia will be presenting a special artist talk with American independent producer and director Charles Band. With 50 years in the business and over 300 feature films under his belt, Band has done it all, from forming the first independent home-video distribution company in North America in 1978 (MEDA – later MEDIA HOME ENTERTAINMENT), creating Atari 2600 game versions of horror classics, founding Empire Pictures, which produced as many as 12 theatrical features a year, among them some of the biggest cult hits of the '80s, including GHOULIES, TROLL and perhaps most significantly, Stuart Gordon's RE-ANIMATOR, FROM BEYOND and ROBOT JOX. He pioneered the independent direct-to-video feature with the formation of Full Moon Entertainment and with it, the creation of PUPPET MASTER, which has gone on to become the most successful direct-to-video film series of all time. He continues to make films under its banner to this day. Moderated by writer and journalist Michael Gingold.
PANEL DISCUSSION: BIPOC FUTURES IN CANADIAN GENRE FILM
Representation of BIPOC filmmakers in Canadian genre film is growing, with films like BLOOD QUANTUM by the late Jeff Barnaby, NIGHT RAIDERS by Danis Goulet, and NO GHOSTS AT THE MORGUE by Quebec-based Marilyn Cooke plus many others, but what steps did they take to bring their projects to reality? Join us for a co-presentation by BIPOC TV & FILM and Fantasia, where you'll hear from French and English BIPOC panellists discussing the landscape of Canadian genre filmmaking for BIPOC creators and how they're changing the narrative one film at a time.—Moderated by Reda Lahmouid, Lead Coordinator for HireBIPOC/EmbauchezDiversité at BIPOC TV & FILM, and Carolyn Mauricette, Director of Fantasia's Canadian section, Septentrion Shadows.
TERROR IN THE AILIEN REALMS: TRANSDIMENSIONAL HORROR MOVIE POSTERS & THEIR FILM REVIEWS – BOOK LAUNCH EVENT
Driven by a profound nostalgia for roaming video rental stores and being captivated by VHS box artwork, filmmaker and sculptor Pat Tremblay created a series of horror movie posters with the assistance of AI, then invited an array of genre talents to write imaginary reviews for them. The result is Terror in The Ailien Realms: Transdimensional Horror Movies Posters & Their Film Reviews, featuring reviews by Stephen R. Bissette, Vincenzo Natali, Jennifer Reeder, Jay Baruchel, Karim Hussain, Joel Potrykus, Buddy Giovinazzo, Rodney Ascher, Ted Geoghegan, Alan Jones, Gigi Saul Guerrero, Simon Rumley, Tim Lucas, Jörg Buttgereit, Dennison Ramalho, Miguel Llanso, Steve De Jarnatt, Mike Mendez, and many more. A number of contributors will be attending this book launch event including Justin Benson, Aaron Moorhead, George Mihalka, Elza Kephart, Dave Alexander, Gary Sherman, Eric Falardeau, Lee Paula Springer, Chris Bavota, David Lawson, and Michael Gingold. Some will live-read their reviews.