As we say goodbye to 2021, we asked a few Fango friends a simple question: "What was your favorite horror thing of the year?" In a year filled with so much great horror, we suppose, in the words of one Holly Golightly, "this is kind of a ratty question." But such is the nature of a best-of list.
We told these folks that their favorite thing could be anything — a movie, a show, a scene, a score, a poster, a moment...whatever brought them great joy within the genre this year. What I did not expect was the great joy that would come to me, reading these responses. The below contributors have brought joy to many of us in various ways in the last twelve months (and beyond), so what brought joy to these joy makers? Read on to find out. Stephen Graham Jones, BJ Colangelo, Josh Ruben, Mishna Wolff, Sean Abley, Jill Gevargizian, Heather Wixson, Tananarive Due, Richard Newby, Scott Wampler, and Eric Vespe share with us their favorite horror things of 2021.
Stephen Graham Jones (Author, My Heart Is A Chainsaw) - Fear Street 1994
My favorite horror moment from 2021 is the first seven minutes of Fear Street 1994, where Leigh Janiek is wearing a mask herself: "Wes Craven." This is the best homage to him and Scream I've seen, from the way the phone sounds when it rings to how the playback slows down just a smidge for this next Father Death to chase this almost-Casey Becker with a knife—she even pulls his mask off just the same! And Nine Inch Nails is thumping, all the blacklight merchandise is glowing its evil glow . . . I think I may have accidentally left my heart in that after-hours mall, just outside B. Dalton's, running towards the food court. As did a few other people in the scene.
i'm the greatest gift of all. happy holidays ya jerks

— Chucky (@ChuckyIsReal) December 25, 2021
BJ Colangelo (Fango contributor) - The Chucky TV Twitter Account @ChuckyIsReal

If some random stranger on the internet called me a "dickhead," I'd swiftly block them and curse their name under my breath, but if @ChuckyIsReal calls me a "dickhead," my entire day would improve tenfold. I absolutely loved the new Chucky series from USA and Syfy, but the show's @ChuckyIsReal account made Twitter, typically a cesspool of harassment and clown-ass bad takes, a genuinely enjoyable place to be. I'd scroll through posts of people losing family members to COVID, our idiot governments continuing to fumble the handling of the pandemic, non-stop discourse without any sort of progress actually being made, and start to lose hope that there was any good left in the world…but then Chucky would tell actor Devon Sawa to "watch his fuckin' back" and suddenly all was right in the world. Chucky is a certified slasher icon and one of the only ones with a fully fleshed-out personality. His twisted sense of humor is why we love him so much, and I guarantee whoever is behind the Chucky account isn't getting paid nearly enough for perfectly capturing the essence of horror's favorite serial-killer-possessed doll.
Josh Ruben (Director,Werewolves Within) - The Night House
Bless me, kids, for I've got too many favorite horror things from 2021. From late-to-the-game discoveries like author Caitlin R. Kiernan and her blood-freezing short story "In The Water Works (Birmingham, Alabama 1888)" to Midnight Mass and indie artists Readful Things and Bri Tippetts on Instagram. But the winner-take all-er for me is David Bruckner's The Night House. Written by Luke Piotrowski and Ben Collins, I can't get this ghosty thriller out of my head. It's intimate, sensually photographed, and creeped me out a cosmic level. All hail Rebecca Hall.
Mishna Wolff (Writer, Werewolves Within) - Starro Spores, The Suicide Squad
This year was an incredible year for women in horror. Titane, Saint Maud, Censor, and Madres were standouts for me, and I loved them to death. But if I had to put my finger on a singular moment that made me fist pump, it was not actually from a horror movie, though it was a horror moment courtesy of a horror veteran. That moment was when Starro, the alien starfish in The Suicide Quad, breaks free of his fortress and begins unleashing his/her spawn on the unwitting soldiers below. There's a great shot when the general, played by the brilliant Joaquín Cosío, realizes the futility of trying to fight this creature. And James Gunn spends twenty seconds on Cosío's face as he drops his weapon, takes off his hat, and mutters to himself, near tears, in total existential surrender. Then, WHAP, he's hit in the face by one of Starro's spores, dropping like the rest of his men.
The Squad looks somberly at the bodies of the lost soldiers, when suddenly, the soldiers all rise, new appendages of the wonderful alien creature. It's pure art. It really brought me back to all the camp and joy of the Troma creature features Gunn started out in, and that I watched on DVD's procured at places like Kim's Video in New York. Another signature of the creature feature genre is a titillating bit of "exploitation." Usually, a beautiful woman who really understands the creature, and this was delivered with a more modern, empowered spin by Harley Quinn but still reminded me of the heroines of Toxic Avenger, Nuke em' High and of course Gunn's own Tromeo and Juliet.
Sean Abley (Fango contributor) - Yours Cruelly, Elvira
I'm a book collector, so one of my favorite things was seeing authors celebrating their horror reference books being published. Heather Wixson's Monsters, Makeup & Effects: Conversations with Cinema's Greatest Artists; Preston Fassel's Landis: The Story of a Real Man on 42nd Street; Clark Collis's You've Got Red On You: How Shaun of the Dead Was Brought to Life; and Nat Brehmer's Puppet Master Complete: A Franchise History all were added to my very crowded shelves this year!

But my favorite favorite thing was the one-two stab of Cassandra Peterson's book in general (Yours Cruelly, Elvira: Memoirs of the Mistress of the Dark), and specifically her coming out as having been in a relationship with a woman for almost two decades. Is there a horror character more beloved than Elvira? Watching the effect of Cassandra revealing her true self sweeping across social media was the moment of collective joy I really needed in 2021.
Heather Wixson (Fango contributor) - The Jail Scene, Malignant
In a year where horror fans have been spoiled by a whole lot of awesomeness, it was really hard to pinpoint my one favorite horror thing from 2021. But after a lot of deliberation and tears (okay, so maybe I'm being a bit melodramatic), I finally settled on the jail cell scene from Malignant as being the one moment from this year that continues to live inside of my head rent-free even after a few months. It's a sequence that I think turned the corner for me personally where Malignant went from "pretty darn good" to "holy shit, this is amazing," and Gabriel's subsequent battle through the police station afterward only amplified the balls out lunacy that James Wan unleashed in his latest feature. For a brief moment, I contemplated being selfish and saying the release of my latest book was my favorite horror thing of 2021, but even I can't compete with the mind-bending cinematic insanity of Gabriel taking down an entire jail cell filled with total badass women (including the legendary Zoë Bell), so I'm very humbly taking the L here.



Jill Gevargizian (Director, The Stylist) - Titane
My favorite horrific thing of the year was the movie Titane. I could not have been anticipating it more or have higher expectations, and it still blew me the fuck away. I had the immense pleasure of attending the U.S. premiere of the film at Fantastic Fest, where writer/director Julia Ducournau was also in attendance. I screamed like I was at an Elvis concert in the 1950s when they announced that she was there. I have never been so inspired listening to a filmmaker speak. She is so direct, blunt, confident, and smart. The rest of us could only dream to aspire to be creating art on such a deeply emotional and intelligent level.
The final question of the evening came from the audience, "How did you cast the car?" The audience erupted in laughter, myself included. I was gobsmacked by her answer. It was so in-depth, so meaningful, and filled with so much intention. She talked about the flames on the car being the first instance of metal and fire intertwining, which is an overarching idea throughout the entire film, and connecting that even deeper to Greek mythology, Gaia (the earth) and Uranus (the sky), the birth of the Titans/the birth of humanity (get it? TITANE!), and — I think we collectively had to pick our jaws up off the ground when it was over.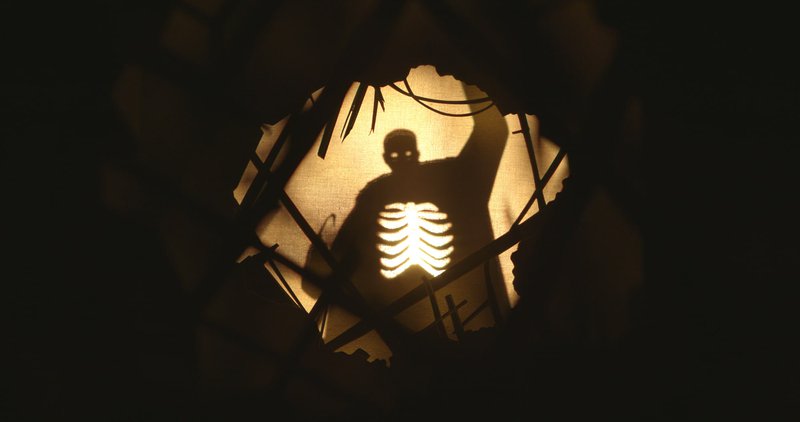 Tananarive Due (Producer, Horror Noire: A History of Black Horror) - Horror Noire + Candyman
It's always difficult for me to pick a "favorite" anything, but 2021 was an important year for Black Horror--and not just because of Shudder's anthology film Horror Noire, a follow-up to the groundbreaking 2019 documentary Horror Noire: A History of Black Horror. I co-wrote two of the segments ("The Lake" and "Fugue State") with my husband/collaborator Steven Barnes--a dream come true on so many levels! And icons Tony Todd and Rachel True were in one of our segments! It was a true watershed for Black Horror because it included stories from so many creators with different storytelling visions, ranging from racism-as-the-monster to horror-comedy. To me, Horror Noire answers the question "What is Black Horror?" with a simple answer: It's not one thing. It's every kind of story Black creators can imagine.
But beyond that, I was most excited about the release of Nia DaCosta's Candyman (Universal/Monkeypaw), delayed from the summer of 2020 -- the perfect back-to-the-movies moment for so many of us who had been anticipating this sequel and update to Bernard Rose's original in 1992. The new Candyman exceeded my expectations in its preservation of so much that was scary about the original film but told through a Black lens in a fresh and empowering way. Like all Monkeypaw films (including Get Out and Us by Jordan Peele), Candyman was social horror that didn't wallow in violence against Black characters, relying on fantasy horror for its scares. It's also worthy of a college course of its own, and I was thrilled to take part in a social impact campaign you can see here to learn more about the richness of this film.
Scott Wampler (Host, The Kingcast) - The Empty Man
Confession: when The Empty Man first crossed my radar (almost certainly in the form of a breathless recommendation on Twitter, which would soon be flooded with them), my first reaction was to be annoyed with the title. "The Empty Man?" For real? The name called to mind a number of horror genre disasters from years past, bland misfires with D-grade actors and janky looking villains. I decided to just catch up with David Prior's film somewhere down the road.
But then people kept talking about The Empty Man, particularly some of my associates in the horror community, and that talk sometimes bordered on a swooning sort of mania: people loved this fucking movie, in a way that almost felt like they'd been infected by it. It wasn't long before I moved The Empty Man to the top of my queue, and, well … I ended up watching the bad boy three times in the space of maybe 36 hours. I, too, had been infected with its sinister power.
Prior's film is a grim, methodically-paced, lovingly Lovecraftian mind-fuck. It subverts your expectations every step of the way (from its surprisingly elaborate opening set-piece to its staggeringly dark third act), never once tries to hold your hand, and taps into the one Lovecraftian element that has eluded so many other horror filmmakers over the years: no-shit cosmic horror. Oh, and it does all that while delivering a compelling mystery, a very sharp script, and a parade of impressive performances from its very game cast members (#StephenRootHiveActivate). The Empty Man remains the greatest horror surprise I experienced in 2021, and I will not rest until all of you have seen it, too. Join us.
Eric Vespe (Host, The Kingcast) - The bread slicer, Fear Street 1994
It takes a lot for a horror movie to surprise me anymore. I've watched everything from the cheesiest DTV horror sequels to drive-in cult classics to weird-ass foreign horror and masterpieces of the genre, so when I say a moment legitimately shocked me in a horror movie this year, believe me when I say that's no small feat. It's even crazier when I say that moment arrived in the last act of Fear Street 1994.
On the whole, the movie's fine, but there was one moment in particular that totally threw me for a loop, and that's when one of the young leads gets sent head first through a bread slicer. That moment is so gory and unexpected in what up to that point had been a fun, if fairly safe, YA-style horror film. Not only was it an unexpected character death, but it was gleefully grotesque, the camera lingering on the pulpy carnage and the editor refusing to cut away. It was a dick slammed on the table moment that completely caught me by surprise.
While I wouldn't classify Fear Street 1994 as the best horror movie I saw this year, that moment wins the prize for standout scene for me.
Richard Newby (Fango contributor) - Mike Flanagan's Midnight Mass Monologues
Anyone with even a passing familiarity with his work knows that Mike Flanagan loves a good monologue. In an age where so much of what studios and streaming services refer to as "content" is predicated on quick pacing and fast dialogue, Mike Flanagan's writing style feels like it's breaking the rules of modern television. Flanagan refers to his actors as a "company," a factor that I love, but it also speaks to the element of theater that comes with a monologue. And while the idea of watching a person talk for five minutes on screen may not seem interesting in theory, Flanagan and his company make it so, through consistent performances and empathetic framing shots. Midnight Mass provides the audience with the time to sit with these characters, and to know them empirically. Just when we think we've identified a certain character as a "type," Flanagan peels back the layers, often through monologue, revealing them to be much more than whatever trope we may have immediately identified them as.
Take Riley (Zach Gilford), for example, our tortured hero who we imagine will find something to live for and re-emerge, faithful to save the day ala Stephen King's Ben Mears of 'Salem's Lot. What we get instead, as revealed through his AA sessions with Father Paul (Hamish Linklater), monologues built around faith, addiction, and hypocrisy, is someone who struggles to make peace with himself, who knows that he is not the one to stop the inevitable on Crockett Island. Riley is a torchbearer, but not the one who will wield it in the end, and so he passes it off. And as much as that decision may hurt viewers who have grown to love the character, they line up with everything that was revealed through those monologues. There is a rhythm to these soul-bearing discussions, ones that feel natural and spontaneous in the moment – prayers that stand in contrast to the call and response in Sunday Mass services that are so central to the show's perspective on faith. While it may seem odd that it's these monologues that made me most excited about the genre in 2021, I think there's much to be said about how horror becomes all the more palpable once you feel like you truly got to know a character and heard them bare their soul. Because once that's exposed, you can't help but fear for their fate, and that is the beauty of Mike Flanagan's horror.
Angel Melanson (Fango Digital Editor) - FANGORIA
And as for me? I'll answer my own ratty question with perhaps a rather ratty response. This. Maybe that's cheating, but being asked to come on board FANGORIA full-time to run this website that allows me to celebrate all the joys of the genre, the creators, and the creations is my most joyous horror moment of the year.
That singular moment has led to so many other joyous encounters, so I have to stop and give thanks for that particular one. And to all of you. Thank you to everyone who allows me to share their words here, thank you to everyone who reads the words here, and thank you to the incredible Fango team. I can't wait to celebrate some more horror creations with all of you in 2022. Happy New Year.
Topics: