One of the most frightening things about scary films is when they seem like they could really happen. What films give you an extra chill because you could see a similar scenario play out in real life? Here are some movies that people fear might come true.
Contagion (2011)
Steven Soderbergh's film "Contagion" was originally thought of as a thriller that people didn't really think was realistic. Cut to 2020, and suddenly, the film became more of a prophetic and realistic horror film. As you watch Matt Damon, Kate Winslet, Laurence Fishburn, Marion Cotillard, and many others struggle to contain an epidemic disease or just try to survive, it's gotten so much more real. It's already happened and could always happen again. We didn't win.
The Terminator (1984)
"The Terminator" lays out a future that does not seem fun at all. Not only is the future a nuclear apocalypse, where human beings are hunted by cyborgs in the rubble of human civilization, but there's also a constant time loop due to time-traveling robots. Even if you think you've fixed the future, maybe you haven't. No wonder Linda Hamilton's Sarah Connor forever seems haunted and on the edge of sanity. James Cameron's films posit a future where the war will never end.
Glorious (2022)
This one came slightly out of the left field but stay with me. "Glorious" is a Lovecraftian horror set in a park bathroom with a most curious glory hole. Directed by Rebekah McKendry and starring Ryan Kwanten and J.K Simmons, this film, like many films made from the works of H.P. Lovecraft, have that sense of "what if." None of them are that far-fetched and seem like they could be plausible under the right circumstances, and the story adds the very believable aspect of all too human evil.
The Purge (2013)
Given some recent events, this is another horrific future that doesn't seem that far-fetched anymore. "The Purge" was written and directed by James DeMonaco and stars Ethan Hawke and Lena Headley. The series has continued and spawned a franchise. Possibly the most disturbing thing about the film is that thought where maybe we feel that the idea isn't wrong and that this kind of state-sanctioned violence will be in our future again as it is in our past.
The Hills Have Eyes (1977)
This Wes Craven film is not the story of an apocalypse, but the idea of driving down the wrong road and meeting the wrong people is very believable. It stars Dee Wallace and Michael Berryman. It's not a nuclear fire or zombies overrunning the world. It's something that could really happen without ending the world all too easily.
The Platform (2019)
At this point in history, do you believe the government of a nation would experiment to see if people will work together or destroy each other out of selfishness? I think many more people would believe it now than they might have believed it before. "The Platform" was directed by Galder Gaztelu-Urrutia and stars Ivan Massagué and Alexandra Masangkay and is made all the more unsettling judging by how people fought over toilet paper and canned goods in 2020.
Threads (1984)
This British television movie directed by Mick Jackson is possibly one of the most depressing depictions of nuclear war, mainly because the people in it are so ordinary. People believe it could happen and fear it might because it seems so realistic.
The Quiet Earth (1985)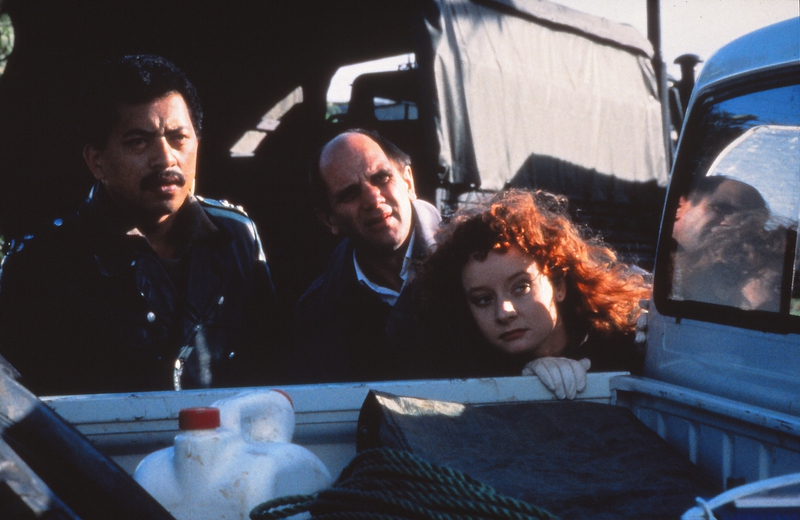 "The Quiet Earth" is a film where a governmental scientific experiment goes terribly wrong, and everyone except the hero disappears. Being alone, entirely alone, on an echoing planet is utterly terrifying. We all know that the governments of the world and corporations are probably conducting experiments nearly every day. This is entirely believable that something like Project Flashlight could be in development. Directed by Geoff Murphy, the movie stars Bruno Lawrence, Alison Routledge, and Peter Smith.
Night Of The Comet (1984)
Speaking of disappearances, what if on one of those nights when everyone is talking about watching an event in the skies, suddenly, the following day, everyone is gone? "Night Of The Comet" is that nightmare that is credible. It posits that the last return of the comet is when the dinosaurs disappeared. It stars Catherine Mary Stewart and Kelli Maroney, zombies, and a very red sky, directed by Thom Eberhardt. Fun fact: Eberhardt also directed Captain Ron.
Lifeforce (1985)
Tobe Hooper directed "Lifeforce," and it stars the twin powerful forces of Steve Railsback and Mathilda May. In the film, a comet brings an alien spaceship carrying space vampires, and a crew of astronauts unwisely choose to try and rescue them. Honestly, it sounds a lot more convincing that other space monster scenarios. After all, the myth of vampires had to come from somewhere. Why not outer space?
Martin (1977)
Vampires, except space vampires, might seem a little implausible, but what if the vampire in question was a disturbed young man who believes he was a vampire? That is the premise of George Romero's "Martin" which stars John Amplas and Christine Forrest, and that's exactly why you could believe it could happen anywhere.
28 Days Later (2002)
Medical experimentation strikes again! In this film, directed by Danny Boyle and starring Cillian Murphy, Naomi Harris, Brendan Gleeson, and Christopher Eccleston, the realism comes from the idea that activists who won't listen might break into a lab and inadvertently unleash a virus on us all. It's all too believable.
Topics: