In which Eli Roth's latest gets a sequel.
Roth discusses the three films that really disturb him, the Sexiest Man Alive, expanding on holiday horrors, and more!
That's not cranberry sauce! Roth's entry reigns supreme, but these '80s horrors also carved up some gratitude.
Plus: Deciding which kills made the cut.
This November, you'll be thankful to be alive.
Fifteen years after its fake GRINDHOUSE trailer, THANKSGIVING finally hits theaters on November 17.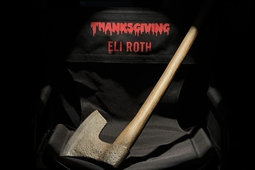 Sixteen years after the trailer, we're closer than ever to the holiday horror.
The TikTok star is making the jump from social media to hardcore horror.
38 years after his appearance in THE STUFF, the actor adds another notch to his horror belt.