Why are RESIDENT EVIL 7 and THE BLAIR WITCH PROJECT some of the scariest media we have? Well, it's all in how you look at it.
From zombies to creature features, are video games paving the cinematic way?
Is it scarier when the pressure is on you to control the cycle of building and releasing tension, or when you surrender yourself to face whatever comes your way?
Are video games instrumental in cultivating the next generation of horror fans?
THE QUARRY's Siobhan Williams on the medium that tends to get the masses talking.
Fans are precious with their favorite characters, but are we more forgiving in the world of video games?
When it comes to video games, horror is widely acknowledged and celebrated as a serious genre.
Supermassive Games' creative director Will Doyle and RESIDENT EVIL: WELCOME TO RACCOON CITY DP Maxime Alexandre discuss cinematography in their respective mediums.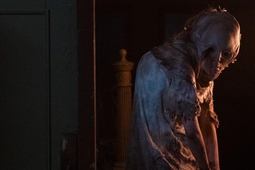 From RESIDENT EVIL to SILENT HILL and beyond, exploring fan favorite adaptations.
From Jason Voorhees to Pinhead, video games like DEAD BY DAYLIGHT and FRIDAY THE 13TH: THE GAME are keeping iconic slashers relevant for new audiences.
Jed Shepherd, HOST, GHOSTS and the future of immersive horror.
In our new column, we examine the overlapping trends between horror cinema and gaming.