Last year, the good folks at Barker Street Cinema (that'd be Leah Coghlan, James Douglas, Norm Coyne, and Anthony Northrup) broke ground on the first-ever Stephen King Rules film festival, a multi-day celebration of America's reigning Master of Horror that serves to spotlight short films made by up-and-coming filmmakers who've entered into King's "Dollar Baby" program. This year--
What's that? You don't know about the "Dollar Baby" program? OK, well, it goes like this: for years now, Stephen King has made the rights to some of his short stories available for $1 to up-and-coming filmmakers who are interested in adapting his work. In exchange for this ridiculously low some of money, the filmmakers must agree that their resulting films are never released for profit. It's A-OK to screen them as part of a film festival, but not okay to, say, sell Blu-rays with copies of the short on them. King helps out the filmmakers, the filmmakers get to adapt King without breaking the bank, everybody wins.
Anyway, the Stephen King Rules film festival pulls together a ton of these shorts and rolls them out online, for free, to be enjoyed by King fans around the world. It's all in keeping with the "Dollar Baby" spirit, and makes for one helluva good time for King nerds who wish to see every last adaptation ever made from his work.
The festival's second year is running as one of the headline attractions at this year's Alternating Current Festival (now in its fifth year) in Davenport, Iowa, and we couldn't be more excited about it. Not only has the Stephen King Rules team put together a genuinely awesome lineup for this year's festivities, but they've also brought in some very special guests to participate as the festival unfolds. Here's a look at the complete schedule: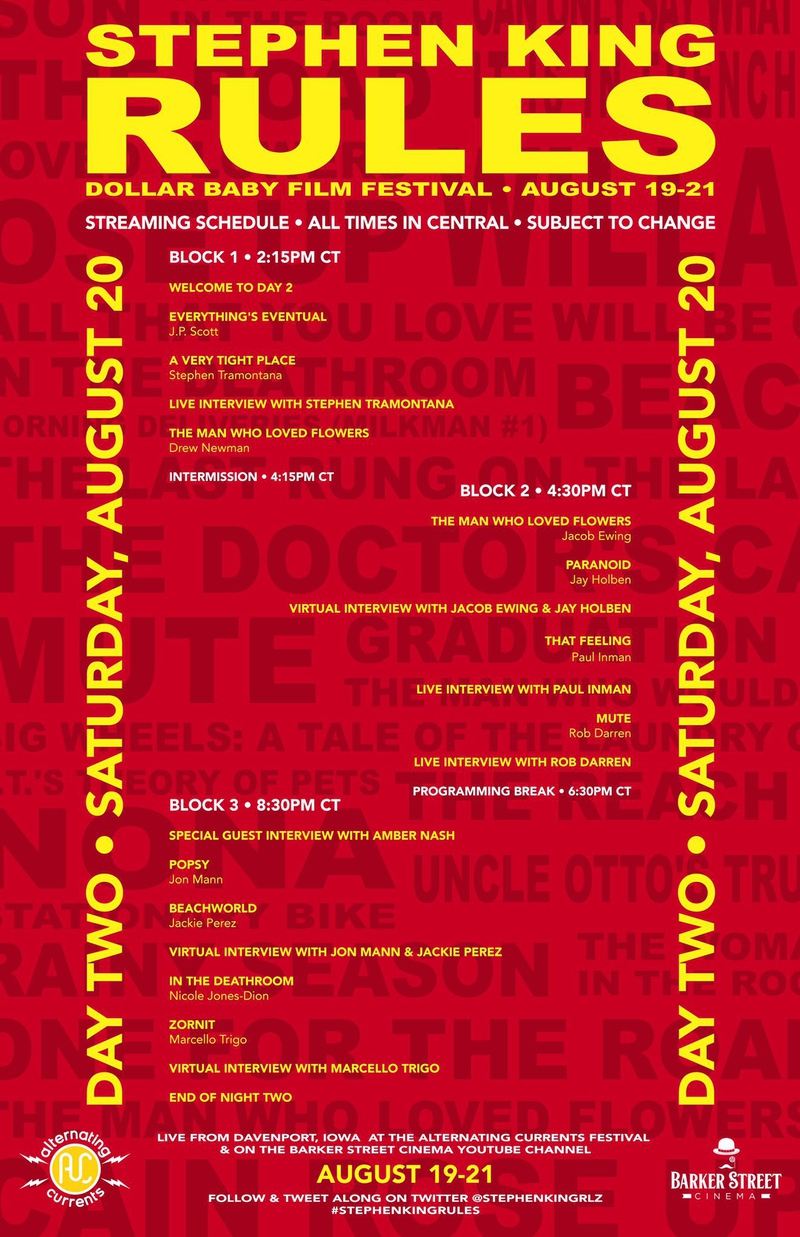 That's ... a whole bunch of Dollar Babies.
As previously mentioned, the online festival will also feature interviews with some of the filmmakers whose work is appearing as part of the Stephen King Rules lineup, alongside guests like Marc Bernardin (Castle Rock), Ming Chen (Comic Book Men), Amber Nash (Archer), noted Stephen King scholar Bev Vincent, and FANGORIA's own THE KINGCAST (having attended the festival virtually last year and finding ourselves deeply impressed with the lineup the Stephen King Rules team put together, we were more than happy to agree to appear during this year's closing night party).
Head on over to this page to learn more about the fest and where you can watch it online. Trust me when I say you do not want to miss this bad boy, especially if you're as big a Stephen King fan as we are around these parts. See ya there, folks!