There are horror classics, and then there are all-timers like The Exorcist. Directed by William Friedkin, this is one of the unquestioned crown jewels of the genre and has remained so ever since it first hit theaters in 1973. Now, in honor of the movie's 50th anniversary this year, Warner Bros. is bringing the film home for the first time in 4K Ultra HD. So, you can watch all of that head-spinning, demon-puking goodness in ultra-high definition from the comfort of your couch.
As part of the year-long 100th anniversary celebration for Warner Bros. as a studio, The Exorcist will arrive on 4K Ultra HD disc on Tuesday, September 19. For those who aren't as big on physical media, the film will also be available in its new crispy ultra HD format through digital retailers such as Prime Video or Google Play. We've also got some cover art to share for the new physical release, which you can check out below.
The best part about the forthcoming release is that the Ultra HD Blu-ray discs include both the 1973 theatrical version of the film and the 2000 Extended Director's Cut, which features eleven additional minutes of footage not seen in theaters. So you can watch both cuts in the best presentation possible. The only downside is that it doesn't look like any new special features will be included with the release, but a sizable lineup of special features from previous releases will be tacked on, which is nice.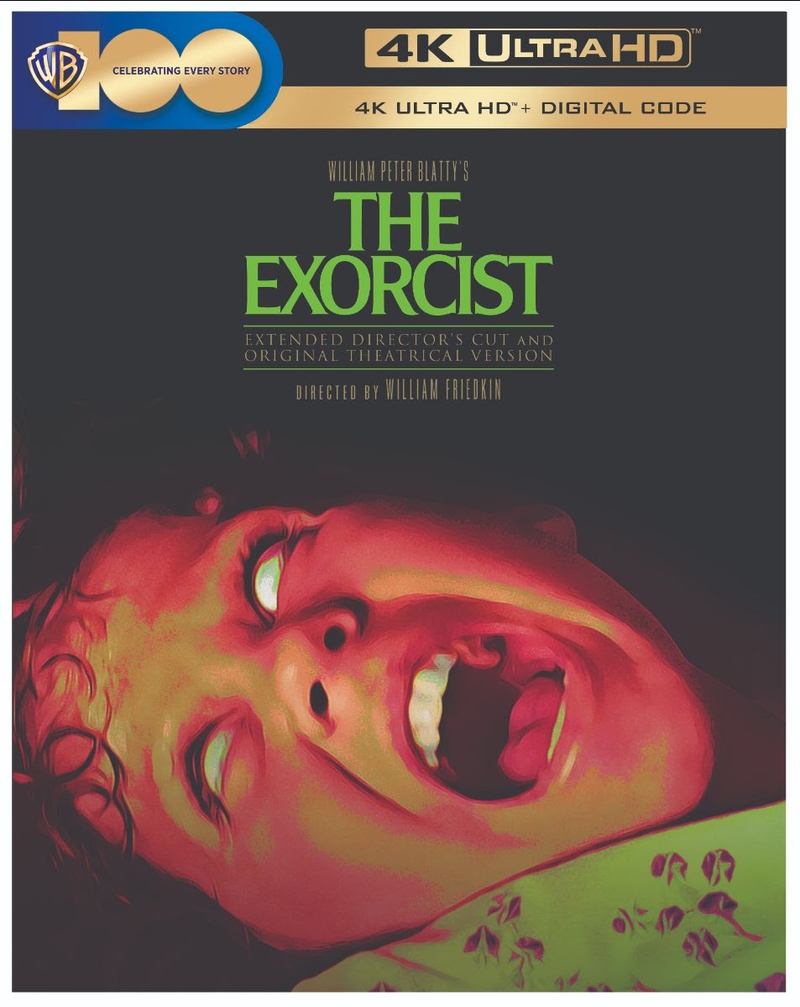 Released in December 1973, the film became a gigantic success and has, to date, earned a whopping $428 million worldwide across its various releases, including the huge 2000 director's cut re-release. The film stars Ellen Burstyn, Max von Sydow, Lee J. Cobb, Kitty Winn, Jack MacGowan, Jason Miller, and one of the all-time legendary child performances from Linda Blair. The timing of the 4K feels perfect, given that we have The Exorcist: Believer hitting theaters in October. Not that most folks need to be reminded of the story, but Warner Bros. also released an updated synopsis for the film to accompany the new release, which reads as follows:
"The Exorcist tells the now-famous story of a girl's demonic possession, and a gripping fight between good and evil. Linda Blair, in a breakout role, plays Regan, a young girl who starts to exhibit strange, arcane behavior. Her mother (Burstyn) calls upon a priest, Father Karras (Miller), to investigate. But Karras, who has a spiritual crisis of his own, is suddenly confronted with the unimaginable evil of Regan's possession. Father Lankester Merrin (Von Sydow), an archeologist-priest, is called to help, and a horrific battle for her soul begins."
What's fascinating is that it took this long for Warner Bros. to get the lead out and release The Exorcist on 4K. Particularly when several of the sequels, including The Exorcist III, have previously been released on 4K. But this is absolutely a better late than never situation if ever there were such a thing.
Look for The Exorcist on 4K on disc or via digital retailers on September 19. The disc is set to retail for $33.99, though it's currently available to pre-order for $29.99 from Amazon.
Topics: