It's hard to believe (particularly for horror fans of a certain age), but: this year, Robert Hiltzik's Sleepaway Camp celebrates its 40th anniversary. One of the most shocking slashers of the 1980's, Sleepaway Camp was not greeted warmly by critics at the time of its release, but in the four decades since Hiltzik's film has undergone something of a mass reappraisal: it's now considered a bonafide classic, and a forthcoming book and vinyl EP will help celebrate that fact.
Take it away, press release:
"On October 24, 2023, 1984 Publishing will release Sleepaway Camp: Making the Movie and Reigniting the Campfire by Jeff Hayes, a 40th anniversary look at the '83 cult classic Sleepaway Camp. A 4-song soundtrack EP will accompany the book's release on vinyl (in three colorways) and CD.
Longtime official Sleepaway Camp webmaster, writer, and filmmaker, Hayes goes behind the scenes of the film like never before, revealing the development and making of the movie, its immediate aftermath, and the more than four decades of fandom since its release. This definitive Sleepaway Camp compendium includes interviews with much of the cast and crew (with many new exclusives), more than 75 production and memorabilia images (including unreleased behind-the-scenes stills), and takes you backstage to the reunions, retro screenings, and convention events that have united fans and reignited interest in this beloved horror tale."
"When the film debuted in 1983, it was quickly disregarded by film reviewers. Variety called it a "tired version of teen oriented horror film formulas," The Philadelphia Enquirer "had more thrills untangling paper clips," and The Cincinnati Post branded it "more horrible than horrifying."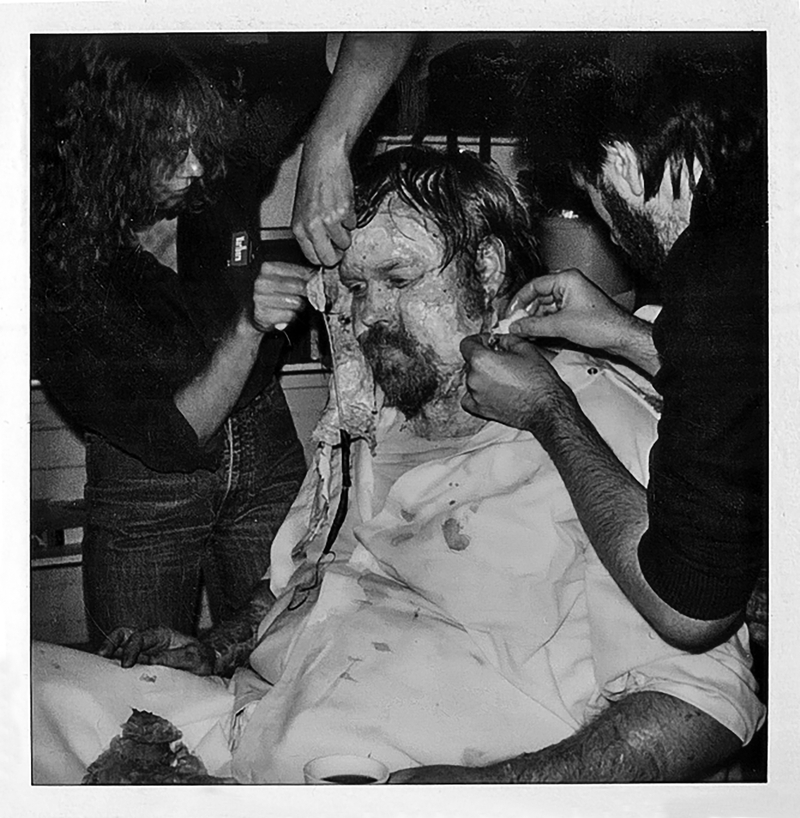 But fans saw something different. Very different. More than 40 years since its release, the film's unique blend of horror, tongue-in-cheek comedy, sexuality, and gender roles—along with an ending to end all endings, was seemingly ahead of its time. Sleepaway Camp is now discussed and debated more than when it was initially released, and continues to resonate with '80s film buffs, global horror fans, and the LGBT community."
Says Author Jeff Hayes:
"What a wild trip down memory lane it has been writing this book and recapping 40 years of Sleepaway Camp. I first watched the film on HBO in '87 (age 11), and like many of you was wildly intrigued. Eventually I started the official website and tracked down the cast and crew in the early days of the internet, when the details behind the film were virtually unknown. The film subsequently became such a big part of my life. Decades later, I hope to give fans a much more detailed look at the making of this beloved slasher classic, and also what has happened since its '83 debut on the silver screen."
"Accompanying the release is a 4-song soundtrack EP. All songs are by Frankie Vinci from the late '70s power pop band Fotomaker. Included on the EP is a never-before-released punk version of "Angela's Theme (You're Just What I've Been Looking For)" by Vinci, along with the original versions of "Angela's Theme," "Tonight You're Mine," and "Take a Chance." The 12-inch gatefold vinyl edition will be available as a limited "Camp Arawak" blue/white split-colored variant, plus on "Full Frontal" pink vinyl and "Aunt Martha Reminder String" red vinyl."
Here's a look at the various colorways on the vinyl release:
"Both the book and music packaging were designed by Hagcult, who previously worked with 1984 Publishing on Clark Collis' acclaimed You're Got Red on You: How Shaun of the Dead Came to Life, plus on artwork for officially-licensed Halloween and Vampira merchandise. The Sleepaway Camp releases also feature the original hand-drawn one-sheet artwork by David Schleinkofer."
Pre-orders for the book, vinyl, and CD begin this upcoming Wednesday, August 9th at 1 PM EST over at 1984Publishing.com (Though do be aware the book will also be available at local bookstores, Amazon and Barnes & Noble in the US, Amazon in the UK and Canada, and more).
Topics: