Last summer I had the opportunity to attend the Popcorn Frights Film Festival in person and was blown away by everything I saw. The short films in particular, were especially enjoyable. One of the award-winning shorts I wrote home about (in the form of telling you all about it in the festival rundown right here) is now playing on ALTER, which means you now have the opportunity to see it for yourself and check out was I was going on about. Ringworms combines a lot of what I personally love about horror and condenses it all into a scrappy short. Ringworms filmmaker Will Lee stopped in to chat about his wonderfully grotesque creation. Read about it in Will's own words below, and then give it a watch.
It was 2020 and my creative partner, Ian Hedman, and I had just put out our first horror short, a 4 min creature flick that we shot overnight at his house in 2019. This time, I wanted to write a story that was a little more personal. I was finally departing from the chaos of my early-mid '20s, and a theme that felt close to me was fighting your own truth. I wanted to expose that part of me in the hopes it might dry out in the light. I immediately thought of parasites to capture that struggle. I had a childhood experience which I recreated in the bathroom scene of Ringworms – a long hair worm slowly emerging from the carcass of a crushed cricket. As a 9-year-old, that stuck with me.

Because of the pandemic, Ian and I had ample time to workshop and write. After about thirty drafts we finally had something that we liked and it was proving to be much larger in scale than the last short. We brought on an absolutely incredible producer named Katrina Ungewitter who helped us prep and shoot the film.

I highly advise against this, but I gambled my savings and stimulus checks, and by August 2021, I had made enough money to shoot the thing.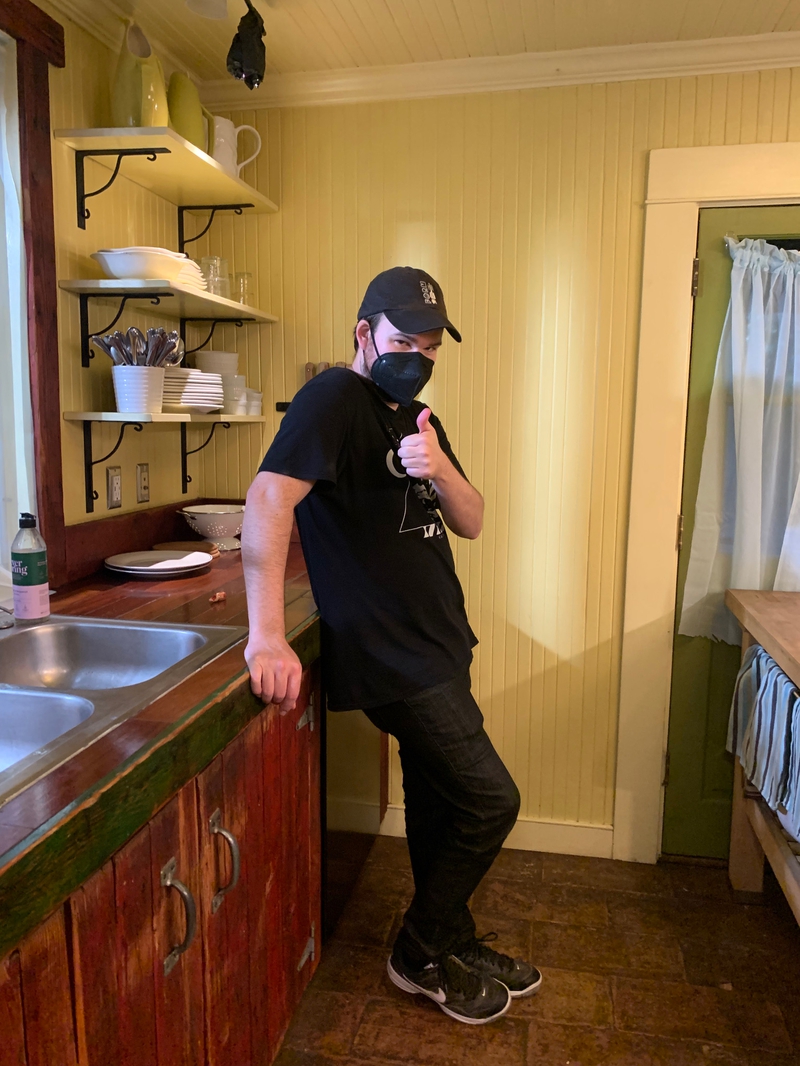 A Haunted Production?

We shot the film over 4 days in 3 locations with a 15-person crew. I always laugh at our basement set because it was in one of the most gorgeous historical Victorian houses in Glendale called Harris House, and we just used it for the basement. The owners informed us that the house was haunted, and we did experience a few bizarre interruptions that kept us from getting our first shot of the day. An LED light bulb exploded, which is unusual for LEDs. Our camera inexplicably powered down for the first two takes, and our AC's focus module suddenly snapped off his belt loops and crashed onto the floor before the first take. Later the owner told us that the building was once a women's boarding house and that two little boys used to live in the basement. I think they were causing a little mischief, but it's good to have that energy in a horror location, right?
The FX

The best thing about shooting Ringworms, by far, was getting to go hard on some practical effects. We had an incredibly talented artist named Eric Yoder at the helm creating trypophobia looks, aging effects, garbage disposal blood geysers, and splitting heads. The splitting head was a mold that Eric had lying around from another shoot that we dressed up to look vaguely like the back of the Old Man's head. Then, he and our HMU artist Katie Keyser got underneath it and used their hands to pull apart each half of the head. Then Katie took her other hand with demon makeup and slowly raised it up from the gooey chasm. Cinema!

We knew early on that we'd be augmenting practical effects with VFX. Our VFX supervisor, Bradley Crawford, was also the VFX artist for our blood, liquid, vomit, and trypophobia augmentation as well as the black hand splotch during the climactic kitchen scene and my personal favorite: the copious amounts of extra goop we added to the head split. Sage Shutty was our artist for the worms, and he absolutely killed it. We went through maybe ten iterations of worm looks and behaviors before we found something we were happy with. I was blown away by how well he integrated them into the practical effects.
Making Beautiful Music Together

My longtime friend and collaborator Marc Giguere composed the film and we worked many long nights together dialing in the textures of the score. After seven or eight completely different types of scores, emulating everything from It Follows to Punch Drunk Love. We landed on a mix of synth, orchestral, choral, and animal sounds. One of our main phrases used throughout the film was an elk call that we ran through a ton of different effects until it was unrecognizable and very unsettling.
The Reception

I've been absolutely thrilled with the reception the film has been getting. Taking home a win at Fantastic Fest was beyond my wildest expectations. Since then we've been able to screen at thirty-five festivals and take home thirteen more wins. I'm truly stunned and grateful. Now we've found a home online at ALTER thanks to Sophie Carroll and Shannon Wiedemeyer whom I met at Popcorn Frights and who have championed the film from the jump.
What's Next?

Ian and I are working on writing the feature version of Ringworms now. We're also planning to shoot another short in the meantime, thanks to a contest we won from IFB studios in Glendale for some free soundstage days. The past 6 months have shown us that the type of horror we want to make has a hungry audience, so we're fired up to keep going.
Topics: