Following its streaming debut on Paramount+ last month, Pet Sematary: Bloodlines is about to get a much wider home video release. Paramount Pictures has announced that the Stephen King prequel is not only going to be available to rent and/or purchase on Digital next month but it is also going to get a physical release just in time for Christmas. Indeed, King fans will be able to add this one to their collection, which is increasingly becoming a rarity in the streaming-focused future.
Bloodlines will first arrive via digital retailers on Tuesday, December 5 before arriving on 4K Ultra HD, Blu-ray and DVD on Tuesday, December 19. The film was directed by Lindsey Anderson Beer and is based on the untold chapter from King's novel Pet Sematary. It serves as a prequel to the film, focusing on a young Jud Crandall. The synopsis for the film reads as follows:
"In 1969, a young Jud Crandall has dreams of leaving his hometown of Ludlow, Maine behind, but soon discovers sinister secrets buried within and is forced to confront a dark family history that will forever keep him connected to Ludlow. Banding together, Jud and his childhood friends must fight an ancient evil that has gripped Ludlow since its founding, and once unearthed has the power to destroy everything in its path."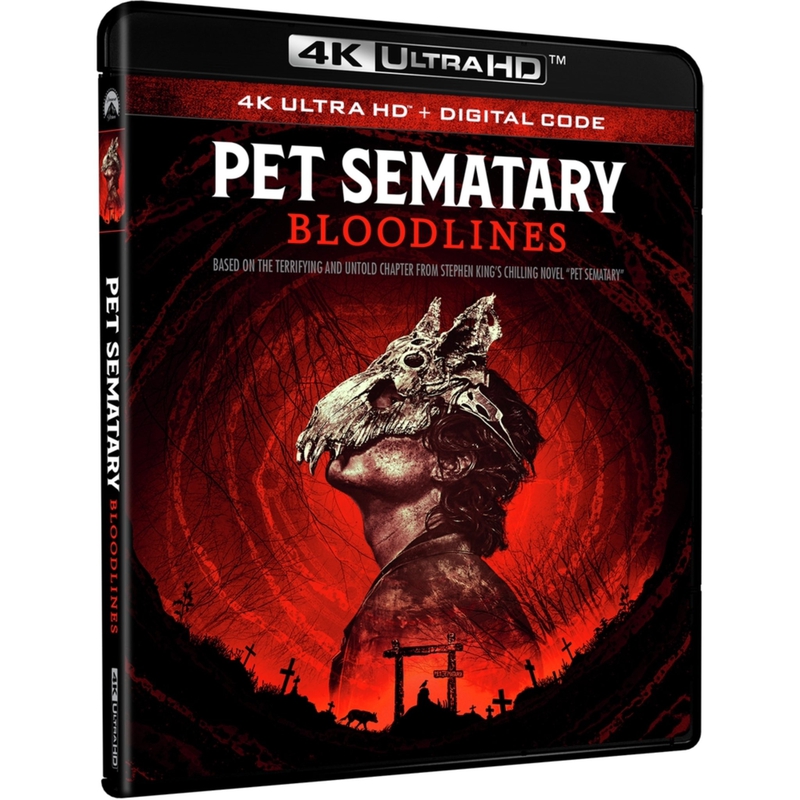 Aside from revealing the cover art for the physical release, Paramount also revealed that it will come with a healthy amount of special features. Unfortunately, there is no director's commentary track listed, but there are several featurettes that will allow viewers to dive deeper into the making of the film. The special features include:
Origins — Explore sinister origins and haunting secrets alongside David Duchovny and the cast of Pet Sematary.
Fresh Blood — Watch as new talent embraces the Pet Sematary legacy.
Death's Design — Unearth the chilling secrets and hidden Easter eggs that breathe life into Pet Sematary's terrifying designs.
Method to the Madness — Go behind the scenes with Jack Mulhern and Isabella LeBlanc, who share how they prepped for their roles, including bonding with four-legged co-stars.
War Comes Home — Enter the chilling realm of Pet Sematary as filmmakers and cast dissect the final scene, revealing the innovative technology behind its terrifying realization.
The cast for the film includes Jackson White (Tell Me Lies, Mrs. Fletcher) Forrest Goodluck (Lawman: Bass Reeves, The Revenant), Jack Mulhern (The Boys in the Boat, Mare of Easttown), Henry Thomas (The Fall of the House of Usher, Gangs of New York), Natalie Alyn Lind (The Goldbergs, The Gifted), Isabella Star LaBlanc (True Detective: Night Country, Long Slow Exhale), Pam Grier (Cinnamon, Jackie Brown) and David Duchovny (The X-Files, Californication). Beer penned the screenplay alongside Jeff Buhler, with Lorenzo di Bonaventura and Mark Vahradian serving as producers.
Pet Sematary: Bloodlines is streaming now on Paramount+, but physical media lovers can own a copy beginning December 19.