The end of the year brings two important things: superlatives and gift options. There's often overlap between the two, but ahead of the holidays, the latter is more important — and the year's overall best isn't always the same stuff that goes on letters to Santa (or whomever you appeal to for loot in the weeks to come). As FANGORIA readers prepare to shop for friends and family members (and let's face it, themselves along the way), we've assembled a short list of soundtracks and scores that are sure to satisfy collectors, from the most discerning to those just discovering their love for horror-related ephemera.
Standard-bearers Mondo have taken a half-step back from the early days of their partnership with Death Waltz, when they would uncover holy grails that no one had reissued in decades, if ever. What the label has pivoted to instead is an almost nonstop stream of crowd-pleasing delights. Their release of Howard Shore's score for David Cronenberg's Videodrome in its complete, restored form offers the best of both worlds, reminding the iconic filmmaker's fans about one of his most, ahem, mind-blowing films, along with deluxe packaging of its musical cues for the very first time on vinyl.
Waxwork, meanwhile, has continued to evolve into a powerhouse distributor of its own, with new and old titles, classics and obscurities, lots to love, and even more to discover. December marks the premiere of the soundtrack to Jordan Peele's Nope. Not only does it come with Michael Abels' complete orchestral score, but virtually all of the songs that Peele selected — and in some cases remixed — to suit the needs of his nightmarishly imaginative extraterrestrial tale. It's that rare instance of a soundtrack that brings you right back into the experience of watching the movie, while curating some songs and artists you didn't yet know were destined to be future favorites.
Also from Waxwork, there's the score to Adam Egypt Mortimer's mind-bending mystery film Archenemy, by poised-for-superstardom composer Umberto, aka Matt Hill. Hill's work has been frolicking around the edges of the synth score renaissance for more than a decade now, and this score locates the beautiful halfway point between homage to luminaries of decades past and forging uncharted territory. Hill incorporates genres like trap and more experimental sounds for an unforgettable listening experience.
Our final recommendation from Waxwork is Asei Kobayashi and Mickie Yoshino's oddball score for the equally odd Japanese horror film Hausu. Their release marks the first time its music was released in the U.S., and collects a series of cues unlike no other, bouncing from ragtime instrumental pop to swinging rock to the most idiosyncratic, gravelly blues this side of Tom Waits. Cues like "Eat" flirt with the sound of Japanese electropop and jazz from that era, making it a bit of a time capsule and a gateway drug for discovering genres like Citypop, should it whet your appetite for more similar stuff. But as an entirely unconventional soundtrack to an entirely unconventional horror movie, Hausu is precisely the kind of LP that horror collectors need for their own homes — whether or not they realize it.
With Italian soundtrack label Dagored virtually defunct, a few fellow countrymen at Rustblade have stepped up in a big way to shepherd a number of classic horror scores as well as some interesting updates and tributes that are almost guaranteed to surprise and delight even the most avid collectors. Their LPs from Claudio Simonetti's Goblin, such as for the "Prog Rock Version" performed at live screenings of Dario Argento's Suspiria, are themselves must-haves that reinvent the band's original themes in fun and unique ways. But it's their compilation album The Way Of Darkness (A Tribute To John Carpenter), featuring a cross-section of electronic artists remixing and covering the iconic themes first composed by Carpenter, that provides a new, contemporary context for melodies and music that has become genre boilerplate.
Meanwhile, in the middle of the summer of 2022, Varèse Sarabande — one of the great soundtrack record labels of all time — released a four-LP version of their six-CD box set containing all of the scores for the Scream films. Certainly, mileage varies for fans of the franchise among its disparate entries, but this box set is a thing of beauty, not only featuring restored and comprehensive versions of the scores to every film, but in-depth liner notes detailing the lore that relegated some of these compositions to the cutting room floor despite their vivid authenticity to the series. This is precisely the kind of set that one might not necessarily buy for themselves, but it's one that will offer hours and hours of great listening.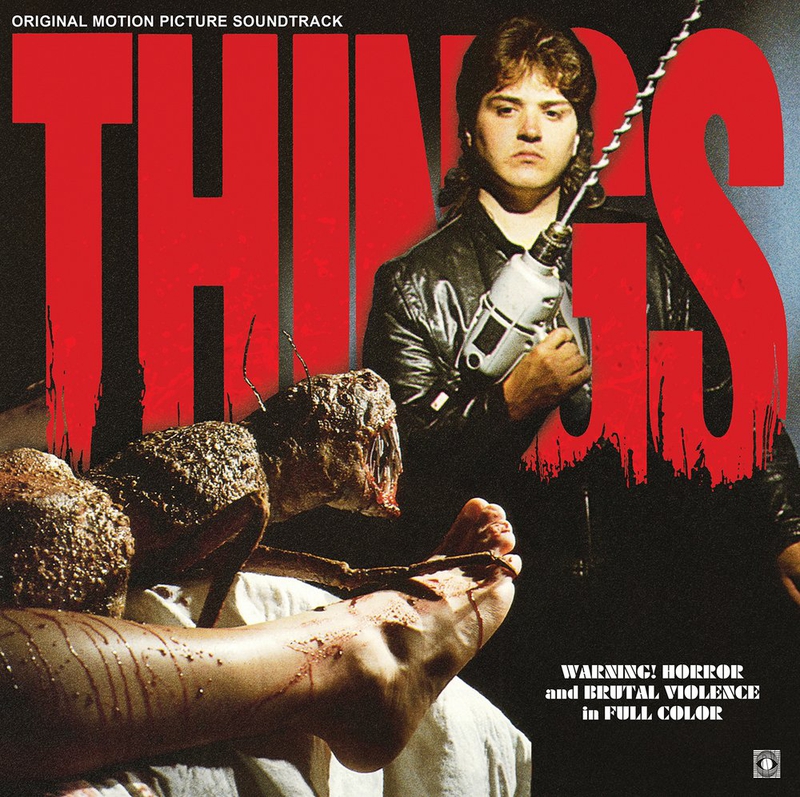 Our last recommendation comes from the folks at Terror Vision Records, whose scrappy Georgia record label has quietly distinguished itself as one to listen to — especially when you aren't quite sure what you're getting into. Its latest release is the one that every horror fan should pick up: Things. This gruesome oddity from the VHS era was first re-released on DVD by distributor Severin and immediately captured hearts, minds, and assorted other body parts, the kind of outsider art that makes horror such a unique and vital genre for exploring creativity. Director and co-writer Andrew Jordan personally oversaw the arrangement and sequencing of this record, which features dialogue, original songs, and score cues that may surprise even those familiar with the film.
Suffice it to say that a record like Things isn't going to satisfy in the same kind of conventional way that a classic score by an iconic composer might. But whichever of these you choose to buy as a gift, they all communicate your own love for horror, and pass that along to the recipient. Have a beautifully bleak holiday season!