In June, movie studios and record labels released a lot of great stuff — scores for both the original Firestarter and its remake, a reissued classic (Zombi 2) and spanking-new release by genre luminary Fabio Frizzi, and an alternative-soundtrack oddity from Goblin (Wampyr) for a slightly dusty entry from no less than George Romero. This month we cover almost as much territory, digging into another venerated masterpiece, at least one true obscurity, a contemporary score from an established but underappreciated purveyor of mood music, and one soundtrack that's technically only sort of horror-related, but what's on it is more than good enough to be added to any self-respecting collector's must-buy list.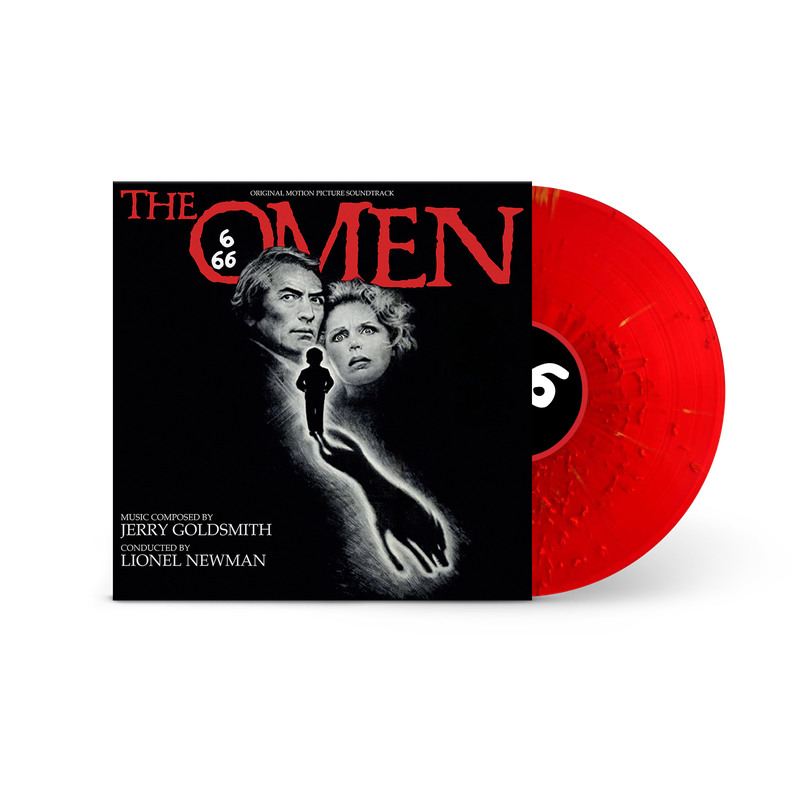 Starting with the oldest, most established, and most influential: Jerry Goldsmith's score for The Omen. FANGORIA has covered Varèse Sarabande's earlier releases, most of them on CD, but their expanding vinyl repertoire gains a heavy hitter with this amazing record — which notably won Goldsmith his only Oscar, a crime given his work on Planet Of The Apes, Alien, Star Trek: The Motion Picture, Poltergeist, the first three Rambo movies (which gave now-defunct studio Carolco Pictures its sweeping logo music), Total Recall, Basic Instinct, and too many more films to count. Then again, whether it's a testament to his ability to work so effectively that he defined certain sounds immediately, or simply to fully understand the assignment, The Omen is effectively the template — and was — for movies about The Devil, demons, and Satanism for decades to come.
Featuring booming, melodramatic carolers and menacing brass, "Ave Satani," perhaps hilariously nominated for Best Original Song, encapsulates every aspect of that sound, while the remainder of the score sets the pace for the film's escalating tension with a metronome's precision. "The Piper Dreams" counts as the record's actual song, featuring lyrics and vocals by Goldsmith's wife Carol, who lends appropriately dreamy balladry for the era. Nevertheless, it serves only as a brief interlude of pleasantness — honestly fitting the movie's subject matter and tone extremely poorly despite being a terrific tune — before Goldsmith wields his satanic chorus to underscore and amplify young Damien's increasing evil. Released on red vinyl with black splatter, it isn't likely to cut your head off, but its gorgeous, muscular orchestration will ring in your ears long after you've finished listening to it.
Record label with the greatest name ever, We Release Whatever The Fuck We Want, doesn't often reissue soundtracks, but when they do, it's almost always something worth buying whether you immediately recognize it or not. Touting the film's banned status in 57 countries, WRWTFWW warns listeners, "What you are about to hear cannot be unheard!" But you may soon realize that while it cannot be unheard, the music by Tomohiko Kira sounds at least a little bit like something that you've heard before. Clearly using some of the same equipment as Claudio Simonetti did for the score to Lamberto Bava's Demons, Kira flirts simultaneously with the sound of Japanese new age music of the '80s before delving into a pulse-pounding synthesizer-driven score that ends up being at least as fun to listen to as it is to set a mood.
For example, the electronic drums on "Track 3" feel like they're waiting for an extra snare or two so they can become the title theme of Demons. The vocal sampler on "Track 4" similarly echoes Simonetti's use of that same sound while also conjuring more recent electronic fare like Justice's "Civilization," which is not to be confused with the group's expert use of "Tenebre" on "Phantom." But Kira's immaculately-microphoned solo piano on "Track 5" provides a gorgeous, haunting counterpoint that makes this a fantastic listen, even if you (like me) don't know the movie.
Next, Waxwork Records has been on an absolute tear lately with its releases, balancing modern, red-blood mainstream scores with classics, obscurities, and ephemera that you far too frequently didn't know that you absolutely needed to have. And they occupy two spots in this month's column, first with composer Umberto's music for the film Archenemy. The alter ego of superbly talented, horror-influenced electronic musician Matt Hill, Umberto has previously co-produced a live re-score for the original Texas Chain Saw Massacre with artist and composer Antoni Maiovvi, and finally did his first official score with this collection of cues.
If you're at all familiar with his tracks from the non-film releases From The Grave…, Prophecy Of The Black Widow, and Confrontations, then you know Umberto wields a synthesizer and a drum machine like a scalpel, creating sonic backdrops that beautifully evoke whatever mood he's aiming for while also making your head absolutely bang with deep, irresistible grooves. "Nutty Broad With The Hair" feels like a futuristic trap anthem, while "The Highest Buildings In Chromium" perfectly captures the sound of a glistening spire reaching into the sky — and all of the aspirations and yearning that come with it from people at ground level. He's got the same kind of double-edged versatility as someone like John Carpenter, where each new piece of music is very distinct while also sounding undeniably like it belongs to him, and Archenemy is another fun, moody listen.
Finally, and also from Waxwork Records, comes the soundtrack to David Lynch's Lost Highway. The film was briefly re-released in theaters in July, and will be released on UHD later this year by Criterion Collection, but its score has been blowing minds for 25 years — and this amazing packaging will only open a gateway to blowing even more of them. Opening with an edit of David Bowie's electronic, urgent "I'm Deranged" and working its way through everything from Nine Inch Nails to Antonio Carlos Jobim, with Rammstein and of course Lynch's longtime collaborator Angelo Badalamenti for good measure, it's a clearinghouse for the filmmaker's eclectic and moody appetites.
Looking back now, I'll admit that I was mildly disappointed that Nine Inch Nails' The Fragile did not more aggressively go into a drum 'n bass/ big beat direction than it does, but that's really only because "The Perfect Drug" manages to be one of the biggest bangers they ever recorded; that drum breakdown halfway through still makes this nerd want to crowd surf when he hears it. Badalamenti's cues are either predictably jazz-inflected, full of swagger and imminent danger, actively creepy ("Fred & Renee Make Love" does the opposite of setting a romantic mood), or conjures a tragic sentiment so specific that you feel like is was stripped right from Lynch's soul. Though it ends up being a bit of a repository for late-'90s alternative artists, featuring Smashing Pumpkins' lowkey banger "Eye," and a surprisingly infectious cover of Screaming Jay Hawkins' "I Put A Spell On You" by Marilyn Manson," the standouts end up being the stuff like Jobim's "Insensatez," which positively oozes with hypnotic, seaside romanticism, and Barry Adamson's "Something Wicked This Way Comes," in which the artist reconfigures '60s pop song "Spooky" into a hypnotic, funky dancefloor anthem. Ultimately, Lost Highway is a record with a better-than-decent number of tracks that will single-handedly get a party started, making it a valuable addition to anyone's collection — but don't leave it on if you want to sleep well at the end of the night.
Topics: