Kyle Gallner horror movies are the most convincing evidence of a new Scream King in horror. The actor has been working in the genre since he was a child, and in his first film, he worked with one of the masters of fright. He's even had a role in television's most famous and enduring zombie apocalypse series, The Walking Dead. Gallner started in television with his first role in the drama Third Watch, which means he was only fourteen when working on the television series. For his birthday, let's check out some of his most notable roles in horror films. Read more: Exclusive Interview: Actor Kyle Gallner's Gallner's Body of Work.
Red Eye (2005)
Gallner played a minor role in his first fright film, but it's worth noticing since he worked in horror maestro Wes Craven's Red Eye. Gallner plays the "headphone kid's brother" in this tense tale of Lisa Reisert (Rachel McAdams), a hotel manager terrorist that terrorist Jackson Rippner (Cillian Murphy) is strongarming into aiding an assassination attempt. It is one of Craven's mainstream hit films that wasn't part of the Scream franchise and a different type of film for Craven.
The Haunting in Connecticut (2009)
The Haunting in Connecticut is Gallner's first starring role, and he is the center of the haunting in the new home his family has moved into. He is playing Matt Campbell, a young cancer patient. His parents, Sara and Peter Campbell (Virginia Madsen and Martin Donovan), moved their family into the home, a former mortuary where seances were held, to make it easier to get Matt to his appointments for his cancer treatments. Matt starts seeing visions and seems to be slipping into another world. Gallner's performance as Matt is one of the most haunting things about the film. Read more: Swallowed Director On His Blumhouse "Coming-Of-Age Hostage Road Trip Thriller" The Passenger.
Jennifer's Body (2009)
Jennifer's Body has become a horror classic in the intervening years between its initial release and today. Kyle Gallner's role is smaller in this film, but he is so memorable as the goth guy who becomes one of Jennifer's most sympathetic victims. He plays the role of a victim, so he doesn't make it to the end, but you feel for his character, who isn't such a bad guy. Gallner's performance ensures that you feel something for the character before, during, and after his death by succubus.
A Nightmare on Elm Street (2010)
The 2010 remake of A Nightmare on Elm Street is not a horror fan favorite. But in it, Kyle Gallner, as Quentin Smith, has charisma and a likeability that Gallner brings to all of his roles. Quentin is bright and functions as the sleuthing partner of Nancy Holbrook, who tries to solve the mystery of who is killing all of their friends and schoolmates. He was the most sympathetic character, and impressed with his ability to reason and bring nervous energy to the role, which Gallner pointed out came from Smith's ingestion of substances to keep himself awake. Read more: Winnie the Pooh: Blood and Honey 2 Has 3 Times The Kills & 10 Times The Budget.
Red State (2011)
Kevin Smith's Red State is more of a realistic horror film with no supernatural happenings. Three young men are lured by a woman who is part of the church with the promise of sex. Kyle Gallner plays Jarod, one of the three young men who later tries to help save the children of the fanatical cult but dies at the hands of the ATF. The character of Jarod is one of the few that does try to do the right thing, and Gallner gives another sympathetic performance. The film stars John Goodman, Melissa Leo, Michael Parks, Kevin Pollak, and Stephen Root. Smith took inspiration from the ATF siege in Waco, Texas, and the Westboro Baptist Church.
Ghosts of War (2020)
Ghosts of War is a modern ghost story, despite seemingly being set in World War II. Gallner plays Tappert, one of the squad soldiers responsible for guarding a chateau. Things start to go wrong as the soldiers begin to unravel the mystery of the former residents of the chateau, the Helwig family, in a journal. Things start to change from World War II to the present day, and the soldiers find that the events they experience may not be real. Kyle Gallner's Tappert is a soldier haunted by his duties. You can see it in his eyes, and it's another one of Gallner's strengths as an actor and Scream King. Read more: Fear The Walking Dead: Two-Part Series Finale Sets Premiere Date On AMC.
Scream (2022 )
In Scream (2022), Kyle Gallner plays Vince Schneider, not only the ex-boyfriend of Liv McKenzie but also the nephew of one of the original Ghostface killers, Stu Macher. What Gallner brings to this role is crucial since his character provides a sense of menace and connection to the original Ghostface killers. Gallner is good at playing someone who might be the villain and equally as good at playing a great Scream victim. Matt Bettinelli-Olpin and Tyler Gillett directed Scream (2022).
Smile (2022)
Smile, written and directed by Parker Finn and Kyle Gallner, stars as Joel, the ex-boyfriend of therapist Rose Cotner (Sosie Bacon), who is a police detective. Rose is engaged to someone else, but Joel does his best to help her and tries to save her. This is a less showy role for Gallner, but he impresses with a solid characterization that is very likable. He's a rock of reality for the story and Rose among hallucinatory scenes of terror.
Mother, May I (2023)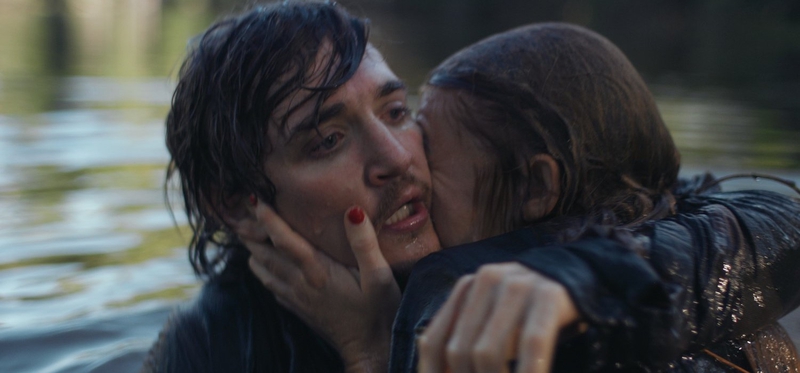 Laurence Vannicelli's Mother, May I, contains one of two of Kyle Gallner's latest horror movie performances. Gallner plays Emmett, the estranged son of Tracy, a flamboyant therapist who made her son take part in strange experiments with identity when he was a child. Gallner's vulnerability and sadness make his character work in the story, which is more of an elegant throwback to the 70s low-key psychological movies of terror. His reaction to his poet girlfriend Anya (Holland Roden), who starts to take on the characteristics and behavior of his mother, is enlightening, and the film explores the conflicted feelings that men have towards their mothers.
The Passenger (2023)
The Passenger is a psychological and realistic horror film about a passive fast food employee, Randy (Johnny Berchtold), who is forced to help a co-worker, Benson, played by Gallner, who goes on a bloody rampage. Gallner's performance is one shot through with rage and nervous energy, and his ability to snap and then act calmly and logically might be one of the most frightening things about the character. His character, Benson, spares Randy alone because of how submissive he is and later decides to help him become more assertive by confronting his issues.