A few years ago, on an episode of The Last Drive-In, Joe Bob Briggs gave a sermon that lit a fire under the collective rear-ends of a large portion of his viewership (my own included). Now known to most as the "keep rolling" speech, it features the legendary horror host methodically breaking down the barriers many see as standing between them and their dreams of becoming a filmmaker. From whether or not you need to attend film school to make movies (you don't) to thinking there aren't enough hours in the day to write your script or plan your shooting (there are), Joe Bob dashes away these myths and misconceptions while urging his viewers to have faith in themselves and their dreams.
The overall gist of JB's speech that night could be boiled down to one sentence: good things happen when you put the work in. It's a philosophy shared by filmmakers and other creatives the world over. If you want to make what's in your head a reality, you have to pour as much of your time, energy, and enthusiasm into it as possible. Of course, maintaining that type of work ethic can get tiring after a while. Sometimes you need inspiration to help keep that fire inside burning, and that's where these books come in. Each is by a legend of the genre film world, and each features examples of the challenges they faced during their careers and the creative (and sometimes jaw-dropping) ways they overcame them.
True Indie - Don Coscarelli
In 1976, nineteen-year-old Don Coscarelli had his debut feature film distributed by a major studio when Jim, the World's Greatest, was picked up by Universal Pictures. As he relates in his memoir True Indie: Life and Death in Filmmaking, determination and single-mindedness would serve him well as none of the victories throughout his nearly forty-year career would come easily.
Perhaps the most daring of these successes came with the gamble Coscarelli took in regard to the distribution of his incredible film, Bubba Ho-Tep. After the film was rejected by the Sundance Film Festival (normally a kiss of death for many indie filmmakers), he mounted a furious campaign attempting to drum up some hype around it. Festival crowds loved Bubba, but despite the positive reactions from audience members and film journalists alike, it wasn't getting any bites. Finally, after physically bringing a copy of the picture to several distributors and receiving only polite platitudes, the filmmaker decided to roll the dice and distribute the film himself. Thankfully for horror fans and Coscarelli himself (he had already sunk a large portion of his savings into the production of Bubba Ho-Tep), the risk paid off.
How I Made a Hundred Movies in Hollywood and Never Lost a Dime - Roger Corman
The funny thing about the title of Roger Corman's immensely entertaining and enormously informative autobiography is that, while it might sound like hyperbole, it's actually lowballing the number of films the legendary filmmaker has made that have turned a profit. In fact, if it's ever updated to include the twenty-five years since its 1998 publication, the book will almost certainly need a new title. That's because Corman, now in his late nineties, has continued making movies. While his output has undoubtedly slowed in recent years in comparison to what it used to be (in 1957 alone, he directed and produced nine pictures), he's still in the movie-making business and has enjoyed such longevity thanks in large part to his problem-solving ability (especially when it would save money).
There are numerous instances of Corman's ingenuity and financial shrewdness throughout his book. In Monster from the Ocean Floor, one of his earliest producing efforts, he would get up at dawn, drive all the movie's equipment to its shooting location, and set it up himself to ensure they wouldn't exceed their extremely modest budget of $12,000. For his famously lauded series of Edgar Allan Poe adaptations, Corman would save and reuse old sets for new films while building onto them using each new picture's art department budget. And for his counterculture classic The Wild Angels, Corman (illegally) stopped traffic to get the film's opening shots of its biker gang booking it down the highway. As Ron Howard puts it in the 2011 documentary Corman's World when talking about his early mentor's filmmaking philosophy: "It doesn't matter if people are happy. It doesn't matter if you have a permit. All that matters is what you get in that frame."
Step Right Up! - William Castle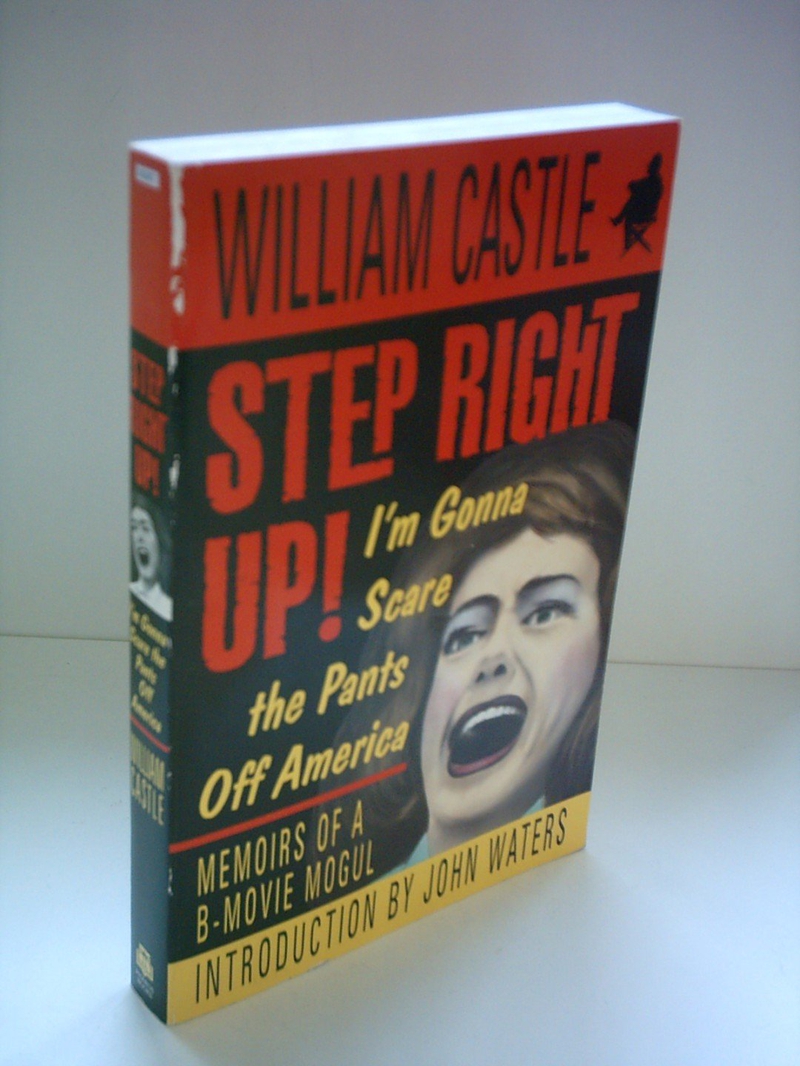 "Those kids wanted to be scared…they loved it!" exclaims William Castle to his wife during a pivotal scene from his autobiography Step Right Up!. The couple had just attended a screening of Henri-Georges Clouzot's Diabolique, and the man who would soon be known as the "King of the Gimmicks" couldn't get over the reactions the mostly teenage audience had to the classic thriller. Castle had directed a number of B-movies for Columbia Pictures by this point in his career but was looking to strike out on his own and produce his own material. Inspired by the enthusiasm he had witnessed and the crowds of people lined up outside the theater just for the chance to be frightened, he decided that horror would be the cinematic arena in which he would truly make a name for himself.
This critical moment in William Castle's life would not only result in films that would forever be attached to his name (pictures like House on Haunted Hill, 13 Ghosts, and The Tingler) but also lead to the promotional stunts that would go on to be his calling card. The creation of these gags represented many of the aspects of Castle's character that made him so successful: his showmanship and almost manic need to entertain; his understanding of audience psychology; and, perhaps most of all, his almost preternatural mastery of the hustle. Castle perfectly understood that to get butts in seats, you couldn't just offer viewers a film to watch. You had to give them an experience that would make them feel alive. In Step Right Up!, he elegantly and entertainingly outlines these philosophies he held dear while telling the story of a career that has inspired generations of filmmakers.
Confessions of a Puppetmaster - Charles Band
They just don't make them like Charles Band anymore. Combining the renegade entrepreneurial spirit of Corman and the carnival barker showmanship of Castle, the dude has been a staple of the indie scene for fifty years now and has managed to keep the spirit of exploitation cinema alive perhaps more than any other filmmaker working today. His memoir is like the best of the films he's directed or produced over the years: funny, irreverent, distasteful at times, and often entertaining as hell. It's also a surprisingly inspiring read, thanks to the astounding resilience Band showcases by detailing the insane highs and shattering lows in his career.
The most famous of these trials that Band details in his book is the fall of his legendary film distribution company, Empire Pictures. During the span of its five-year existence (1983 to 1988), it banged out bonafide classics like Re-Animator and Ghoulies, lesser-known gems such as TerrorVision and Prison, and fun shlock like Trolls and Sorority Babes in the Slimeball Bowl-O-Rama, just to name a small portion of its surprisingly robust output. However, when the company went bankrupt, Band lost the rights to nearly all of these films and found himself back at square one in the movie-making business. Just weeks after Empire's demise, though, he would begin work on bringing to life the venture that many know him for today, Full Moon Features. Now in its thirty-fifth year of operation and with over 200 films produced under its banner, the company is a testament to Band's grit and determination.