I don't read a ton of comics, but the majority of the comics I've purchased and read over the last several years... were inked and colored by artist Francesco Francavilla. It was his art specifically that drew me back into the world of comics, so getting to pick his brain a bit about his latest collaboration with Scott Snyder, Night of the Ghoul, was pretty fantastic. Read on for a peek behind the scenes and a glimpse into the process behind Francavilla's iconic work before he shares a preview of pages from the upcoming second chapter.
---
You've worked with Scott Snyder many times, what is your collaboration process like?
Scott and I have been working together for a long time, more than 10 years actually. The first collab was on Batman: The Black Mirror and we became close friends while working on that book.
The typical process is like:

-We discuss the story together.
-Scott works on a script that is not too tight, leaving me room to play with it.
-I draw the pages, then Scott makes a final pass at dialogue based on the art.
It's a very dynamic way to make a book and I believe it gives the best results for the readers' enjoyment.
Can you walk us through a bit of your process in general? Are you already thinking of what the imagery will look like from the first story concept, or does it begin to take shape once the story is in place?
Once I get the script I always like to give it a couple of reads and let my imagination start to visualize this or that sequence. Once I have a clear picture in my mind I can go straight to pencil the page. If things are not that clear, I usually do a quick thumbnail/layout to figure out staging and flow.
When it comes to creating characters, making their faces, bringing them to life, what is that process like? Do you see their faces in your head, do you draw inspiration from faces you see in your life?
Drawing a book is a bit like shooting a movie (which I am directing or co-directing). In a way, I have a set of "actors" (faces) I will use for my "movies". As for expressions, while I don't use a mirror-like famous animator Chuck Jones used when animating those WB toons, I do make those expressions while drawing – I feel that doing so helps me to get the expressions right.
The story centers on a lost film, we get to see snippets of this film and the coloring is very different to bring us into the world of the movie as opposed to the world outside of the movie. Do you enjoy switching tones and aesthetics like that?
The switching between the present time and the lost movie reel/flashback is one of the parts of this book I enjoy most. I get to flex my muscles and play with both my usual coloring style and the more detailed B/W style that recalls the classic EC and Warren comics I love so much.
The Ghoul is the monster of monsters, the one singular supreme monstrous being from which all other monsters are created, so to speak, I'm hoping that means we will get to see lots of your monster creations in this series. Can you say anything about that aspect?
The primary monster in the book is THE GHOUL, of course, but we are developing a very specific universe with this book and there are definitely more monster/creature designs showing up in the story. Can't say more 'cause I don't want to spoil too much ;)
You're an Italian artist, parts of the first issue take us into Italy and we even have some characters speaking Italian. Is that fun to incorporate into your work?
The Italian "origin" of this specific Ghoul was a nice touch and I got to be the language consultant for the dialogue so that was fun ☺ There's a chance we explore more on that front in the story going forward.
I know you're a fan of GOBLIN, what do you like to listen to while you're working? Do you have a go-to or does it change depending on the day, the project, etc?
I love putting myself in the right mood, especially when drawing a horror story, so I have a vast collection of horror soundtracks I like to play while I work. For the GHOUL it's definitely a mix of GOBLIN, Carpenter, Frizzi, and other spooky creepy scores that fit the atmospheres I'm drawing. Recent favorites are the scores for Under the Skin and Drag Me To Hell, which are very fitting for the GHOUL.
The first issue drops some major bombs and leaves us on a cliffhanger so I'm excited to learn more about the lore of the Ghoul, the lost film, and the fate of our characters. Seeds of mystery have been planted across the board and I'm hooked!
Is there anything else you'd like to share with us about your work, the series, etc?
I'm super excited about this book with my long-time friend and collaborator Scott Snyder. Those who have read The Black Mirror know that we can deliver some genuine spine-chilling stories and that's what we are doing with Night of the Ghoul. We are definitely planning to do more after this concludes. I recommend everyone get it now from comiXology Originals, and enjoy (with the same ticket) other books like Scott & Greg Capullo's We Have Demons and Scott & Francis Manapul's Clear, both excellent books.
Personally, I have a couple of books with DC Comics coming out: The Joker Annual out at the end of November and The Joker #10 out mid-December. And plenty more work, creator-owned and with DC, planned for 2022: I'm excited for what's in the plans ☺
---
And now enjoy an exclusive peek at the opening of Night of the Ghoul issue #2!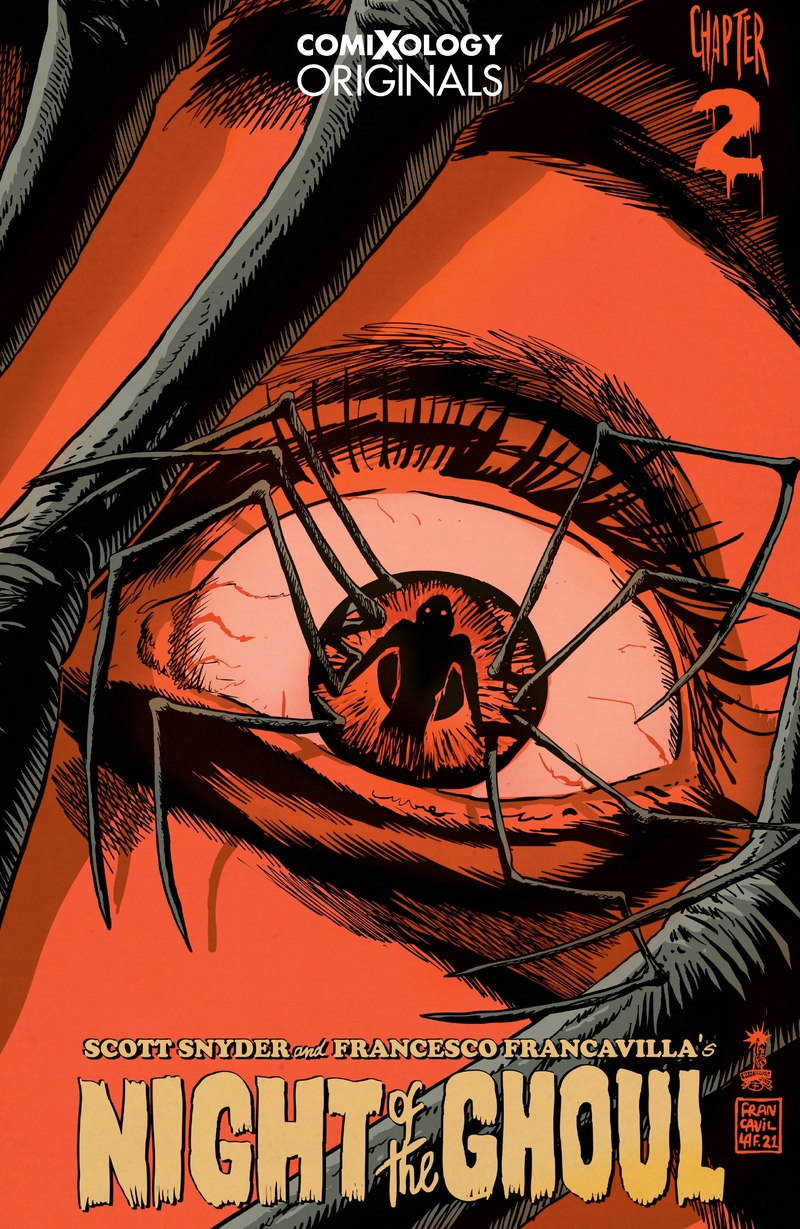 Night of the Ghoul chapter one is now available on ComiXology and Kindle. A print version will also be available from Dark Horse Books. Chapter two will be available November 23, 2021, pre-order now.