Today brings something groovy, particularly for horror fans who also happen to be gamers. A brand new trailer for Lionsgate Games and Saber Interactive's Evil Dead: The Game has arrived, and it features a voiceover from none other than Bruce Campbell himself, who returns as Ash Williams. While the actor may be done with the franchise in terms of live-action appearances, he's still doing his part to keep it alive while killing Deadites in other formats. As for the trailer itself, it offers a new look at the gameplay, particularly what it's like to play as the Kandarian Demon. Check it out.
The trailer gives a very good overview of what the gameplay is going to be like. This is very much a "player versus monster" survival experience, much like what horror lovers were treated to with Friday the 13th: The Game. In this case, those who choose to play the villain will be stalking the survivors, controlling Deadites, and even possessing objects in a very Raimi-esque fashion. We also get some nice nods to the movies in here, including some mini Ashes as a nod to Evil Dead 2. Overall, it looks like a love letter to the movies, though one that offers a very specific experience.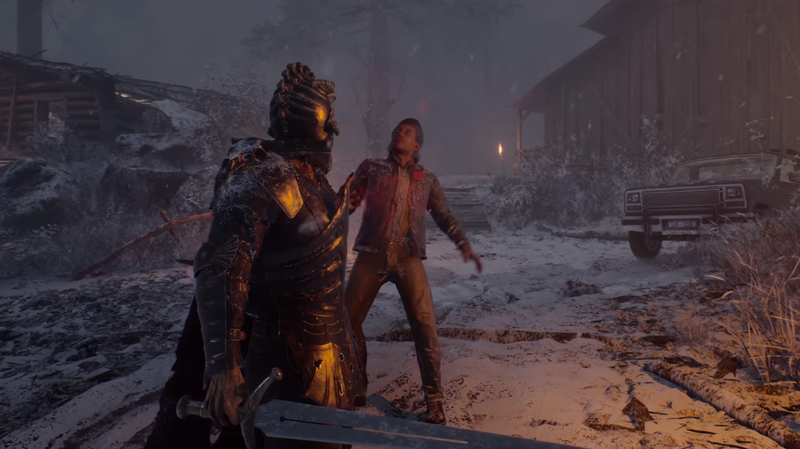 This is not necessarily looking to be a story-driven game. Rather, it's based on multiplayer game modes driven by a kill or be killed engine. This isn't going to be like playing a Resident Evil game. It's going to be far closer to Dead By Daylight, by the looks of it. Still, this could be just what the doctor ordered for the right fan. A logline for the game reads as follows:
"Step into the shoes of Ash Williams or his friends from the iconic Evil Dead franchise and work together in a game loaded with over-the-top co-op and PVP multiplayer action! Play as a team of four survivors, exploring, looting, managing your fear, and finding key items to seal the breach between worlds in a game inspired by all three original Evil Dead films as well as the STARZ original Ash vs Evil Dead television series."
It's quite honestly a good time to be a fan of this particular franchise. In the wake of the cancelation of Ash vs. Evil Dead on Starz, things seemed a little grim. However, Sam Raimi, Bruce Campbell, and Rob Tapert are teaming up again for a new movie, Evil Dead Rise, which is set to arrive on HBO Max sometime this year. Lee Cronin (The Hole In The Ground) is directing the latest installment, which will take place in a city with a new cast of characters.
As we previously revealed, pre-orders for the game are live, with several different packages available for fans to choose from. These range from just the base game all the way up to insane, fully-loaded collector's editions.
Evil Dead: The Game arrives on May 13.