Hibernation season is upon us, y'all and there's nothing better for cozying up than a pile of horror movies. We've got you covered with a Winter watchlist featuring 17 new releases — movies and series — hitting theaters and streaming platforms. The good news is, you can start watching right now, and there's enough here to carry you through the holiday season and into the new year — from heavy hitters like Bones And All to Shudder exclusives like A Wounded Fawn. Netflix has upped their horror ante as well, giving us some Burton to feast upon this month, and some Junji Ito to look forward to on the new year horizon.
We've also made you this handy dandy Letterboxd list with the movies (not the series!) listed below to help you track your way outta 2022. Happy viewing!
1899 - Now streaming on Netflix
The creators of Netflix's hit, Dark are taking us to yes — 1899. The story follows a migrant steamship as it heads west to leave the old continent. The passengers are described as a mixed bag of European origins, united by their hopes and dreams for the new century and their future abroad. But their journey takes an unexpected turn when they discover another migrant ship adrift on the open sea. What they will find on board, will turn their passage to the promised land into a horrifying nightmare.
Bones And All - In Theaters November 23
As young Maren (Taylor Russell) hits the road, learns how to cope with her unique cravings, and survive on the margins of society, she meets whispy drifter, Lee (Timothée Chalamet). Lee is experienced in the ways of drifter life and as Maren encounters more of her kind, she discovers their ways of coping and philosophies on life differ as much as their personalities. Starring Taylor Russell, Timothée Chalamet, and Mark Rylance, from director Luca Guadagnino. Stay tuned for our exclusive interview with Luca Guadagnino and Taylor Russell.
Blood Relatives - Now streaming on Shudder
A vampire's loner lifestyle is thrown into disarray when a teenager shows up claiming to be his daughter, and she's got the fangs to prove it. This Jewish vampire-road trip-horror-comedy marks Segan's first foray into director territory, the Dead Girl star (and frequent Rian Johnson collaborator) delivers some heartwarming horror from behind and in front of the camera. It's a bloody joy. Check out our exclusive Blood Relatives interview right here.
Wednesday - Now streaming on Netflix
If you've missed Tim Burton in full form, you're in for a treat. This is as close a return to his signature style as we've seen in years. And yes, Burton directed the first four episodes, sharing directing duties for the second half, but as a cohesive whole, this has the Burton vibe we've been longing for. And Jenna Ortega is perfection as our favorite stone-faced, monochromatic teen. The series is a sleuthing, supernaturally infused mystery charting Wednesday Addams' years as a student at Nevermore Academy. Wednesday attempts to master her emerging psychic ability, thwart a monstrous killing spree that has terrorized the local town, and solve the supernatural mystery that embroiled her parents 25 years ago — all while navigating her new and very tangled relationships at Nevermore.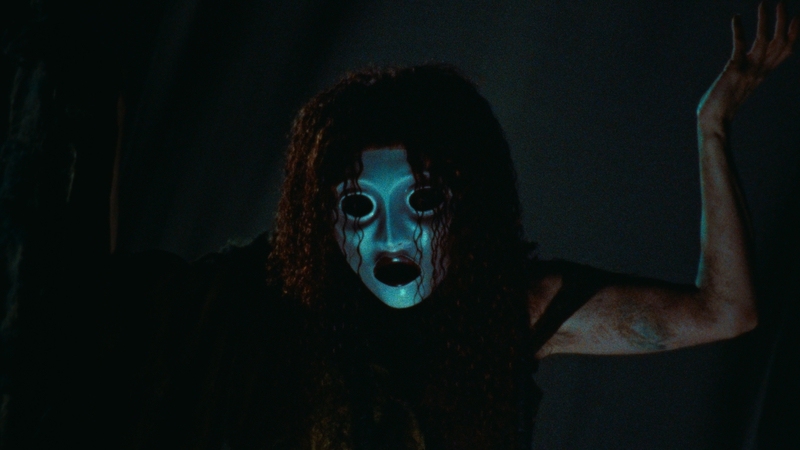 A Wounded Fawn - Shudder December 1
I do not say this lightly— this is one of my favorite movies this year. Painfully gorgeous, shot on 16mm, and it would be right at home in a best-of '70s horror retrospective, except it's from 2022. Inspired by surrealist art and Greek mythology, A Wounded Fawn follows the story of Meredith Tanning (Sarah Lind), a local museum curator who is dipping her toe back into the dating pool, only to be targeted by a charming serial killer (Josh Ruben).  When a fateful romantic getaway between the two becomes a tense game of cat and mouse, both must confront the madness within him. Written and directed by Travis Stevens (Jakob's Wife).
Troll - Netflix December 1st
When an explosion in the Norwegian mountains awakens an ancient troll, officials appoint a fearless paleontologist to stop it from wreaking deadly havoc.
The Eternal Daughter – In Theaters December 2
In this ghost story from A24 and acclaimed filmmaker Joanna Hogg, a middle-aged daughter and her elderly mother must confront long-buried secrets when they return to their former family home, a once-grand manor that has become a nearly vacant hotel brimming with mystery. Keep your eyes peeled for our exclusive interview with director Joanna Hogg coming soon.
Violent Night - In Theaters December 2
Finally! Somebody has gone and made that bonkers Santa movie from Scrooged! Writers Josh Miller and Patrick Casey and director Tommy Wirkola are the "someones" in question, delivering us a killer Santa movie in a different vein. An elite team of mercenaries breaks into a family compound on Christmas Eve, taking everyone hostage inside. However, they aren't prepared for a surprise combatant: Santa Claus is on the grounds, and he's about to show why this Nick is no saint. There will be candy cane impalements and judging from the trailer, holiday gore galore!
Christmas Bloody Christmas - In Theaters December 9
Another killer Santa movie on our nice list, but this time the Santa in question is a robot gone... haywire. Like a Christmas Terminator. It's Christmas Eve and fiery record store owner Tori Tooms (Riley Dandy) just wants to get drunk and party, until the robotic Santa Claus at a nearby toy store goes haywire and makes her night more than a little complicated. Santa Claus begins a rampant killing spree through the neon-drenched snowscape against a backdrop of drugs, sex, metal and violence, ultimately forcing Tori into a blood-splattered battle for survival against the ruthless heavy metal Saint Nick himself. Also starring Sam Delich (Spiderhead), Jonah Ray Rodrigues (Mystery Science Theater 3000), Dora Madison (Alone with You), Jeremy Gardner (After Midnight), with Jeff Daniel Phillips (The Munsters) and Abraham Benrubi (ER), written and directed by Joe Begos (V.F.W.)
Mindcage - In Theaters + Streaming December 16
John Malkovich as a serial killer?! Where do we sign up? When a copycat murderer strikes, Jake Doyle (Martin Lawrence) and Mary Kelly (Melissa Roxburgh) seek help from an incarcerated serial killer referred to as "the Artist" (Malkovich). How did this diabolical serial killer come by this moniker? Well, on account of using the corpses of his victims in extravagant public art installations. As Mary delves deep into the Artist's brilliant but twisted psyche, she and Jake get lured into a diabolical game of cat and mouse, racing against time to stay one step ahead of both criminals.
Joe Bob's Ghoultide Get-Together – Premieres Friday, December 16, at 9pm on Shudder TV, and on demand starting Sunday, December 18
Joe Bob Briggs and Darcy the Mail Girl have raised over $150,000 in past Christmas specials by combining charity auctions and horror, mutants digging deep to spread the holiday cheer. They return this year, the drive-in way, complete with The Last Drive-In's third annual holiday auction with proceeds going to charity. And who knows, this year's double feature might even include a Christmas horror or two.
The Apology - In theaters + streaming simultaneously on Shudder and AMC+ December 16
Twenty years after the disappearance of her daughter, recovering alcoholic Darlene Hagan (Anna Gunn, Breaking Bad) is preparing to host her family's Christmas celebration again with the help of her friend and neighbor, Gretchen (Janeane Garofalo, Wet Hot American Summer). Late Christmas Eve, Darlene's estranged ex-brother-in-law, Jack (Linus Roache, Mandy) arrives unannounced, bearing nostalgic gifts and a heavy secret. Soon, Darlene finds herself caught between reason and ruthless instinct. Trapped together by a dangerous storm, a battle of wits escalates to a violent game of revenge. Written and directed by Alison Locke.
Scare Package II: Rad Chad's Revenge - Shudder December 22
Rad Chad returns for some more wild anthology horror! When horror guru Rad Chad Buckley's funeral turns into an elaborate series of death traps centered around Chad's favorite films, the guests must band together and use the rules of horror to survive the bloody game. Core Story: Rad Chad's Revenge directed by Aaron B. Koontz. Segments: Welcome to the 90's directed by Alexandra Barreto, The Night He Came Back Again Part VI - The Night She Came Back directed by Anthony Cousins, Special Edition directed by Jed Shepherd, and We're So Dead directed by Rachele Wiggins.
Burial – Shudder December 29
In the last days of WWII, a band of Allied soldiers trafficking Hitler's remains out of Germany are ambushed by Nazi Wehrwolf fighters. Directed by Ben Park and starring Charlotte Vega, Tom Felton, Harriet Walter, Barry Ward, Dan Renton Skinner and Bill Milner.
M3gan - In Theaters January 6th
Oh you already knowwww. Get those M3EGAN TikTok dances ready, because we are prepping to walk into the new year with our new android bestie. M3GAN is a marvel of artificial intelligence, a lifelike doll that's programmed to be a child's greatest companion and a parent's greatest ally. Designed by Gemma, a brilliant roboticist, M3GAN can listen, watch and learn as it plays the role of friend and teacher, playmate and protector. When Gemma becomes the unexpected caretaker of her 8-year-old niece, she decides to give the girl a M3GAN prototype, a decision that leads to unimaginable consequences. You know we're gonna be showing some love to this bonkers wonderfulness in our upcoming issue #18, featuring a chat with M3GAN's puppeteering team and a behind-the-scenes look at this viral sensation.
The Pale Blue Eye - Netflix January 6th
Christian Bale. Edgar Allen Poe. Murder. West Point, 1830. A world-weary detective is hired to discreetly investigate the gruesome murder of a cadet. Stymied by the cadets' code of silence, he enlists one of their own to help unravel the case — a young man the world would come to know as Edgar Allan Poe.
Junji Ito Maniac: Japanese Tales of the Macabre - Netflix January 19th
A new anime adaptation of Junji Ito's signature brand of horror. The series will feature 20 stories from Ito's vast well of works with the shared theme of — madness! Stories include "Hanging Blimp", "Tomie", "Photo", "Four x Four Walls" and "Intruder."