Anyone who has worked even a single holiday season in retail knows the vast potential for horror that dwells in the furrowed brows of every seemingly normal person who enters the door. The "nice" woman who transforms into a hydra at the register; the "nice" family whose children are agents of terror; all the bodily fluids (literally every type of bodily fluid, human and animal alike). But it doesn't stop there. Whether worker or customer, the retail experience is often more nightmare than fantasy. How many times have you purchased something convinced it's money well-spent, only to recognize later a skilled salesperson just bewitched you? And don't even get me started on the hellmouth(s) otherwise known as the fitting room.
It's a firmly held personal opinion that the retail space is a critically underexplored- and underutilized- arena in horror, especially considering some of the classics that do utilize it to great effect. Gothic architecture need not be a cathedral or manor to be gothic, after all. It's also worth noting just how many of these films double as social satires made in the '80s, a period marked by mass corporate and industrial deregulation, tax cuts for the wealthy, and a return to the fetishization of consumer culture that marked the '50s. The films on this list illustrate how a mall, a grocery store, a fashion house, department store, toy store, salon, and pretty much any space of commerce houses potential horrors in their own unique ways.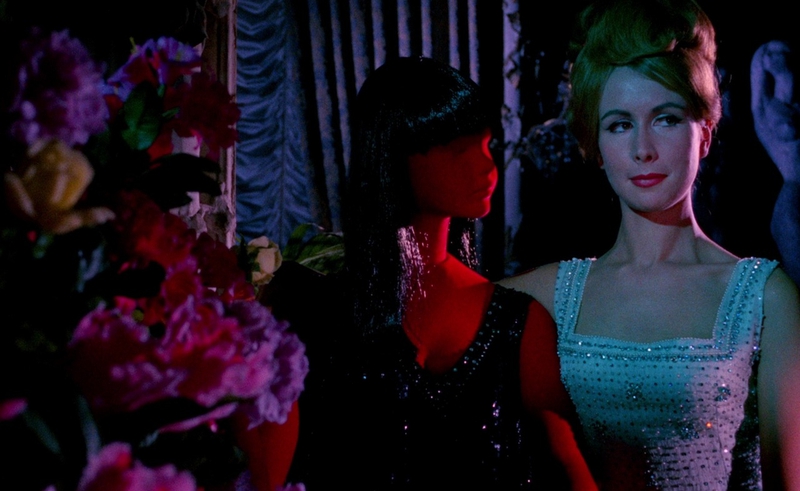 Blood and Black Lace (1964)
The Christiana Haute Couture fashion house is the center point of Mario Bava's luscious giallo whose influence can be seen in projects from Suspiria to Twin Peaks to Neon Demon. When one of its many models is murdered, an investigation is opened, and the diary in which she detailed the ugly underbelly of staff affairs becomes an object quite literally to die for. Blood and Black Lace is overtly concerned with the tensions between beauty and the grotesque, between romance and horror, which is exactly what makes the fashion house the perfect backdrop for this landmark film.
Dawn of the Dead (1978)
George Romero's world-expanding sequel to Night of the Living Dead is the definitive classic of retail horror. Most of the film's action takes place in a mall- a location many would consider ideal for surviving a zombie apocalypse given the access to resources- and in so doing, offers a biting commentary on consumer culture and the emptiness of materialism for materialism's sake. The world has effectively ended, and Peter, Stephen, Fran, and Roger have all the creature comforts they ever could have hoped for. But what does any of it mean- what does it mean to be alive- "when the dead…walk the earth"?
Gremlins (1984)
We've all had pets wreak havoc in our homes—the price we pay for non-human cohabitation. But it's generally less acceptable when they wreak havoc on other people's homes…and businesses…and society in general. The chaos wrought in Gremlins is legendary, hilarious, and from a worker's perspective, an absolute nightmare.
The Initiation (1984)
Kelly's father is a wealthy developer whose mall is the setting for this slasher, replete with psychoanalytic dream analysis and nonsensical twists impossible to see coming. Alongside her fellow pledges, Marcia, Alison, and Beth, Kelly has one more ritual to complete as part of her sorority initiation, but what begins as a low-stakes prank turns unexpectedly deadly.
The Stuff (1985)
The best moments in Larry Cohen's The Stuff- the moments when its critique of capitalism are strongest- are the fake mass marketing campaigns it includes that are nothing short of uncanny. The film reveals all the ways our lives and choices are predetermined under capitalist industry, and nowhere is this more visible than the grocery store, where the measure of The Stuff's influence is signified by how much space it occupies throughout the store itself.
Chopping Mall (1986)
Easy to dismiss though it may be, Chopping Mall is the precise type of sci-fi horror that becomes more and more relevant with every passing day. When Park Plaza Mall introduces a security system that includes three robots marketed as "Protectors," nobody can imagine they'd be anything more malevolent than your standard hall monitor. Unfortunately for some of the workers, this isn't quite the case. A warning tale about the misguided trust we put in surveillance technology and the dire consequences suffered when it runs amuck.
Child's Play (1988)
Dolls have been horror subjects for centuries, but Child's Play makes this particular list for the nightmare shopping scenario it presents. Struggling widow Karen just wants to make her six-year-old son, Andy, happy on his birthday by giving him the "Good Guy" doll he wants more than anything. Problem is, she can't afford it—but she can afford the one being sold second-hand behind the department store where she works. She and Andy both think she's landed Mom Of The Year until it turns out Chucky isn't such a good guy after all.
Intruder (1989)
Shortly after Evil Dead II, Scott Spiegel, Sam Raimi, and Bruce Campbell came together again to create this lesser-known gem of the '80s. Intruder (previously titled, The Night Crew) is a fairly standard slasher distinguished (and refreshed) by its grocery store setting, skillful camerawork, and a surprising amount of gore. Of all the films on this list, it's perhaps the most grounded in the real-life horrors of retail. The exposure of a public-facing job, delirious hours, strange if lovable coworkers, and plain strange managers- make a film less heady than Dawn of the Dead but still carries the weight of its social commentary, and carries it well.
Phantom of the Mall: Eric's Revenge (1989)
This particular adaptation of Gaston Leroux's 1910 classic trades the Paris Opera House for the Westfield Promenade as the setting of this well-worn gothic romance. Melody is grief-stricken and wracked with survivor's guilt after her boyfriend Eric's house burns down with him and his family still inside. A year after the tragedy, developers have constructed a shiny new mall over the site where she takes a job and meets a new love interest, just as inexplicable coincidences begin to take place.
Bio Zombie (1998)
A number of the films on this list are widely considered schlock, but this feature out of Hong Kong takes that particular cake (though I say this with love). Woody and Crazy Bee spend their days harassing girls, gambling, and swindling bootleg VCD's at the New Trend Plaza Mall until unknowingly, their antics lead them into contact with a government-developed biochemical weapon disguised as a soft drink that transforms people into zombies. A riff on Dawn of the Dead with the energy of a Kevin Smith-style stoner comedy and peak Y2K aesthetics.
Personal Shopper (2016)
Maureen shops for signs from her dead twin brother like she shops for her celebrity client, Kyra Gellman. More ghost-in-the-machine-style gothic than pure horror, Personal Shopper- like In Fabric- meditates on the complicated, always-in-flux relationship between identity and how we perform identity—which is really to say, the relationship between fear and desire.
In Fabric (2018)
We live and die in the clothing we wear, which is why I'm amazed more films like In Fabric don't exist. Then again, nothing else could ever be quite like this surrealist meditation on the fraught ways we relate to clothing—in this case, a truly killer red dress. Dissatisfied in the aftermath of a divorce, a grown son and his annoyingly grown girlfriend, plus two imbecilic bosses, Sheila is ready for more from her life. But when the excitement of a first date calls for a new dress, the stunning red number she selects doesn't quite meet her expectations. A must-see for anyone who has ever felt spellbound by a salesperson, terrorized by a fitting room, transformed by a specific garment, or if you (like me) are simply prone to fetishizing clothes.
Hair Wolf (2018)
Set in a hair salon in gentrified Brooklyn, Mariama Diallo's Hair Wolf introduces audiences to Count Beckula, a previously unidentified vampire whose preferred diet includes feeding on the lifeblood of Black culture. With its themes of gentrification and appropriation, Hair Wolf shows us just how bloodthirsty certain customers can be and warns us to be careful about who we invite inside.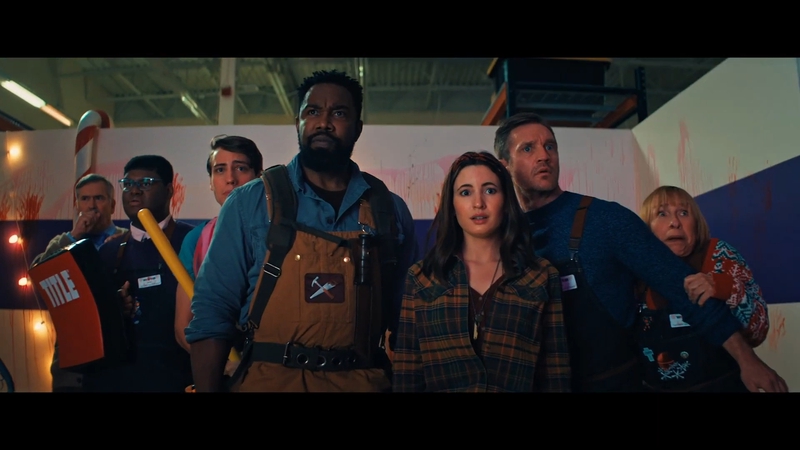 Black Friday (2021)
I was lucky enough to catch this horror comedy at Fantastic Fest last year and was so glad I did. It's retail horror true to the twenty-first century and the demands of major conglomerates whose expectations are basically blood sacrifice in exchange for customer abuse and little compensation. That being said, the teamwork required to survive your average Black Friday at a big box store isn't much different from the teamwork required to survive an invasion of parasitic monsters, a fact that makes Black Friday a love letter to the teammates who sometimes know you better than your closest loved ones.
---
Check out our handy dandy Retail Horror List on Letterboxd and check 'em off as you go.
Topics: