Dark Sky will distribute Fessenden's werewolf pic in the first quarter of 2024.
Plus John Waters and their big-screen queer werewolf feature debut.
New graphic novel battles beasts on the streets and the beast within.
The beginning of a monstrous series about the secrets we keep.
"It's got more blood than all of my other films combined, probably."
As we barrel toward the finale, the werewolf's identity stands revealed!
The next installment, plus your chance to be IN WHERE WOLF before the series finale.
New horror-comedy graphic novel from creative team Rob Saucedo, Debora Lancianese and Jack Morelli starts July 13th.
In which the best-selling author of LADY FROM THE BLACK LAGOON and GIRLY DRINKS steps Into The Void.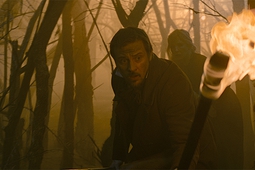 THE CURSED is now in theaters, take a sneak peek here.
The shift in the pathology of werewolf transformation (and appetite) through the ages.
Trailer, release date and behind-the-scenes photos from Sean Ellis' period horror.
As we approach a new werewolf movie cycle, one author asks why we can't have more dog protagonists.
All of those words are good, you gotta admit.