Clive Barker's horror classic is coming to 4K this October as part of a new four-movie collection.
Arrow's new HELLRAISER: QUARTET OF TORMENT collection is jam-packed with extras, and includes a never-before-seen version of Kevin Yagher's film.
Dissecting the rising popularity of extreme horror films.
With one foot firmly "in the history of what HELLRAISER music sounds like, the other very much in a David Bruckner world."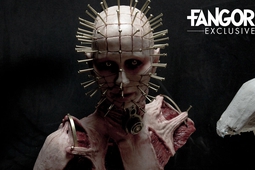 Dissecting the cenobites with the monster makers.
Chatting with HELLRAISER director David Bruckner and composer Ben Lovett.
We opened it. She came. An experience beyond limits.
Our first peek at Jamie Clayton as the new Pinhead!
The Florida genre festival is scaring up frights and fighting for rights.
The exclusive premiere of Brett's newest animation for ALTER plus an interview with the animator and filmmaker about his process, issues with the UK's folk horror revival and the beauty of interdisciplinary work.
From Jason Voorhees to Pinhead, video games like DEAD BY DAYLIGHT and FRIDAY THE 13TH: THE GAME are keeping iconic slashers relevant for new audiences.
A film forever remembered for all the things it wasn't.