Taylour Paige and Jovan Adepo are among the first cast members to join the HBO Max series.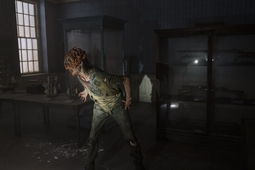 With its second episode, HBO's video game adaptation greatly increased its audience.
Anya Taylor-Joy, Nicholas Hoult, and Ralph Fiennes in a delicious skewering of the upper class.
20th Century Studios is bringing BARBARIAN home on Digital in just a couple of weeks, with an HBO Max release on deck as well.
"I need your advice. It's about a ghost."
As predicted, EVIL DEAD RISE shifts from HBO Max to a theatrical release.
Warner Bros. Discovery will not release the planned SCOOB! sequel amidst a wave of shocking business decisions from the company.
Warner Bros. is developing a show called WELCOME TO DERRY taking place in the world of Stephen King's IT for HBO Max.
Sian Robins-Grace and Lucy Gaymer's THE BABY is an eight-episode limited series debuting on HBO in April.
New year, new month, new horror streaming guide.