Emmett Nahil and George Williams' "tribute to vintage revenge-exploitation films" hits shelves in October!
Peeking between the pages of Ruben's debut graphic novel.
Liu chats her new horror comic, plus the results of being forever scarred by Disney horror and the work of maintaining a dream once you've grasped it.
Tananarive Due, Steven Barnes, Marco Finnegan, and John Jennings discuss their new project
Historical espionage with a dash of the supernatural. Witches take on the Führer in this graphic novel inspired by true events.
Take an exclusive sneak peek at this gory thriller by first-time graphic novel writer Jon Ellis and artist Hugo Petrus.
The official graphic novel adaptation of the horror novel by Stephen King and Owen King concludes in this interpretation of the best-selling novel.
A new graphic novel enlists an all-star group of creators to celebrate the fiftieth anniversary of THE NIGHT STALKER.
An original graphic novel featuring Mike Mignola and Warwick Johnson-Cadwell's characters Professor J.T. Meinhardt, Mr. Knox, and Ms. Mary Van Sloan.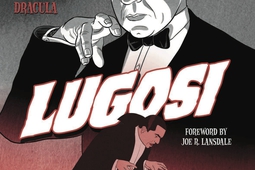 A graphic biography on the man behind the most iconic vampire in cinematic history, from award-winning cartoonist Koren Shadmi.