The latest entry into Shudder's found footage anthology series features five horror stories from the directors behind THE BLACK PHONE, HELLRAISER and more!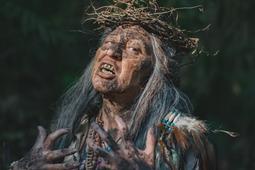 Exploring Mexican folklore in the all-Latino horror anthology.
Check out this photo set and get your very own Christmas card from Gigi and Nacho Skellington.
Guerrero to star in upcoming Peacock YA animated series.
A conversation with directors Gigi Saul Guerrero, Maritte Lee Go, Ryan Zaragoza and Axelle Carolyn.
Eating disorder horror, an abuela with a shotgun, and Edgar Wright too!
Take a peek inside the Blumhouse
Directors Gigi Saul Guerrero, Maritte Lee Go and Axelle Carolyn share their excitement for the two-night event.