They've even got several drafts of a great script. Let's do this!
It was only a matter of time.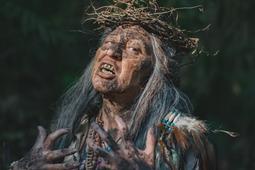 Exploring Mexican folklore in the all-Latino horror anthology.
THE BLAIR WITCH PROJECT director Eduardo Sánchez shares an exclusive sneak peek at his segment from the upcoming Latin horror anthology.
The anthology hits theaters in time to kick off Hispanic Heritage Month.
Alejandro Brugues, Gigi Saul Guerrero, Mike Mendez, Demián Rugna, and Eduardo Sánchez! Hispanic heritage month is giving us extra cause for celebration this year.
An "Inside" look at the legacy of British and American horror anthologies.
New anthology horror coming this September.
Come take a peek at the RAD CHAD'S REVENGE teaser.