September is nearly over, which means Halloween is gaining on us like a werewolf in pursuit of its prey. Skeletons have taken up residence in storefronts and autumn smells now pervade the air. The dearly departed anticipate the moment when they may once again rise from their tombs to walk above the soil. To those with their minds in the morgue, the entire month of September rivals Christmas Eve in dreadful anticipation. And around this time, even the cereal aisle harbors creeps.
Lurking behind frightened boxes of Lucky Charms, the General Mills Monsters have returned to scare you silly and rot your teeth! Initially offered year-round, the Monster Cereals are now produced seasonally, ringing in the Halloween season alongside pumpkin spice lattes and theme park horror houses. Fear fans can't get enough of these artificially-flavored fiends. Like the cinematic boogeymen they're based on, the General Mills Monsters have legions of devoted followers who eagerly await their annual appearance. Christmas has gingerbread men, Thanksgiving has turkey, and Halloween has the Monster Cereals. From milk-thirsty vampires to forgotten mummies, there's a lot to unwrap here. Prepare yourself for the startling true story of . . . Monster Cereals!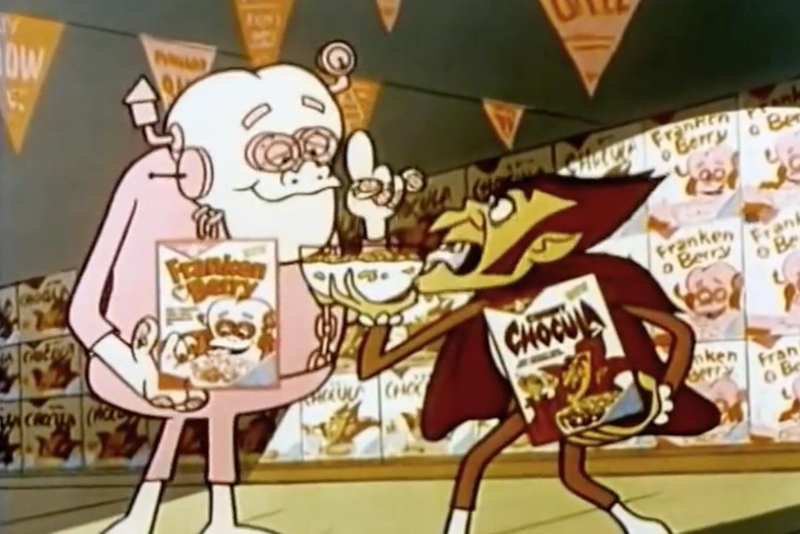 In 1971 advertising agency Dancer Fitzgerald Sample introduced us to Count Chocula and Franken Berry, the first of the Cereal Monsters. Laura Levine, a former copywriter for the agency, spoke to Mental Floss about the creation of the characters in 2016. "My boss, Tony Jaffe, gave me the assignment," revealed Levine. "At the time, Cap'n Crunch was very popular, and Tony wanted something funny. The whole concept was monsters, but monsters who were scaredy cats," she said. "They'd act tough, and then they'd be terrified by the sight of a little kitten." Monsters had recently enjoyed a resurgence in popularity, thanks to such factors as the Shock Theater television package, the Famous Monsters of Filmland magazine, Aurora model kits, and The Munsters. And so, two soulless corpses became spokesmen for children's breakfast cereal. As their names suggest, Count Chocula's cereal had a robust chocolate flavor, and Franken Berry's was a delectable strawberry. Illustrator George Karn, the man who drew the original Trix Rabbit in 1959, sketched the first images of Count Chocula. Bill Melendez, the animator who worked on many Peanuts projects, animated the first commercial. In addition to the involvement of Melendez, that ad is also notable for establishing the rivalry between the Monsters, a concept that would drive the entire campaign for years. Since the Monsters actually interact, I daresay the General Mills spots are more successful as monster crossovers than Universal's "House of..." movies.
Count Chocula was first voiced by Jim Dukas and then by Larry Kenney, both imitating the incomparable Bela Lugosi. Naturally, Franken Berry actors Bob McFadden and Rob Pruitt modeled their portrayals on the most famous Frankenstein of them all, Boris Karloff. In 1973 a new cereal and impression were introduced: Boo Berry, a blueberry cereal promoted by a funny little specter inspired by the Lord High Minister Of All That Is Sinister, Peter Lorre. Mr. Berry (presumably unrelated to Franken) was voiced by another well-known wraith: Paul Frees, the man behind the Ghost Host in Disneyland's Haunted Mansion attraction. (Chris Phillips later replaced Frees.) Unlike Count Chocula and Franken Berry, Boo Berry isn't based on any particular movie villain outside of Peter Lorre's general persona. Personally, I always thought of him as the ghost of Lorre. He did Muscle Beach Party in life, so he must pay in the afterlife by selling cereal.
With the original trio scaring up a profit, General Mills placed the curse of the werewolf on the brand with Fruit Brute (later Frute Brute). Bearing a resemblance to the Wolf Man, Brute endeavored to bring the "howling good taste of fruit" to the breakfast table. While often dismissed as a failure, the cereal did last from 1974 to 1982, a rather respectable run. The hirsute huckster would later appear in Quentin Tarantino's Reservoir Dogs and Pulp Fiction, which is nothing to sneeze at. After Fruit Brute was downed by a silver bullet, another sugar-saturated spookster took his place and his flavor. In 1988, the tomb of Fruity Yummy Mummy was disturbed. Though he promised that his cereal would make "your tummy go yummy," Fruity Yummy Mummy disappeared after just four years of fruit-filled fear. What was the difference between Fruit Brute and Fruity Yummy Mummy? Brute had lime-flavored marshmallows; Mummy had vanilla. When the long-dormant mascots were briefly awakened for the Halloween of 2013, the two received radically different flavors: the lovable lycanthrope went with cherry, while the wrapped weirdo had upgraded to orange cream.
Those are the monsters that saw the dark of night, but there are a few that never had the opportunity to grace a cereal box. Sometime between 1998 and 2000, General Mills considered a new mixed berry cereal for their line. An employee at Saatchi & Saatchi (the company that acquired Dancer Fitzgerald Sample) drew designs for four potential additions to the Monster Cereal family. The creepy candidates were BerryPatchra (a mummy lady), Phantom-Berry (The Phantom of the Opera), Dr. JekyllBerry (Dr. Jekyll and Mr. Hyde), and Bride of Frankenberry (duh). Alas, none of these creatures of the night made it beyond that design sheet, though I still hope to see them next to a box of Fruity Pebbles one day. If the ghost of Peter Lorre can have his own cereal, why not the Phantom?
I feel it would be a little unkind to present this next section without just a word of friendly warning: it is one of the strangest tales ever told. I think it will thrill you. It may shock you. It might even horrify you. So if any of you feel that you do not care to subject your nerves to such a strain, now is your chance to, uh... well, I've warned you! With that out of the way, it's now time to discuss . . . Franken Berry Stool. What is Franken Berry Stool? Well, it's exactly what you think it is! When it was first introduced, Franken Berry was colored with a synthetic dye that could not be absorbed or digested by the human body. In February of 1972, a twelve-year-old boy began to . . . forgive me . . . poop pink. The child was admitted to the hospital under the fear that the technicolor poop was caused by internal bleeding. A case study, "Benign Red Pigmentation of Stool Resulting from Food Coloring in a New Breakfast Cereal (The Franken Berry Stool)," published in Pediatrics and reported by Dr. John V. Payne, revealed the culprit to be our beloved F. Berry. After the boy's digestive system cleared, Dr. Payne fed him four bowls of Franken Berry, which colored his poop pink once again. I don't think the real Frankenstein has ever achieved anything that ghastly.
Franken Berry has since been altered to eliminate that colorful condition, and the main trio continue to make taste buds scream. Over the years, they teamed up with such brands as Scooby-Doo, Goosebumps, and Casper the Friendly Ghost to keep breakfast as beastly as possible. In 2010, our favorite freakies (with apologies to the actual Freakies mascots) officially made the leap to seasonal sensations, thus elevating them from a mere breakfast item to a cherished holiday tradition. During this new era, General Mills has released boxes with art by artists from DC Comics, held presidential elections between the Fab Three, and featured the Addams Family with the gang. However, no gimmick has been more exciting than this year's: an amalgam of all five cereals called Monster Mash! If that wasn't swell enough, they also had the five mascots record a new version of--you guessed it--"The Monster Mash!" Monster Cereals always announce the arrival of the Halloween season, but Monster Mash means it'll be a particularly groovy one. With all five Monsters together again, Halloween 2021 is sure to be a graveyard smash.
---