The drive-in will never die! Shudder has announced that The Last Drive-In with Joe Bob Briggs is coming back for a sixth season. Not only that, but the streaming servie is billing this as a "supersized" sixth season. Not only is Joe Bob back, but he's bigger than ever, apparently. The expanded season will more than 30 titles, beginning with a series of seasonal specials. Then, Joe Bob begins a new schedule beginning in March 2024.
The Last Drive-In technically already kicked off this month with The Walking Dead: Daryl Dixon special, which aired on September 15. That episode featured visual effects legend and director Greg Nicotero (The Walking Dead). This season will also feature two Halloween-themed specials in October, as well as a Holiday special in December and a Valentine's Day special in February. After that, in March 2024, Shudder will roll out the new schedule of Joe Bob's signature movie watch parties every other Friday night, featuring single titles and surprises.
There is, perhaps, a bit of good news and bad news here. The good news is that we're going to get way more Joe Bob from now well into 2024. The bad news is that the signature double features that viewers had become accustomed to will be at least far less frequent than they used to be. But, as a self-proclaimed lover of what Joe Bob has to offer, more Last Drive-In is a very good thing. Briggs had this to say about it in a statement:
"As everyone knows, you should never invite me into your home, because I always show up. Shudder has graciously invited me to stick around for a sixth year, and I intend to use that kindness to haunt your phones, laptops and big-screen TVs with the most ghastly examples of perversity in the history of cinema. Plus a few old jokes and some celebrity guests who will still return our phone calls. Put it all together and it spells PARTAY."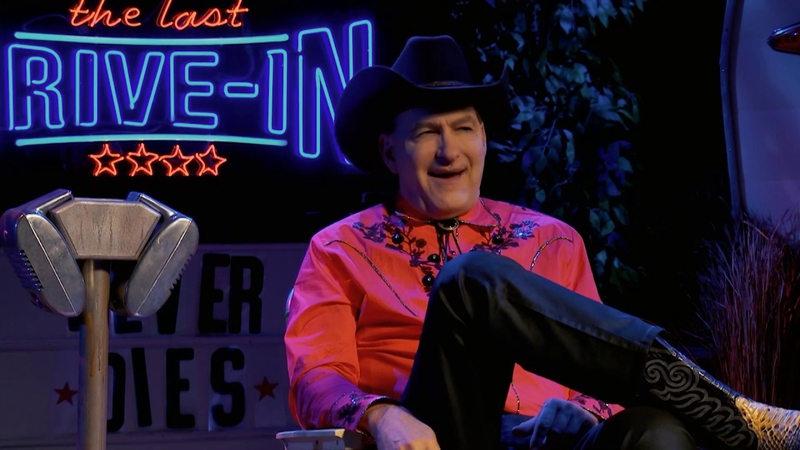 AMC Networks' Executive Vice President of Streaming Courtney Thomasma had this to add:
"We're delighted to bring Joe Bob, Darcy and the rest of The Last Drive-In Team back for our biggest season yet of crazy, scary and crazy-scary movies and specials, with the most entertaining commentary on TV. Joe Bob will be hosting more movie nights than any previous season and we can't wait to continue the Friday night party with our Shudder family."
Shudder and Briggs first teamed up in July 2018 for a now-infamous 27-hour marathon intended to be Briggs' final farewell to televised movie hosting. However, the special turned out to be an unprecedented hit, which allowed Shudder to bring back The Last Drive-In for five seasons and counting. The Last Drive-In with Joe Bob Briggs is directed by Austin Jennings with Matt Manjourides and Justin Martel on board as producers.