This is not a drill! The long-awaited FANGORIA 2023 Chainsaw Awards are nearly here! We've got your handy dandy how-to guide on how to watch, where to watch, and everything else you need to know about the Oscars of horror celebrating the best horror movies of 2023. But first, spend the week getting caught up with our list of 2023 nominees.
How To Watch
Sign up or log in to Shudder. If you're not already a Shudder subscriber, you can sign up for a free 30-day trial with code "FANGORIA" (all caps).
Navigate to "Shudder TV" for the live stream. Here's what that looks like on AppleTV, and the interface is similar on other devices.
When To Watch
The FANGORIA Chainsaw Awards will premiere exclusively on Shudder Sunday, May 21st at 9pm ET/6pm PT.
We've also got a pre-show to whet your bloodthirsty whistle. Watch our horrific guests arriving on the blood-red carpet for horror's biggest night. You can stream the pre-show Sunday, May 21st at 8:30pm ET/5:30pm PT. on our YouTube right here. You can even have it notify you when it starts.
Play Along
You sent in your votes and made your voices heard! This show is essentially made by you, and made entirely for you, so get in on this action. Print your own ballot at home and show us your picks for each category with #ChainsawAwards
Use that hashtag to share the whole experience. We want to see your ballot picks, your menu plans, your epic Chainsaw fits, your watch parties, and your reactions!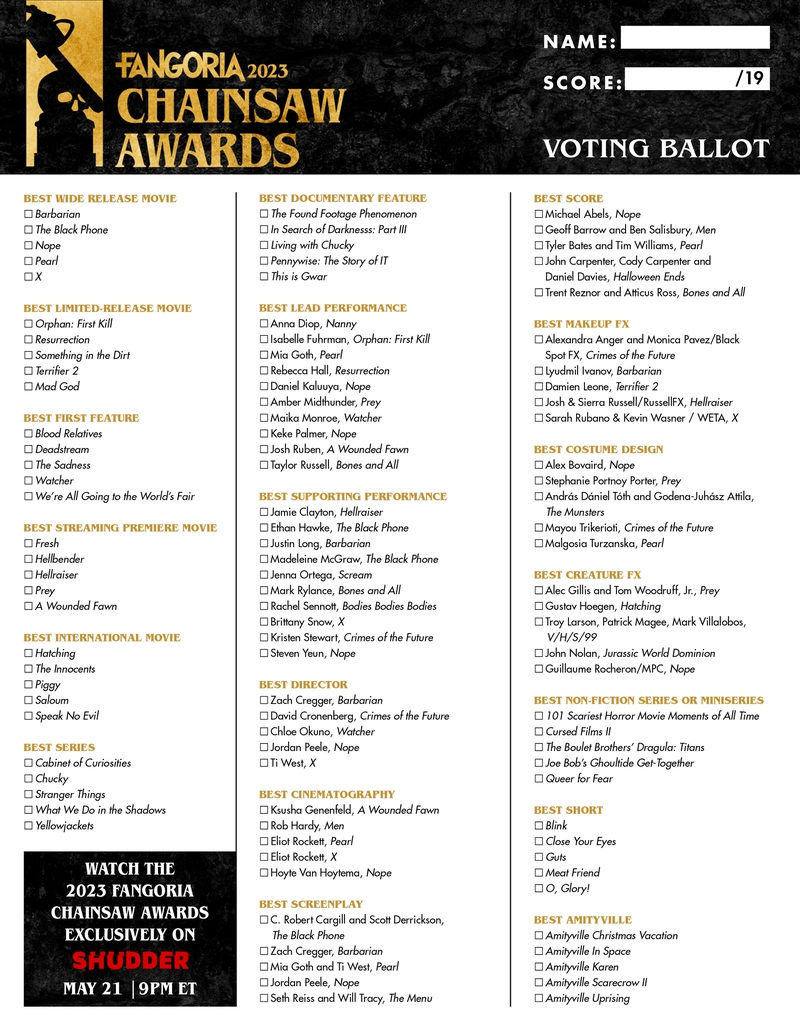 Refreshments
This is a perfect excuse to bust out your horror-themed snack and drink recipes. The Homicidal Homemaker shared some horrific drink recipes with us in the past, try out your favorites or switch it up and make the ones you haven't already tested. Pineapple Possessor shooter, anyone?
Chainsaw Merch
Use the code MERCH25 for 25% off your 2023 Chainsaw Awards merch.
2023 Chainsaw Awards
Topics: