If horror fans love anything more than merely watching the movies they love, it would be physically immersing themselves within the movies they love. Cheesing for photos in front of NYC's The Dakota building, where Rosemary Woodhouse birthed the Spawn of Satan; booking an overnight stay at the fictional 261 Turner Lane, where Stu Macher hosts one last killer party in Scream; perusing replicas of their favorite horror icons and special effects work at Count Orlok's Nightmare Gallery in Salem, Massachusetts. For contemporary horror fans, the opportunities for tangibly (albeit temporarily) feeling as if they're in the movie are endless…with the exception of one pesky little thing as of late— the pandemic.
Obviously walloped by changes attributed to the pandemic, one of Pittsburgh's primary horror attractions, The Living Dead Museum— a George Romero tribute museum located in Dawn of the Dead's Monroeville Mall— creates a particularly meta experience for those of us feeling as if we've been living through the actual zombie apocalypse in this current timeline of events.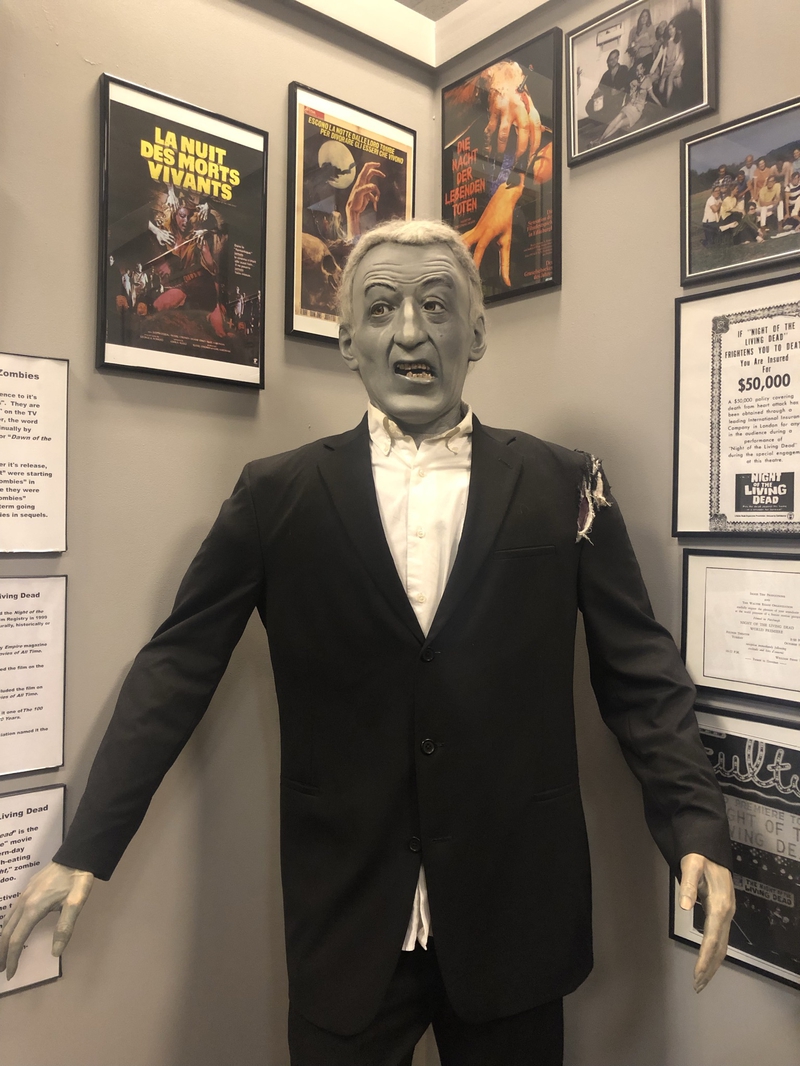 The museum is shrouded in life-size zombie figures, memorabilia, busts, and wall-to-wall movie props— with laser focus set on Romero's trilogy (as well as countless other items). The long-running Living Dead Museum has garnered a slow build to notoriety and acclaim for ushering attention and tourists to "the birthplace of the modern zombie" in an area that is celebrated for steel and sports but oft-forgotten for hosting a multitude of film sets that extend well beyond zombie horror, according to Museum owner and "nerdy, self-taught" film historian Kevin Kriess.
"There's a lot of people that go through the Museum and say, 'I had no idea that all these (movies and TV shows) were done here in this Mall,'" Kriess laughs. "People that even work in the Mall, to this day, don't know that certain movies were filmed there. We're still having to play that role to inform lots of people all the time."
Any Romero completist could probably map out the exact wing where Roger slid down the escalator railing or where Flyboy makes his grand, un-deadly entrance from the elevator within the Monroeville Mall, but the Living Dead Museum wasn't born out of a Dawn of the Dead fervor per se— instead, as its name suggests, the idea was the product of a longtime love for Night of the Living Dead from Evans City local, (Living Dead's filming location) Kriess.
"Being from the town where Night of the Living Dead was made, which is my hometown, and that cemetery (Evans City Cemetery) is my family's cemetery and such…It was always on my mind that, 'Hey, it's really cool that zombies started here where I grew up,'" Kriess explains. "I ran around telling people that all the time." As zombie popularity started to extend its decaying arms' reach into pop culture and beyond mere genre fandom, Kriess knew he wanted to do something that would commemorate their Pitts birthplace but didn't exactly know what or how to go about it. "I thought, 'Well somebody really should be giving Pittsburgh, and Evans City, in particular, the credit of being the home of the zombie.' I wanted to give credit and recognition. How would that come to be? I didn't know yet."
Along the way, Kriess had a collectibles and memorabilia business, eventually gaining the opportunity for a storefront in the Monroeville Mall, where he smartly knew he could shoehorn his idea for the zombie museum on the side— starting off as a tribute room for Dawn of the Dead while educating visitors on Evans City and Pittsburgh's other roles in genre film history as well. Needless to say, the tribute room grew in popularity (even surpassing the Star Wars collectibles section, he says.) After some mall locational shuffling and hassles-beyond-control, Kriess moved the museum to Evans City, near the Night cemetery, where attention started to be paid— leading to the beginnings of the Living Dead. Weekend (the festival/convention of all things Dead.) In 2019, Kriess was all ready to expand to two locations at this point— the horror and zombie one remaining in Evans City, and the other portion at the Mall focusing on general Pittsburgh filming locations— with plans to open Spring of 2020…And then Miss 'Rona came to town.
"We were trying to figure out what to do," Kriess says. "How do we reinvent this thing? Is tourism ever going to return in a way that makes sense? Plus, the events we had scheduled were on hold, and we didn't know what was going to happen with those. So a decision was made in October of 2020 to close Evans City's location. Like, don't try to do two tourism-based things in the middle of a pandemic. We put so much work into the new one, and it was so much bigger that we would just close Evans City, (then) moved those exhibits back into the Mall— re-lay it out a little bit."
And, as the silver lining, it all worked out for the better. "So now what we have is the super-size version of the combined two museums," Kriess tells me. This current layout of the Living Dead Museum, in the JCPenney's wing of the Monroeville Mall, is still freshly coated, with its recent opening last July. Walking through its doors you'll be greeted by a 6' gray Night zombie and a sound machine warning of what's to come, adorned with one-of-a-kind photos from the set and $50k life insurance policies for frightened viewers from 1968. You'll walk past equally large zombies and iconic recreations of scenes from Dawn and Day of the Dead, including a museum highlight of Flyboy emerging from the original (yes, really) elevator. A cool 50+ years of "History of Zombies" room awaits you, with a zombie timeline including Fulci's Zombie and Michael Jackson's Thriller red leather-clad getup. Another room showcases Creepshow's Nathan "I want my cake!" Grantham. Endless information on Romero's life history, specific quotes, and filmmaking struggles cover the walls, as well as priceless props and signed movie posters that feel like slices from every Romero movie, including the non-zombified Martin.
Alas, Kriess says there's still "no end" to items he desires for the Living Dead Museum that he hasn't been quite able to get his hands on. "We're pretty much aware of everything that exists that was saved and where it lives now," he tells me. "There's a handful of collectors that have the key things. (He doesn't go into specifics.) However, once in a while you'll discover that you didn't know that somebody saved a thing. For example, we recently had a temporary exhibit of the full outfit that Roger in Dawn of the Dead wore- his whole SWAT gear, vest, hat, gas mask. And nobody ever knew the story about how that was saved. But, it turns out there was a person who worked in the costuming shop where the stuff was made (as a teenager) and accepted pay in props, instead of money. The world thought they were gone."
And, while Romero's work is the main act of the showcase, the Museum features a slew of other filmmakers and movie items to browse through. There's an area dedicated to Raimi's Evil Dead 2's original cabin and work shed, because, according to Kriess, Raimi and Romero parallel each other for being independent filmmakers that self-funded their projects and began their careers by making horror movies— even though horror wasn't the only genre they wanted to make. Props from My Bloody Valentine, (shot in Pittsburgh) David Fincher's Mindhunter, (partially filmed in Monroeville Mall) and the "Maul of Fame" (a wall of horror celebrities' handprints) give the Museum that extra edge of captivation once you've reached your maximum zombie capacity (if ever.) Kriess is still on the hunt for some items from the non-horror Pittsburgh-shot movies too. "I'd love to have something from Flashdance, which was filmed in the Mall, and I'm always looking for things from Zack and Miri Make a Porno. Kevin Smith has a great following of fans, so that would be a great addition down the road."
"The general rule," Kriess continues, "Is that, if it's filmed in Pittsburgh, we'd have interest in it. If it's not, it depends— it'd have to be impactful in some other way."
Kriess, indeed, had met the "gracious" Romero a handful of times before his 2017 passing (and earned both his nod of approval for the Museum as well as his handprints for the Maul of Fame.) And out of all of the celebrity visitors over the years, director/FX maestro and Pitts native Greg Nicotero has made the most consistent impression. As one of the Museum's earliest supporters, Kriess says Nicotero immediately donated props and joined Living Dead Weekend conventions to help out— but is equally happy, if not happier, to walk around as a fan, admire the movie collectibles, and shop for his own collection, as he is to sign autographs for others. "Sometimes you'll forget that he's involved in making the films, because he's right there with you sharing the fan experience," Kriess explains. "Out of everyone I've met, he's the only one who's all the way like that— a regular guy who never gets jaded by the work."
When speaking in terms of the regular-folk visitors, Kriess insists those that lurk at the Museum are almost always out-of-towner, Romero/horror fans that go out of their way to visit — as opposed to attracting the curiosities of nearby Pittsburghians. (As a Philadelphian who has yet to roam the neighborhood in which an all-time favorite, The Sixth Sense, was filmed, I can absolutely attest to this neglect.) However, those that do visit are expertly aware of Romero's work and legacy, with an abundance of horror fans in their "30s and 40s" that weren't even born yet during the making of his films, which comforts Kriess. "I don't know exactly what's happened in the last 10 years since the first time we were at the Mall, but something (shifted) where there's much more awareness," he explains. "Sadly, I think some of it is the passing of George, but there's so much more awareness of his films."
Especially within the last two years, where it seems Romero's zombie trilogy, as well as his other viral-infection-into-madness movies like The Crazies could be used as a visual blueprint of how not to handles these things…Yet we still haven't learned anything.
"If you look at every Romero movie, when there's some shit going down out there, what do the people do when they're trying to figure out how we get through it? Instead of working together, they split down the middle, and they fight about it," Kriess laughs. "That's the theme of every one of Romero's zombie movies. It's literally what we did, and what we're still doing. Nobody is looking at the problem and saying, 'We're all boarded up in this house together, how do we work together to solve it?' Instead, they argue and fight themselves in that way."
Business hours, gift shop, and general info on the Living Dead Museum can be found here.