Haunt season is upon us and today we bring you a sweltering hot preview of two Halloween Horror Nights haunted houses from Universal Studios Hollywood. The Southern California sun doesn't seem to be letting up anytime soon as we barrel headlong into a heatwave but pay no mind to the burning ball of sun behind the smoggy curtain, it's haunt season, dammit and haunters gonna' haunt!

First up, we have The Horrors of Blumhouse haunt featuring a Freaky and Black Phone mashup. HHN Creative Director John Murdy was kind enough to take us on a guided tour behind the scenes of these houses, which is extra wonderful because if you're like me, even if you attend multiple times a year, there are a whole lot of details to miss out on when you're running through the dark, monsters hot on your trail. Listen, I'd love to stop and smell the rotting flowers, bask in the blood and gore, but a scare actor zones in on me, and my feet start up like a Scooby Doo character, completely independent of me, and off I go. But I digress, let's get freaky.
This year's Blumhouse haunt has switched up locations, previously located on the lower lot, this year the horrors of Blum await you in the Waterworld queue, with a double feature. As the facade comes into view, you'll find a mysterious video rental store, appearing for one night only. The marquis of this magical video store beckons, visible only in the inky darkness of night, of course!
Enter, brave soul! It's time to take on The Butcher and The Grabber. Let's swap some bodies and outrun some creeps.

Handy title cards will help you keep your place in the Freaky timeline, just like in the movie as you snake your way towards Friday the 13th. Our freaky journey begins where the movie does… in a mansion with the missing mystical La Dola dagger! Bodies litter the hall like hangovers from hell, their frozen faces pulled permanently into grotesque grimaces.

As we press on, we find ourselves in Millie's room, but this is a nightmare version of a teenage girl's room with something amiss. Descending further into the nightmare, we find ourselves in The Butcher's lair, filled to the brim with tools of the trade and... a toilet overflowing with shit. Murdy promises scent effects will be employed, but I hope for all our sake they skip the fully immersive experience in this particular room.

After the Millie/Butcher body swap, we follow Millie (now really the butcher) to the perfect hunting grounds... the hallowed halls of high school. Go beavers! This year Murdy and Co have amped it up, incorporating animatronics. Off to woodshop for one of our favorite kills of 2020, wherein the shop teacher gets his comeuppance sailing right through the table saw, resulting in a splitting headache… and then there were two. Guests of the Blumhouse video store will witness the sawing in gloriously grotesque real-time.

If you manage to escape the grip of The Butcher, take it back to 1978 where children are missing and The Grabber roams the streets. Search for Finney in The Grabber's house and try to escape the confines of his basement. Encounter the titular Black Phone, and sneak past a shirtless Grabber to make it out intact. There's just the right amount of filth here to feel mildly uncomfortable at all times, even without the threat of a half-naked Ethan Hawke jumping out to stash you in his basement. Murdy is a solid Grabber stand-in, but I suspect that horrific magic will be enhanced a hundred-fold opening night. Abracadabra!

Now we're off to London on the lower lot, behold the Alucard shipping warehouse. This Universal Monsters: Legends Collide haunt is a sister maze to the version in Orlando. The Orlando leg of the story takes place in Egypt with a heavy focus on Egyptian mythology, while the California counterpart continues the story as the ancient Egyptian artifacts have been shipped to London and put on display. Don't worry, this will all be explained in an awesome pre-recorded pre-show video guests will be treated to before entering the warehouse. Monster fans will notice some familiar names in that pre-show video (which Murdy did all the voices for, by the way!) Our old friend Larry Talbot has traveled the world researching curses and seeking a cure for his lycanthropy. Talbot has joined forces with a mysterious benefactor, and as we arrive at the London shipping yards, we find bodies strewn about the docks.

As we work our way through the London docks to the warehouse, the whole space is teeming with dozens of ancient Egyptian artifacts. Fun fact: they are all actual screen-used props from The Mummy that have spent a couple of decades or so stored away in a warehouse. Luckily Murdy broke them out and put them to good use. So if you're not too terrified, speeding through the maze, take a moment to marvel at the lavish displays.

Winding through the warehouse filled with ancient Egyptian artifacts, Murdy explains that the Egyptian god Anubis, historically referred to as having the head of a jackal, is actually more in line with a wolf. According to DNA studies of Egyptian jackals, they weren't canines at all, but rather much closer to wolf DNA. Thus the concept of Anubis as a literal wolf... man...god.. was born. And as we round the corner into the Paymaster's office, we find he has met a most unfortunate demise! Are those claw marks?
The cemetery pays homage to Universal director Todd Browning (Dracula, London After Midnight) and is modeled after London's Highgate Cemetery— part cemetery, part nature reserve, complete with an "Egyptian Avenue" section. Fitting. There are plenty of Easter eggs to be found for those brave enough to take them in before even stepping foot in the maze with the introduction video, and all throughout your journey as The Wolf Man vs. Dracula vs. The Mummy for an ultimate monster mashup.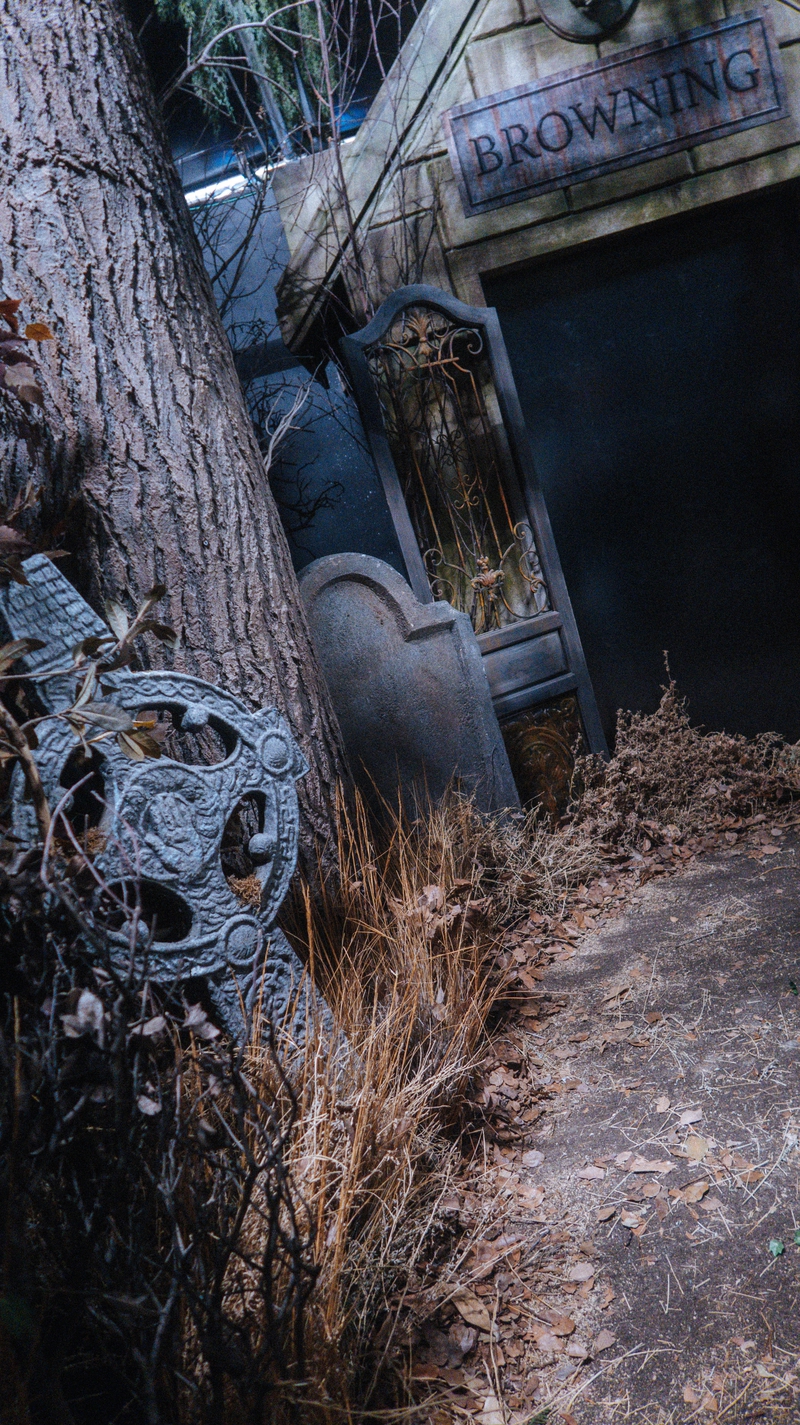 That's a wrap! The devil is truly in the details for Murdy and the Horror Nights team, and this preview was brimming with attention to even the most minute aspects of the world-building. That level of devotion can be appreciated even if you run screaming through, but is even better enjoyed if you can muster up the courage to slow your roll and take it in. If you're hungry for more, take a look at the gallery below for some more goodies. Universal Halloween Horror Nights kicks off September 8th and runs select nights through October 31st. This year's festivities include the terror tram and eight haunted houses: The Horrors of Blumhouse, Universal Monsters: Legends Collide, The Weeknd After Hours Nightmare, Halloween, Killer Klowns From Outer Space, La Llorona, Scarecrow: The Reaping, and Universal Horror Hotel. Tickets are now on sale and weekends are already selling out, so get in on it quick! See you in the fog.