Although many roots belong to the prominent and ancient rural history of the British Isles, you would be mistaken to think "Folk Horror" begins and ends there. Persistently drawn into what appears to be a collective cultural past, this "Hauntology" seems almost inseparable from this strange, beguiling subgenre. Each country thrives on its lore, feeds off it, and when the outsiders arrive ― not so much the colonial invaders but the backpackers or urbanites ― they soon find themselves out of their depth, isolated and drowning in fear. Here, the power of nature breeds with the supernatural; ruins, rituals, and religious beliefs that evoke a dark absence buried in the land. There are forces at play. Ones we don't understand. Restless and foreboding…
All the Haunts Be Ours: A Compendium of Folk Horror (Blu-ray Box Set) US (2022). You'll need some coinage, but if you are to begin anywhere with an introduction to this subgenre, then there is no better place to start than Severin Films' incredible compendium. This is a high benchmark for any boutique label.
Belbury Poly (band) UK (2004-present). Far from prosaic, the sound and design of Jim Jupp's wistful electronica is a nostalgic deep dive into the off-kilter '70s British TV productions that helped define this strange alternate version of now. An extension of his Ghost Box Records' hauntological music; co-founder Jupp is a major part in keeping forgotten soundscapes alive.
Children of the Corn (short story) US (1977). First published in the March 1977 issue of Penthouse, Stephen King's story became part of his collection, Night Shift, the following year. Before Fritz Kiersch's 1984 feature, a short film version, Disciples of the Crow (1983), was produced by "folks" from around the same region King's story was set. The original horror story shows plenty of folk signatures, such as naïve outsiders at the mercy of a puritanical cult within an isolated community.
The Demon (film) Italy: Il demonio (1963). Directed by Brunello Rondi ― a frequent Fellini collaborator ― this is an integral part of Folk Horror history, with its themes of rural superstition and curses. Rondi's neorealist approach reflected scientific studies about religion and its rituals coming out of Italy at the time and elevated the film beyond mere schlock. The exorcism of the peasant, Purificata, is an outstanding piece of cinema; pre-empting both Friedkin's The Exorcist and Żuławski's infamous subway scene in Possession.
Errementari (film) France/Spain, transl. "The Blacksmith", aka Errementari: The Blacksmith and the Devil (2017). This Netflix Original (and debut feature) from writer/director Paul Urkijo Alijo has whiffs of del Toro and Jim Henson's The Storyteller. Classically told, it is Eneko Sagardoy's wonderful performance as the devil Sartael that reveals a hideously hilarious heart at the center of this tale.
Fairy (mythical creature) specifically "changeling" (19th century). Demoted pagan deities were dwindling in the light of the Christian Church until W.B. Yeats reintroduced the myths and old lore of fairies to Victorian fiction. Changelings were something far more sinister, left in the place of a stolen human child. Corin Hardy's The Hallow is a superb little Irish Folk Horror that brings Yeats' myth into the 21st century.
Green Lung (band) UK (2017-present). These London-based musicians debuted in 2019 with their first album, Woodland Rites. Both their music and videos are infused with retro '70s mockumentary narratives ― druid stones and stoner roots ― as metal as it is melancholy. Another experimental folk music band, Heilung (2014-present) ― members of which herald from Denmark, Norway, and Germany ― are also worth a listen.
Häxan (documentary/film) Swedish: [ˈhɛksan], transl. "The Witch"; Denmark: Heksen; UK: The Witches (1922). Danish filmmaker Benjamin Christensen's silent classic is one of the most influential horror films ever made; its disturbing imagery of the occult is made all the more powerful by its semi-documentarian approach. Häxan was later released in the US in 1968 as Witchcraft Through the Ages, narrated by William S. Burroughs.
Impetigore (film) Indonesia: Perempuan Tanah Jahanam, transl. "Woman of the damned land" (2019). It would seem 2019 was a breakthrough year for horror by way of Indonesia, Thailand, and Malaysia; the revision of 1981's The Queen of Black Magic, Inhuman Kiss, and Soul (aka Roh), all released the same year. Almost a decade in development, writer/director Joko Anwar's Impetigore has achieved huge critical and commercial success. Like its Eastern counterparts, its Indonesian folklore is an even more unnerving experience to Western audiences unfamiliar with their myths.
The Judge with No Name (character) Blood on Satan's Claw (1971). Identified merely by his social function, the Judge seeks to punish the sinful and the immoral. All the while, the evil buried in the land feeds on those emotional impulses he represses; his (super) ego is nothing to the uncontrollable power that manifests itself in the minds of the "silenced" women. Unbeknownst to their suppressor, they have only been stimulated by his fear and the rejection of their "womanly ways"; their beauty bewitched.
Kill List (film) UK (2011). Ben Wheatley's genre mash of domesticity, hitmen, and wicker folk is jarring to some and shocking to most. One of the most talked-about British horror films in recent years, Wheatley is central to the revival of Folk Horror, having also directed A Field in England, and his recent lockdown effort, In the Earth.
Lamb (film) Iceland: Dýrið, transl. "The animal" (2021). Pack your wellies, your woollies, and a shotgun. Much like other Scandinavian films of this ilk ― Thale and Border ― Valdimar Jóhannsson's first feature displays all the hallmarks of (oddly) quiet surroundings and intimate study of the mythical that push the horror back into the ether. Co-written with Icelandic poet, novelist (and lyricist), Sjón; this is a deeply moving portrait of the relationship to the land and each other.
Midsommar (film) US (2019). What is it with Ari Aster and head trauma? In his second feature, a relationship is put through the wringer as an already grieving girlfriend (Florence Pugh) takes a trip with her partner (Jack Reynor) and his mates. Beautiful tapestries, food, drug trips, human lemmings, bear suits, and fornication are all part of the holiday package.
November (film) Norway (2017). Estonian myths and legends are brought to vivid life via Andrus Kivirähk's novel, Rehepapp ehk November ("Old Barny aka November", 2000). Writer/director Rainer Sarnet infuses just a whiff of Gilliam and Švankmajer while still delivering one of the most original and visually arresting works of art in recent years. This is monochrome Folk Horror (and fantasy) at its finest.
Onibaba (film) Japan: transl. "Demon Hag" (1964). Not only one of the best Japanese horrors (see ENCYCLOBLEEDIA of J-Horror) but also one of the best examples of Far Eastern Folk Horror. Rural reeds and rice fields set the scene of a mother and daughter preying on soldiers during the Genkō War in 14th century Japan. Kaneto Shindo's direction is a masterstroke in atmosphere and tense imagery, in which the demonic hannya mask has become synonymous with the film.
Picnic at Hanging Rock (film) Australia (1975). A seminal (master)piece of Australian cinema, Picnic helped pave the way for filmmakers down under. Director Peter Weir is often attached to projects centered on distinct communities, communal experience, and isolation. Here, the mood is the epitome of the foreboding power at the heart of Folk Horror; the hypnotic nature of the landscape and its ancient, primordial power a distinct presence throughout.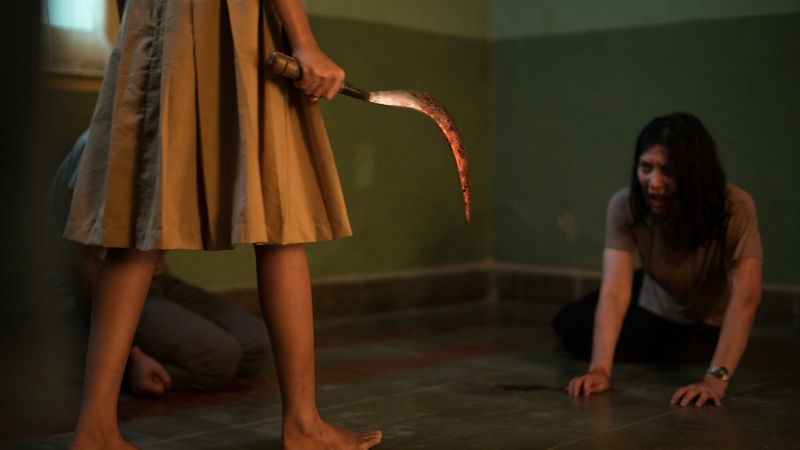 The Queen of Black Magic (film) Indonesia: Ratu Ilmu Hitam (1981). Starring the "horror queen of Indonesian cinema", Suzzanna (1942-2008), director Lilik Sudjio delivers on the rural setting and vengeful witch. Queen is less of an exploitation film than you would expect, with its (goofball) gore and more careful focus on its tragic protagonist.
The Ritual (film) UK (2017). Based on British author Adam Nevill's 2011 novel, American director David Bruckner delivers a superb adaptation; the insidious Swedish landscape ― actually filmed in the Carpathian Mountains of Romania ― swallowing the characters one by one. As the tension builds, it is during the final (unforgettable) moments that Bruckner hits you with something truly unique and terrifying.
Stones (animated short film) UK (2021). Keep an eye out for this Folk Horror stop motion from animator/director Joseph Brett and writer Bec Boey that boasts "an exploration of the yearning for belonging, with the added complexity of race." Stones is the "coupling" of Brett's "rural background/cult-influenced upbringing" and Boey's "experience as a mixed-race British East and Southeast Asian."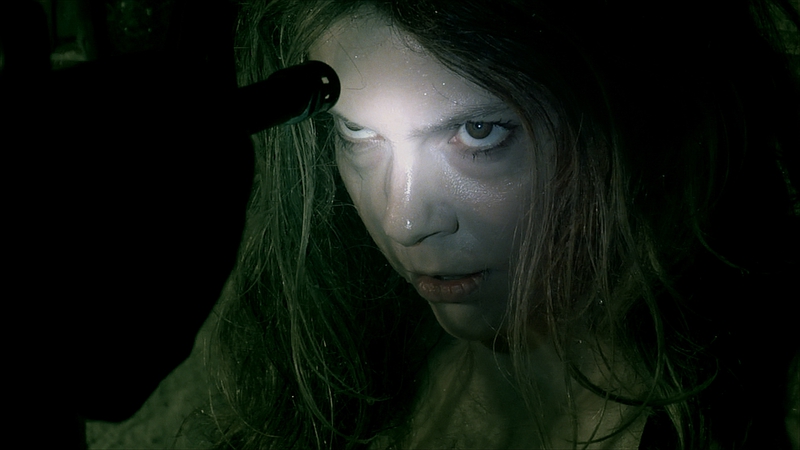 Thale (film) Norway (2012). Fairy tale or fairy tail? This micro-budget effort is the work of Aleksander Nordaas, who wrote, produced, shot, and edited the film entirely himself. A small cast inhabits a set built in his father's basement, its remote setting presenting the titular character; a seductive Scandinavian forest creature known as a "hulder," who has been captured, confined, and experimented on by her captor. Basically, faun torture porn.
(Un)holy Trilogy (films) UK: Witchfinder General (1968), Blood on Satan's Claw (1971), The Wicker Man (1973). Not the "impossible trilogy" of John Milton's Paradise Lost ― consisting of Beelzebub, Lucifer, and Astaroth ―but a devilish collection of demonic celluloid, all the same. Although held in such high regard, this trinity only acts as definitive British Folk Horror, each legendary moment (of course) iconic of their time and hugely influential within contemporary horror and its filmmaking.
Viy (film) Russia: Вий, or "Spirit of Evil" (1967). The feature adaptation of Russian author Nikolai Gogol's 1835 novella "Viy" ― published as part of a short story collection ― was the directorial debut of Konstantin Ershov. It is not only a significant bewitching example of Folk Horror but was also the only horror film of the Soviet era. Stunning production design and cinematography only heighten the delirium of its narrative and surreal pandemonium that stages the monstrous and the macabre.
Woodlands Dark and Days Bewitched: A History of Folk Horror (documentary) US (2021). Kier-La Janisse's incredible deep dive into this intoxicating subgenre is an absolute must-watch. At over three hours in length, it also boasts additional material on the Blu-ray, including a wonderful insight into Ashley Thorpe's title sequence design and animations. As well as checking out Thorpe's own film/documentary, Borley Rectory, Paul Wright's sensory journey, Arcadia, is the perfect companion piece to Janisse's documentary.
X-mas Folk Horror (films). Spirits of the season and a wintery otherworld; M.R. James's ghost stories and the cold snap of terror. Via Lapland, we have Erik Blomberg's The White Reindeer and various other Christmas creatures, such as the Krampus. In recent years, you would struggle to find a more disturbing version of the latter than Inside No. 9 episode "The Devil of Christmas," which sees an old director provide commentary for one of his old TV episodes from the '70s. Krampus with a dose of the meta and something much, much darker. This is the genius of Reece Sheersmith and Steve Pemberton's blackest of black humor.
"Yorkshire Yeti" (YouTube episode) UK: British Cryptids (2021-present). What, at first glance, looks like an "unearthed" archival piece of British television turns out to be the rather clever work of Whinny Moor; a recording label of collective talent specializing in their parallel world of humorous and "wildly" creative little films. This is "hauntologically themed disjecta membra" that acts as a treasure hunt of faux footage and immersive "wyrd" soundscapes.
Zines (self-publications). A perfect place to "bookend" All the Haunts… Check out this small-press material: Hellebore, Rituals & Declarations, and Weird Walk for further reading.