Last Friday, I saw the tacky horror-western hybrid Death Rider In the House of Vampires—in a movie theater. That was as close as I've recently gotten to a real midnight movie experience.
Admittedly, this article was written on September 2nd, 2021; New York City movie theaters have only been reopened for the last six months. I also hasten to add that Death Rider in the House of Vampires is not a good movie, though that's kind of beside the point.
Goth-punk figurehead and Misfits co-founder Glenn Danzig wrote, directed, produced, composed, starred in, and co-shot this ridiculous grindhouse homage, his second feature after the 2019 horror anthology Verotika. Death Rider in the House of Vampires follows the mysterious black kerchief-wearing gunman Death Rider (Devon Sawa) as he seeks out, pals around with, and inevitably destroys a cabal of vampires led by Count David Warner, I mean Count Holiday (Julian Sands). There are a few celebrity cameos and bit roles from black tee-shirt faves like Eli Roth, Danny Trejo, and Lee Ving. There's also plenty of nudity, though none of the men drop trow (c'mon, Danzig, hang dong!). There's also not much money on the screen. There are, however, a ton of inexplicable crash zooms and rack focuses. Most scenes take a while to end. The small but engaged crowd I saw it with laughed throughout. Me, too.
Death Rider in the House of Vampires screened in two theaters here in New York City and for one week only: Manhattan's Union Square 14, which is where I saw Danzig's latest, and somewhere in Staten Island. Death Rider in the House of Vampires only showed once a day at the Union Square 14, always around 10:40 pm…presumably so that the theater's management didn't have to pay overtime to their union projectionists.
No trailers were shown before Friday's screening, which was stuffed into theater #9, seemingly the smallest of 14 auditoriums. The air conditioning wasn't on at first, so you could occasionally hear your seatmates peeling their bare skin off of their chairs' puffy, safety orange upholstery as they fidgeted in their seats (I guess the theater was renovated sometime recently). Memories of other AC-less New York auditoriums came back to me, particularly the Spectacle in Williamsburg, which reopened yesterday, and the Anthology Film Archives, which used to swelter in the summer. I thought that the Two Boots Pioneer didn't have AC, but am apparently misremembering. I'm still 34 years old.
The Pioneer closed in 2008; soon, it will be Cinema Paradiso, a different movie theater and under new management. Lee Peterson, the Pioneer's manager, used to co-program these amazing trailer programs with Rob Hauschild at Wild Eye Releasing: Old Dracula (1974), Tales from the Crypt (1972), and To the Devil a Daughter (1976) were some of my favorites. I also saw The Corpse Grinders and Curtains projected on film there, though not at midnight. Both the Anthology Film Archives and the Spectacle have air conditioning, by the way. I imagine Cinema Paradiso will be blessedly refrigerated, too.
Friday's screening of Death Rider in the House of Vampires was a trip, and in unexpected ways. Sure, there was a massive cupholder and an oversized food tray where my chair's right armrest should have been, but everything else felt weirdly familiar. The audience laughed together whenever a scene dragged (a couple of times), or one of Danzig's co-stars seemed especially put out by his creaky dialogue (poor Julian Sands).
The abundant nudity was also appreciated. I mean, Death Rider in the House of Vampires, like Verotika before it, is a fetish movie designed to highlight a few of Danzig's favorite things. Baby doll cheeks, sky blue satin hot pants, ample silicon breasts, cherry blood on exposed skin, that sort of thing. Danzig's latest is maybe the most unapologetically sleazy thing to screen at the Union Square 14 since the trailer for Eli Roth's The Green Inferno (did they ever show the actual movie there?). Granted, the Union Square 14 is a fairly run-of-the-mill Manhattan multiplex, though they once hosted a Fathom Events double feature of Amityville: The Evil Escapes and Amityville 1992: It's About Time. I also once saw two NYU kids snorting cocaine in the second-floor men's room. This was in 2014. Who says New York City has lost its wild charms?
Anyway, about Death Rider in the House of Vampires. This is the kind of bad movie that I love, not just because it's a delicate balance of cuckoo and incompetence. Watching Death Rider in the House of Vampires with an audience felt like a low-key event. I mean, you can still watch and appreciate Verotika at home on blu-ray—and I did—and then spin either Samhain's self-titled LP (the best of post-Misfits Danzig?) or Kryst the Conqueror's only album (Christian metal from 1987, by fellow Misfits Jerry Only and Doyle Wolfgang von Frankenstein).
But Death Rider In the House of Vampires is the kind of bad that you'll want to see with other people, if only to confirm that they saw what you think you just saw. I'm still laughing at my friend John Gholson's apt description of Verotika and Death Rider In the House of Vampires' shared aesthetic: "What if the Spirit Halloween Store was also a strip club?" Both movies look like they were front-lit by LED Jacuzzi floodlights, and then covered in as few takes as possible. And yet: that blithe carelessness is perfect for this sort of inaccessible oddity. Because if you're not scratching your heads or clutching your temples while you watch Death Rider In the House of Vampires, then you're simply not paying close enough attention.
This movie looks like it was filtered with dried-out Vaseline; it looks like it's dying. The movie opens with a few hypnotically drawn-out minutes of Sawa's character trotting around on horseback. A generously endowed topless woman rides the same horse as Sawa. They meet Danny Trejo, a vampire who sounds like he's exaggerating his accent for some reason (and it's not just his cheap plastic fangs). After Sawa and Trejo mix it up: more incidental horsey stuff, then the movie's title. That extra pre-credits dead air is pretty telling: it's too long, especially after a perfunctory act of violence.
That sort of third-trimester pregnant pause is also a sign that Danzig has never attended film school. Good thing, too: Death Rider In the House of Vampires is amateurish in the best and worst ways imaginable. Its hasty camera blocking, languid scene-to-scene pacing, and mostly al dente style bring to mind the sort of fan-made superhero bootlegs that you used to find at horror and sci-fi conventions. And if you don't think that Danzig's movies are a triumph of savant-like style over substance, I urge you to rewatch one (1) scene in Verotika, the one set in an empty movie theater. That sequence looks like it was ghost-directed by Jean Rollin with a bad head cold. Death Rider In the House of Vampires is supposed to look like that, too (all that).
Danzig may not be a master filmmaker, but it's kinda fun to watch him stretch out scenes until their deliberately ungainly rhythm achieves an almost psychedelic effect. Death Rider In the House of Vampires is even more droning and mind-dissolving than Verotika since there's less going on, and thus more opportunities to appreciate the sheer thin-ness of what you're looking at. Fewer locations, more silence, that sort of thing. And while it's entirely possible that the last year-and-a-half has done a number on me, there's also something weirdly appealing about a trashy horror movie that stumbles its way up to and around Danzig's on-screen entrance as Bad Bathory, an ornery vampire gunslinger. Lee Ving pours him a drink; nobody looks as young as they used to. Death Rider In the House of Vampires is like a fucked up time machine—it ages you, but somehow never moves faster than a rascal.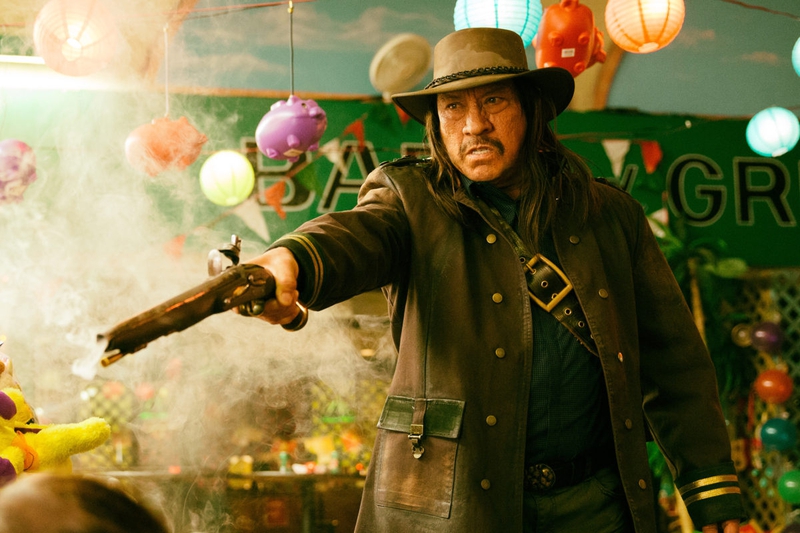 New York City's midnight/late-night movie screenings have always been very catch-as-catch-can in my brief lifetime. They were the stuff of my adolescent fantasies: surely that's what being an adult New Yorker was going to be like. (I grew up in Little Neck, Queens, then moved slightly to Great Neck, Long Island when I was a teenager) In college, I followed midnight movie programming like some baseball fans track their favorite teams. I caught up with some Deuce-friendly charmers at the Landmark Sunshine (RIP), like Cannibal Holocaust, Dr. Butcher M.D., and I Drink Your Blood. Now I sometimes work with repertory theaters like the IFC Center (formerly the Waverly) and the Museum of the Moving Image to program cult-friendly stuff like Body Bags, Killer Klowns From Outer Space, and Mighty Peking Man.
It's been a hard year-and-a-half for cultists, but I can't really blame local film programmers for tightening their cardboard belts. They have to get asses back into seats, and I don't have to pay for the stuff I've programmed. There have also been a few exceptionally unmissable film screenings; it's purely coincidental that they're all midnight movie-ish. The Anthology Film Archives recently screened Paul Sharits's double-projection freakout Razor Blades, and the Quad had a double feature of Fred Halsted's gay/BDSM porn: LA Plays Itself and Sextool. The New York Asian Film Festival's one-night-only screening of the scuzzy Hong Kong serial killer noir Limbo was a treat. And I'm looking forward to the Metrograph's virtual Doris Wishman retrospective, if only for Blaze Starr Goes Nudist and Indecent Desires.
That all being said: I wish there were a lot more where the Spectacle and even Greenpoint's Film Noir Cinema came from. Throughout the pandemic, I've avidly followed the Spectacle's weekly "Blood Brunch" live streams, if only to see which horror movies they show (almost) every Sunday at 5 pm ET. I miss being around people, but it's always nice to chat and make esoteric jokes with my fellow goth bodega patrons, if only online, while watching stuff like The Being, The Boneyard, and The Night Flier. The Spectacle thankfully just reopened; I look forward to their Out 1 marathon this Saturday. Film Noir Cinema also looks very promising, being the only New York City venue to show weird stuff like Curse of Evil, Frankenhooker, and Planet of the Vampires. Not at midnight, but you get the idea.
Maybe I've just micromanaged my expectations, but Death Rider in the House of Vampires worked a treat, even in a Manhattan chain theater at 10:40 pm. Friday's screening reminded me of all the little ways that my adolescent hopes for the future simply were not realistic…at all. Not as much as my pre-adolescent dream of owning a comic book shop that I could eat pizza and fall asleep in. But pretty close. There are many reasons to skip midnight movies in 2021, especially given how many local theaters are still mostly focused on (wait for it) General Audiences. But if you go outside late at night, and devote some time to seeing what you can see, you might stumble upon something that's exactly as dumb, gross, and thrilling as you need it to be. The night time is still the right time to see something that only a cultist could love.
Death Rider In the House of Vampires is now in theaters. Visit the official page to find a screening near you, and check out the trailer below: