What's scarier than having to go back to school? Going back to school in a horror movie! It's almost time for summer vacation to be over, so let's reminisce about some of the genre's films about how going to school can be bad for your health. These films include slasher killers, alien invasions, zombies, and wild psychokinetic talents and are some of the less obvious choices. I mean, we all know Scream and A Nightmare On Elm Street are set in schools, so let's try some classic films and some films that you may not have seen yet.
Return to Horror High (1987)
Return to Horror High is one of George Clooney's early appearances in horror films. The plot concerns a film company that wants to make a movie about a massacre at Crippen High School, so they move into the abandoned school, and the actors and crew start to disappear. This slasher horror comedy has a lot of surprises and reversals in the narrative, so be ready to experience some things you aren't expecting to happen.
Carrie (1976)
Brian DePalma's Carrie is such a classic that people might forget who directed it and that it was based on a Stephen King novel. The story of a gentle high school outcast tormented past her breaking point shows the horror of being a teenage girl, but it goes even further because Carrie has wild psychokinetic talents. The skill with which DePalma told the story and the elegant cinematography made Carrie a cut above most high school horror films. It stars Sissy Spacek, Amy Irving, Betty Buckley, Nancy Allen, William Katt, and, yes, John Travolta.
Seance (2021)
Simon Barrett's Seance is a movie that has been slept upon but is really worth a watch. The film stars Suki Waterhouse and Ella-Rae Smith and has excellent cinematography by Karim Hussain, who has shot episodes of Hannibal, Brandon Cronenberg's Possessor, and Infinity Pool. The film is a bit of a throwback to 70s films like Satan's School For Girls, and Waterhouse's Camille Meadows has a hidden reason for being at Edelvine Academy.
Trick 'r Treat (2007)
Michael Dougherty's Trick 'r Treat is an undeniable Halloween classic, and while not every story in this beloved anthology is set in school, many have to do with school or school-aged kids. The principal is a serial killer! The bus driver drove his bus into a quarry! Sam is kid sized! Rhonda is a Halloween traditionalist! With Halloween just around the corner, this is definitely a film you should put on your back-to-school horror movie playlist. It stars Dylan Baker, Samm Todd, Anna Paquin, and Brian Cox.
Cherry Falls (2000)
Cherry Falls was directed by Australian director Geoffrey Wright and stars Brittany Murphy, Jay Mohr, Gabriel Mann, and Michael Biehn. The film really has a different vibe where the slasher killer actually targets virgins rather than those who have sex. The killer plays by a different set of rules than the Scream franchise, and the quirky nature of the film works in its favor.
The Faculty (1998)
The Faculty, directed by Robert Rodriguez and written by Kevin Williamson, stars a massive roster of screen talents, Jordana Brewster, Clea DuVall, Laura Harris, Josh Hartnett, Shawn Hatosy, Famke Janssen, Piper Laurie, Bebe Neuwirth, Robert Patrick, Jon Stewart, and Elijah Wood. The film is knowing and funny about weird alien invasions and high school life. It is probably the only opportunity you will have to watch Jon Stewart get possessed by an alien parasite.
Battle Royale (2000)
In the Japanese film Battle Royale, the cruel government chooses a randomly selected class of junior high school students to fight to the death. The government plans to stop juvenile delinquency by forcing all students to witness this horror or participate in it. While the film is usually categorized as a thriller, it is hard to think of it as anything but a horror film where students are trapped on an island in a kill-or-be-killed situation. It's like being on an island full of slasher killers. It stars Tatsuya Fujiwara, Aki Maeda, and Tarō Yamamoto and was directed by Kinji Fukasaku.
Raw (2016)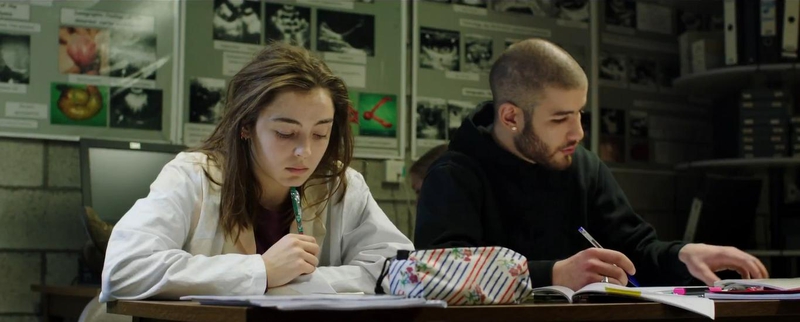 Raw, Julia Ducournau's examination of female coming of age as a literal desire for the taste of flesh is extraordinary. It belongs on this list because it takes place at a veterinary school where two vegetarian sisters have been sent to study. It stars Garance Marillier, Ella Rumpf, and Rabah Nait Oufella. This body horror film goes places that you won't expect it to and became a cult classic. There is your life before you watch Raw, then there is your life after.
Death Bell (2008)
Death Bell, directed by Chang, is a South Korean slasher horror film set entirely in a school. Students are forced to play death games, where they try to solve problems given to them, and if they don't, one of the students, who has been kidnapped, is killed while they watch on video. As it turns out, the students are being killed in order of their school ranking based on the last test. The mystery of who is responsible for these hideous games haunts the students as they try to survive. It stars Lee Beom-soo, Kim Bum, and Nam Gyu-ri.
Dance of the Dead (2008)
Dance of the Dead, a horror comedy directed by Gregg Bishop, happens when zombies attack the school prom, and the SciFi club has to try and save as many people as possible. It stars Jared Kusnitz, Greyson Chadwick, and Chandler Darby. We can't neglect to add a zombie movie to the list because who doesn't like a zombie movie, especially if it is a zombie comedy?
Prom Night (1980)
Prom Night is a classic 80s slasher that stars one of the queens of slasher films, Jamie Lee Curtis. Directed by Canadian filmmaker Paul Lynch, it even has Leslie Nielson as the father of Curtis' character Kim Hammond. Kim and her fraternal twin brother Alex ( Michael Tough) lost their sister Robin in what seemed like an accident, but Wendy Richards, Jude Cunningham, Kelly Lynch, and Nick McBride scared the young girl who fell to her death. Eight years later, the group gets obscene phone calls as they prepare for the prom. Uh oh, that doesn't sound good.
Topics: