Confession: I don't watch nearly as much international horror as I'd like to. Sure, I have an unhealthy obsession with old British movies—but there's a whole wide world of wondrous weirdness out there that I've barely explored. There's fascinating folklore to delve into, strange legends and ghost stories to unpack. I don't know if I'll ever have the opportunity to travel the world, but I can visit distant corners through the genre I love.
That's why I've made it my New Year's resolution to check out more foreign films and TV shows this year. And unlike most of my resolutions, this one should be fun to keep. (Sorry, gym membership. It's not you, it's me.)
Want to join me on this journey of discovery? Put your passport away, grab the popcorn, and check out these five gruesome global titles releasing in the US this January.
1.Devil Beneath (Australia)
Originally unleashed in its home country under the name Red Billabong in 2016, Devil Beneath finally arrived on American soil (or at least, digital outlets) on January 13, courtesy of Vertical Entertainment. Was it worth the wait? Well, the trailer teases a big-ass monster so it's certainly got my attention.
Luke Sparke wrote and directed Devil Beneath, which sees two brothers inheriting more than they bargained for when their grandfather leaves them his house. Turns out the old man was a cryptozoologist studying bunyips, man-eating creatures from Indigenous mythology that are said to inhabit lakes and swamps. And since the brothers' friends are now going missing, it seems that someone forgot to leave food out for the local cryptid…
2.Death Knot (Indonesia)
The directorial debut of Cornelio Sunny, who also stars, Death Knot is now available on Blu-ray, DVD, and digital from Well Go USA. The film centers around two siblings who return to their hometown after their mother dies by suicide. But they aren't met with much sympathy from the locals, who believe the woman was dabbling in black magic and responsible for a string of mysterious deaths in the village.
The trailer for this one looks suitably spooky. Rural setting? Folk horror? Devilish goings-on? Sign me up.
3.Legions (Argentina)
Following its festival run last year, writer-director Fabián Forte's Legions is getting a VOD release from XYZ Films on January 19. The film follows Antonio (Germán De Silva), a once-powerful sorcerer who is now wasting away in a psychiatric hospital, his grapples with demons dismissed as silly stories. Worse, his estranged daughter Helena (Lorena Vega) is being targeted by an evil entity that she has the power to defeat—if only she could reconnect with the family craft she's left behind.
Touching on themes of cultural identity and assimilation, Legions is surprisingly heartfelt and frequently funny. Throw in a loving nod to the Evil Dead with plenty of back-breaking, bone-twisting demons, and this one is sure to please. Check out the trailer here.
4.Junji Ito Maniac: Japanese Tales of the Macabre (Japan)
Also on January 19, Netflix is delving into the terrifying world of Junji Ito with a new anime anthology series. Junji Ito Maniac: Japanese Tales of the Macabre will adapt 20 spine-tingling stories from the legendary horror manga artist, including iconic tales like Tomie and The Hanging Balloons.
Judging by the trailer, Maniac appears fairly faithful to Ito's distinctive art style. Shinobu Tagashira, who serves as director and character designer on the series, is no stranger to Ito adaptations, so the material seems to be in safe hands. (Read more on Junji Ito Maniac in FANGORIA issue #18.)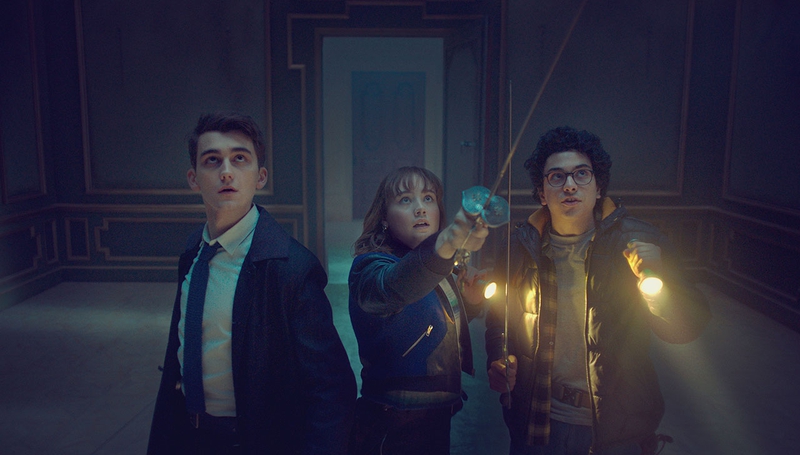 5.Lockwood & Co. (United Kingdom)
Let's round out the month with another small-screen adaptation, this one hailing from jolly old London Town. Based on Jonathan Stroud's book series of the same name, Lockwood & Co. appears to be the kind of horror-lite fare that's perfect for getting the young'uns interested in all things strange and unusual.
Attack the Block creator Joe Cornish is behind Lockwood & Co., which charts the adventures of a ghost-hunting startup run by three renegade teens who must go up against not only the dead but also adult-run corporate agencies. The supernatural detective series arrives on Netflix on January 27, and you can watch the trailer here.
January is often a dry month for new releases, but hopefully these will tide you over after your fourth viewing of M3GAN. Check back in February for more international frights and delights!