We're so excited for Justin G. Dyck's Anything for Jackson, hitting VOD, Digital, DVD and Blu-ray TODAY. (Check out our article on the film's demonic SFX led by Karlee Morse!) So we were thrilled when star and genre mainstay Julian Richings (Urban Legend, Channel Zero, Supernatural, A Christmas Horror Story and much more) exclusively offered up his very own BTS shots from the film's production.
First, a synopsis and trailer:
In ANYTHING FOR JACKSON, after a tragic car accident that took their grandson's life, Audrey and Henry are unable to go on without him. Following the guidance of their ancient spell book, the elderly couple decide to abduct a young pregnant woman with the intention of performing a "reverse exorcism" to channel their grandson's spirit inside her unborn child. But when it becomes clear the ritual has called upon more than one spirit, the couple realize they have summoned more than they bargained for and must put an end to the evil entity they've invoked.

And scroll on for Richings' photos and captions!
---
Up to No Good
Director Justin Dyck and writer Keith Cooper planning a Satanic gathering in a local Public Library.
I Think We're Out of Our Depth
Surgat (Ryan Christopher Koteck) appears behind Audrey (Sheila McCarthy)
Applying Just a Little More Blood
Sheila McCarthy awaits as Konstantina Mantelos takes a deep breath.
Final Looks
Justin Dyck and Keith Cooper appraise Surgat (Ryan Christopher Koteck)
Two of the Nicest Guys, Honest.
Off camera with Troy James (the terrifying Suffocating Ghost)
In Every Dream Home a Heartache
Nice suburban location for horrible goings-on.
He's Not Always So Sinister
In the library location with a well-behaved and cheery Josh Cruddas (Ian)
See No Evil, Write No Evil, Direct No Evil
Sasha Moric (Director of Photography), Keith Cooper (Writer), Justin Dyck (Director)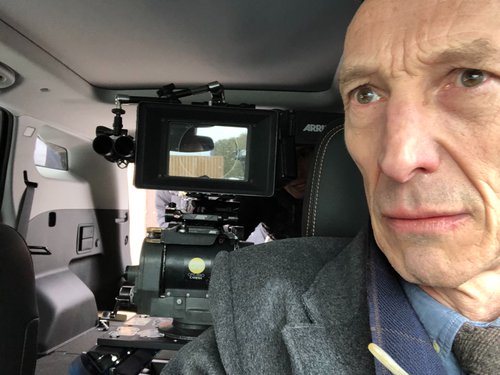 There's a Camera in My Rearview Mirror
Lining up the shot in Henry's car.
---
Huge thanks to Richings for sharing his unique perspective while filming Anything for Jackson! Check out the film on VOD, Digital, DVD or Blu-ray today.
Topics: