British horror gets a lot of love, and deservedly so. But when it comes to horror set north of Hadrian's Wall, even the most hardcore fans tend to draw a blank. Once you get past The Wicker Man, Dog Soldiers, and Under the Skin, what else has bonny Scotland—my beloved homeland—ever produced?
I'll be the first to admit that Scotland's film industry isn't exactly huge. It's a crying shame, really, because we've got ghost stories and dark history for days. Aye, the cannibalistic Sawney Bean clan inspired The Hills Have Eyes, and there have been half a dozen retellings of the Burke and Hare murders. But where are the movies about the Gorbals Vampire, the Mackenzie Poltergeist, and Am Fear Liath Mór? And who wouldn't watch a film about the Kelpies—sticky, shape-shifting horses that drag you screaming to a watery grave?
As a result of this shortfall, I've spent the last few years seeking out every Caledonian chiller I can get my hands on. Sure, you have to squint a wee bit to call some films "Scottish," but when you're a homesick expat, you take what you can get. So, grab a can of Irn Bru, turn the subtitles on because the accents are thick, and let me be your guide through 10 underseen tartan treasures.
1.Matriarch (2018)
An expecting couple runs foul of a strange family living deep in the countryside in Scotland's answer to a hillbilly horror film. While it doesn't get as nasty as its American cousins, Matriarch benefits from its baddies having lilting Scottish brogues that would lull anyone into a false sense of security. Plus, the scene of one of the main characters stumbling across some Glaswegians who utterly refuse to help is so true to life it's hilarious.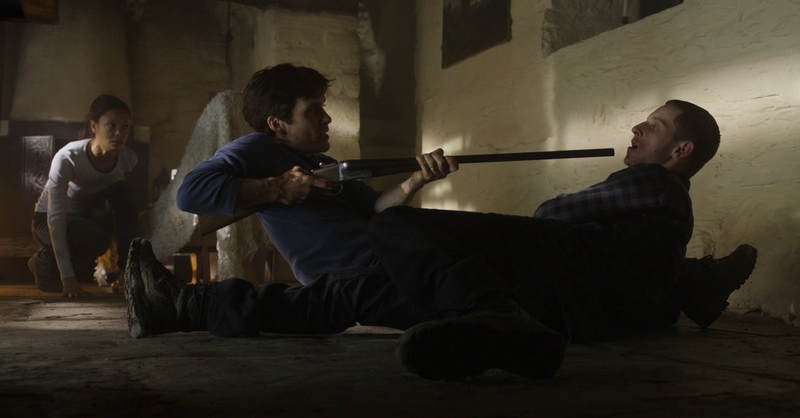 2. Retreat (2011)
Okay, there aren't a lot of Scots in this movie, but it's set in the Outer Hebrides [an island chain off the west coast of mainland Scotland], so I'm claiming it. Thandiwe Newton and Cillian Murphy play a couple who retreat to a remote island to grieve after a personal tragedy, only for their healing to be interrupted by the arrival of an injured soldier (Jamie Bell). He claims there's a deadly virus sweeping the globe, and they need to stay indoors (whatever will they think of next?). Things naturally get sticky, but the Scottish scenery looks braw.
3. White Settlers (2014)
Premiering a little under a month before the Scottish independence referendum, White Settlers (aka The Blood Lands) is a fascinating time capsule of a film. While it doesn't address the vote directly, it does tap into a particular tension and bristling energy prevalent in the nation at the time. A well-off English couple (played by Lee Williams and Pollyanna McIntosh, the latter of whom is actually Scottish) take advantage of cheaper housing prices in Scotland and don't get the warmest welcome from the locals. Spoiler: Scotland ultimately voted against leaving the union, so English visitors are safe… for now.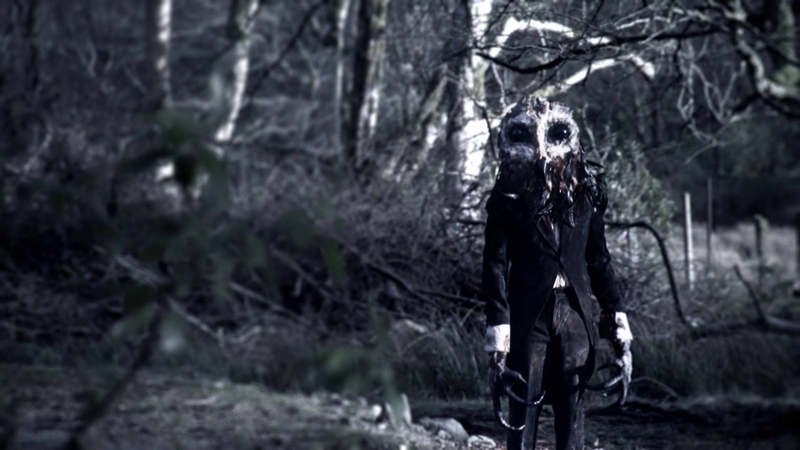 4. Lord of Tears (2013)
Drawing on Celtic and Pagan folklore, director Lawrie Brewster's Lord of Tears (aka The Owlman) gave us one of the most striking creature designs in horror, a kind of Slenderman for the furries. Like a lot of the entries on this list, Lord of Tears makes great use of the vast, empty expanses of the Scottish Highlands to tell a simple, spooky tale. The 2017 prequel The Black Gloves is also worth a watch for more feathery frights.
5. Outcast (2010)
Before The Girl with All the Gifts, Scottish director Colm McCarthy made Outcast, a curious blend of witchcraft and werewolves set in and around Edinburgh. Irish actor James Nesbitt, a staple of British telly, makes for an interesting villain, and the final creature design certainly gets creativity points. Special shout out to whoever subtitled the movie for Shudder and was clearly baffled by the accents. It's very funny to see the moment they gave up, wrote [Scots], and left it at that.
6. The Unkindness of Ravens (2016)
Director Lawrie Brewster returns with The Unkindness of Ravens, which follows homeless war veteran Andrew (Jamie Scott Gordon) as he roams the Scottish Highlands, plagued by visions of battlefield scavengers coming to take what's left of him. While the beaches of Scotland aren't exactly a convincing stand-in for an Afghan desert, the commentary on the invisible scars soldiers carry with them is poignant and harrowing. Scenes of Andrew talking to himself as he starts to unravel are especially well done, nicely balancing dark humor with upsetting scares.
7. Urban Ghost Story (1998)
Reminiscent of the Enfield poltergeist case, Urban Ghost Story is an understated horror drama set in one of Glasgow's crumbling high-rise housing estates. Lizzie (Heather Ann Foster) lies dead on the road for three minutes after a joy ride gone wrong, and when the paramedics revive her, she finds herself haunted by more than just guilt. The film is especially notable for its sympathetic portrayal of low-income families living in oft-demonized council estates and its quiet condemnation of the media that exploits them. Good luck finding this one streaming anywhere, as it's truly a forgotten gem.
8. Let Us Prey (2015)
Pollyanna McIntosh makes her second appearance on this list, playing a rookie police officer stationed in a middle-of-nowhere Scottish town. But her first night on the job is far from quiet as the arrival of a mysterious man (Liam Cunningham) causes everyone's dirty little secrets to start spilling—along with their blood. Cunningham and director Brian O'Malley are both Irish, but there are plenty of Glaswegian accents to go around.
9. The Flesh and the Fiends (1960)
When Peter Cushing made his horror debut in 1957, playing the title role in Hammer's The Curse of Frankenstein, he based his characterization on the infamous Edinburgh anatomist Dr. Robert Knox, who turned a blind eye to the sinister source of the bodies he was acquiring for dissection. Three years later, in his first horror film beyond the halls of Hammer, Cushing played Knox for real in John Gilling's The Flesh and the Fiends. The movie also boasts another horror heavy-hitter: Donald Pleasence plays the murderous William Hare opposite George Rose's William Burke. This one is full of dodgy Scottish accents, but it's an atmospheric (if not entirely historically accurate) retelling of one of Auld Reekie's most sordid tales.
10. Get Duked! (2020)
The most recent title on this list, Get Duked! flew somewhat under the radar on its original release and deserves to be talked about a lot more than it is. The film centers around a group of chavs wandering the Scottish Highlands as part of the Duke of Edinburgh's Award, a "self-improvement" program all our teachers try to force us into to bolster our uni applications. But dreich and dreary camping conditions are the least of the lads' concerns, because a pair of wealthy landowners (played by Georgie Glen and the always delightful Eddie Izzard) are out on a deadly hunt. Surprisingly class conscious and boundlessly energetic, Get Duked! combines many of the best elements of Scottish horror—isolation, social commentary, and off-kilter humor—into a riotous wee package you'd have to be a bampot [a foolish, unpleasant, or obnoxious person] to miss.
Scottish horror films aren't as easy to stumble upon as their peers from down south, but when you do find one, you might be in for something pure dead brilliant. So, bleed, bleed poor country! We need more saltire scares.
Topics: