The long-running WALKING DEAD spin-off will conclude its eighth season with a bang in November.
AMC is letting WALKING DEAD fans watch the first episode of the new Daryl spin-off, free of charge.
AMC has handed out early renewals for two WALKING DEAD spin-offs, ensuring the undead will live on.
AMC's other WALKING DEAD spin-off will be here before you know it.
Executive producers Scott M. Gimple and Eli Jornè take the zombie action to New York City.
AMC is expanding THE WALKING DEAD universe with a new spin-off this summer.
Catch up on all seasons of the long-lived zombie drama before you jump into those multiple spin-offs.
Featuring props, costumes, and corpses from the show in the (rotting) flesh.
AMC has announced yet another show set in THE WALKING DEAD universe, which will star Lauren Cohan's Maggie and Jeffrey Dean Morgan's Negan.
Meet Addy Miller, the very first zombie on THE WALKING DEAD.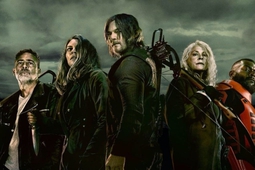 Will season 11 give us the Commonwealth?