This is Monarch: Declassified.
Toho's latest is getting rave reviews and looks incredible. How could we pass?
And why the original GOJIRA is still a perfect film.
The second and third episodes give us ice-breathing monsters and a Godzilla sighting!
The first episode of Apple TV's MONARCH: LEGACY OF MONSTERS presents familiar faces and new mysteries.
Kurt Russell and Wyatt Russell star in the kaiju series, premiering November 17 on Apple TV+.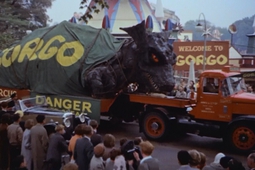 Full of spectacle and fantastic special effects, GORGO comes so close to being one of the greats.
The theater are teaming up with Exhumed Films to bring you four days of Gojira goodness.
Though the details remain elusive, a new GAMERA project is headed to Netflix sometime in the not-too-distant future.