The theater are teaming up with Exhumed Films for their season finale, featuring shirtless sax superstar Timmy Cappello.
Alamo Drafthouse and Fantastic Fest are getting us hyped for SAW X by reminding us how it all began.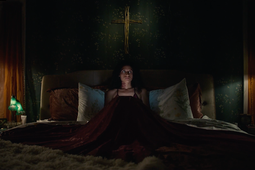 The event will premiere horror shorts from new genre voices across the south.
The unauthorized off-Broadway parody turns the first SAW movie into a blood-splattered romcom.
8 short film blocks + 67 films + 20 countries = one helluva week!
Panels, performances, workshops and more from some of the most exciting names in horror writing.
Join Neil Marshall, Mick Garris, Alice Krige and more for a weekend of talks and screenings at Manchester's Odeon Great Northern from November 19th - 20th.
Let's party like it's October 1964!
The two-day event will focus on the importance of transnational horror.
Dinner and a movie with Kane Hodder with a portion of the proceeds to benefit the Burn Foundation Of America.
Hey, Los Angeles! Check out GLORIOUS August 11th.
This summer, On Set Cinema is inviting you to the prom - BYO pig blood.
Carson, CA horror brewery kicks off the season with brew, boos and FANGORIA!