A new supernatural horror series from Mad Cave Studios.
We've got your exclusive details (and cover variants) right here!
Weapon X crosses paths with the galaxy's deadliest hunter this fall.
Peeking between the pages of Ruben's debut graphic novel.
Dark Horse Books and T-Pub are bringing us dark circuses and resurrections later this year.
Get ready for a comic book full of mysterious, dark secrets in need of unraveling.
It's a good month for fans! Free Comic Book Day is near, and we have new titles to look for.
Plus: The horrible little potato-gremlin that has haunted him for life, the Stephen King influence, and more.
From ALL EIGHT EYES to EXORCISTS NEVER DIE, plus new issues for ongoing series.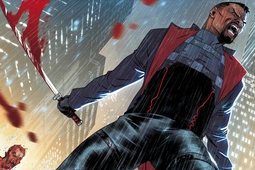 The Daywalker is starring front-and-center in a new title from writer Bryan Hill.
IDW is delivering big 16th century monster action in this new comic book miniseries.
The beginning of a monstrous series about the secrets we keep.
Lemony Snicket gets in on the fun to bring us the classic story as we've never seen.
The debut graphic novel from the HALLOWEEN star arrives this summer.
Take a peek inside Mike Mignola and Christopher Golden's upcoming comic.