Alamo Drafthouse and Fantastic Fest are getting us hyped for SAW X by reminding us how it all began.
What's the big fuckin' deal? Cheap tickets!
Before VIOLENT NIGHT, writers Josh Miller and Pat Casey cut their lawnmower blades on this gem, screening at the Alamo in December.
Prime Video presents GOODNIGHT MOMMY advance sneak screenings for Alamo Drafthouse Victory members on September 14.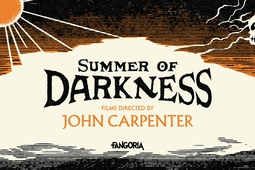 Celebrate the films of John Carpenter on the big screen.
Alamo and GroundUP Music artists team up to present silent classics reimagined.
A first-hand history of preserving genre movies "too outrageous for prime time."
The CANDYMAN director selects five movies with a central theme.