It's a new dawn, as horror has a new (Ghost)face. While it's hard to believe it's been twenty-five years since Wes Craven first picked up the portable phone and carved his way through an attractive cast of twenty-somethings, 2022 is an even bigger year thanks to the long-awaited return of Scream. We're heading back to Woodsboro, where the tormented town once again holds host to another brutal massacre. The leading trio of Neve Campbell, Courteney Cox, and David Arquette are back for more, but the confusingly titled Scream is pitched as a new jumping-off point. That's all well and good, but in a serious case of déjà vu, you could argue we've been here before with Scream 4.
While Ghostface has stood the test of time, Scream has largely been disemboweled and hung from the cat flap over the years. So, can a new team at the helm and some familiar faces avoid the mistakes of Scream past?
The history of the horror.
Following the success of 1996's Scream, a sequel was fast-tracked into production. Scream 2 debuted to huge success, and while it cleverly riffed off the idea that sequels are inferior versions of their predecessor, some (this writer included) think it's even better than the original. Sadly, things started to take a downward turn with Scream 3 in 2000. The first movie not to be penned by Kevin Williamson still had Craven as a director, but with a convoluted ending that introduced Sidney's long-lost half-brother as the only killer, it was far from the franchise's glory days.
Scream 3 was intended to be the end of the story, but the series rose from the dead some eleven years later with the much-hyped Scream 4. We're not sure why anyone would still live in Woodsboro, but with Sidney pulled out of hiding, Gale, a struggling writer, and Dewey promoted to Sheriff, it had all the makings of a great movie. In a bizarre twist, Scream 4 cut several key references to the first movie, including a pet flap hanging around a victim's neck, the first two kills being staged like Casey and Steve's opening deaths from Scream, and Sidney's injuries being treated by Steve's older brother Dr. Orth. Given the fan-favorite status of the franchise's past, the next script shouldn't be afraid to lean into what brought us here today.
Disappointing box office returns and the tragic passing of Craven in 2015 meant plans for a possible fifth and sixth Scream were canned. Since 2011, the Scream name has descended into chaos and left MTV to move ahead with its TV series of the same name. Despite rights issues not allowing the use of the classic mask, the two-season series is criminally underrated. Scream moved to VH1 and aired a six-episode miniseries called Scream: Resurrection, but the creative barrel was empty by the time it aired in 2019. There was no likable Dewey, Gale, Sidney, or even MTV Scream's Emma Duval, while the meta-commentary had become a farcical parody of itself. Thankfully, the horror gods answered our prayers in the form of Ready or Not's Matt Bettinelli-Olpin and Tyler Gillett's continuation of the original story with 2022's Scream.
Good things come to those who wait.
Scream has already overcome its first hurdle by getting fans old and new alike invested in the next chapter. After complaints we might never see a trailer, Scream came out of the gate dripping in corn syrup. This grisly mix of fan service and trying something new meant that our Twitter feeds flooded with the trailer in a matter of minutes, and #Scream started to trend again for the first time in a decade.
But what's different this time around? An all-star cast marries the old guard with upcoming talent like In the Heights' Melissa Barrera, 13 Reasons Why's Dylan Minnette, and The Boys' Jack Quaid. The hook is that the victims all seem to be related to characters killed off in the first four movies, as explained by Jasmin Savoy Brown's Mindy Meeks-Martin (related to Jamie Kennedy's Randy).
Scream has always been a master of misdirection, and speaking to Bloody-Disgusting, the directors warned not everything is as it seems, "I think one of the things we're happy with is that anything that you might think is a spoiler in this, there's a good chance you're wrong. There are misdirects within the movie. There are misdirects within the trailer. For us, that's just the fun of the whole thing to make this a big whodunnit."
Many think they've already clocked the opening death of Jenna Ortega's Tara, but as Craven taught us time and time again, expect the unexpected. Elsewhere, producer William Sherak told CinemaBlend that multiple scripts are doing the rounds, so a "Who Shot Mr. Burns?" mantra of multiple endings will likely come into play. Basically, Scream is locking its ending down tight. All of this means that, like any good Scream movie, the theories are flooding in. There's the idea that one of the OG three will kick the bucket, and even wild speculation Matthew Lillard's Stu Macher survived his death in '96. Not convinced? It's a theory that even Williamson has given the nod to.
The rules of surviving the box office.
Namely, Scream needs to distance itself from the Craven era while still being a love letter to the dearly departed auteur of the franchise. Thankfully, that's exactly how the directors described the next entry to Empire. Apparently, no version of their story existed without Dewey, Gale, and Sidney, but that doesn't mean they're safe ahead of the inevitable Scream 6. You can speculate all night about who will and won't make it out of Scream alive, but remember that past entries haven't been afraid to thin the crowd, with Randy's Scream 2 death and Cotton Weary's Scream 3 demise standing out. Will incoming directors Bettinelli-Olpin and Gillett really go the whole hog and kill Dewey, Gale, or Sidney? The trailer paints a pretty grim prognosis for the downtrodden Dewey, but I'd argue the real kicker would be killing off Gale.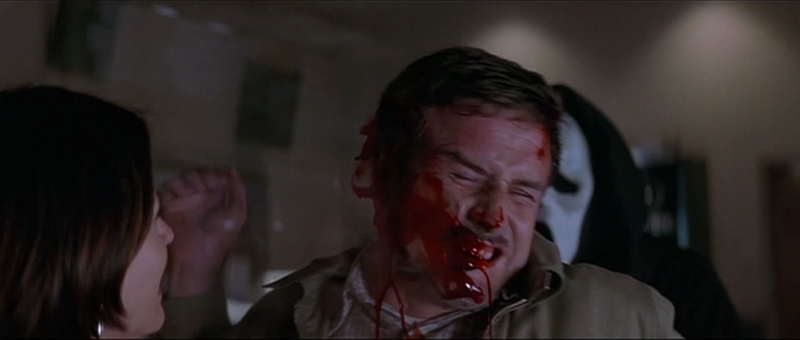 Although Sidney Prescott is held as the de facto final girl, Cox's portrayal of the fiery journalist has made her a fan favorite. Gale had a brush with death in Scream 4, but if you really want to make Scream a must-watch, a Han Solo-inspired death for Gale is sure to rattle a few cages. If Dewey isn't destined for death, now could be the time to revisit the age-old theory that Dewey was a third killer working with Billy and Stu. This convoluted conjecture harks back to Ghostface apparently wearing the same police-issue footwear as Dewey. With Dewey being left behind in Woodsboro, let's imagine he could've snapped after surviving four massacres.
Importantly, Scream needs to not get so slash-happy with its new characters. Scream 4 had so much promise, and much like Scream, it was rumored to kickstart a 'new' trilogy. Instead, the main three lived to fight another day, while everyone bar Marley Shelton's Judy Hicks bowed out in a body bag. To really cement itself as the start of a new dynasty, Scream has to let at least some of its newcomers live. Part of me still hopes Hayden Panettiere's Kirby somehow survived, but I doubt it. Barerra's aptly named Sam Carpenter is already tipped to be the new Sidney, so unless there's another Jill Roberts twist à la Scream 4 where she's Ghostface, she's likely to lead the franchise's hopeful future.
No matter what, when the mask is lifted, we're hoping there's a twist that will preserve Scream as revolutionary as its cinematic counterparts. Either way, Bettinelli-Olpin and Gillet have one hell of a legacy to live up to and a bar to raise. Let's hope they remembered the safety this time.