Popcorn Frights is kicking off the spooky season with Wicked Weekend! The special event will feature nine film events over the course of five days, including a host of filmmakers, restorations, and special screenings.
The weekend opens up with Smile, the disturbing new horror from Paramount Pictures starring Sosie Bacon (13 Reasons Why) as a doctor whose life unravels as increasingly bizarre forces drag her to the edge of sanity. The much-anticipated Scare Package II: Rad Chad's Revenge will make its North American debut over the weekend, and speaking of sequels that slay... Art the Clown will terrify festival-goers in Terrifier 2.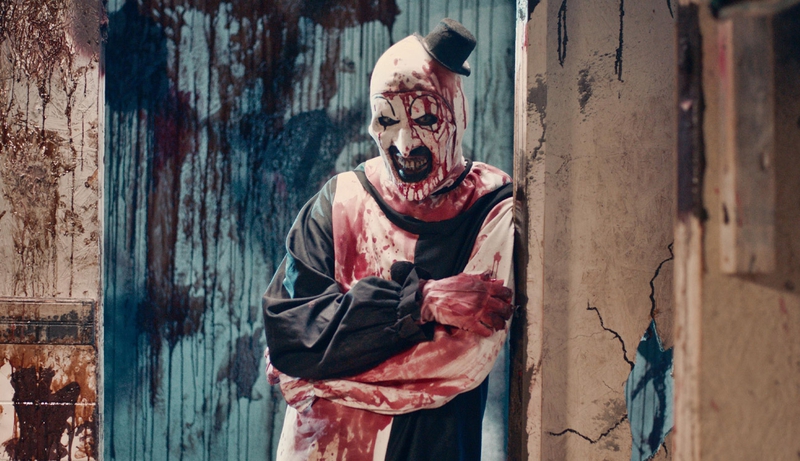 Other highlights include the 35th anniversary of Kathryn Bigelow's Near Dark and the 25th anniversary of the Kevin Williamson penned '90s slasher, I Know What You Did Last Summer. Also on the bill, a special double feature of Halloween 4: The Return Of Michael Myers and Halloween 5: The Revenge Of Michael Myers, complete with a Michael Myers and Jamie Lloyd costume contest with special prizes and giveaways. Rounding out the retrospective screenings is a celebration of Alex Proyas' The Crow starring Brandon Lee as a badass antihero in his final electric performance.
Spirit Halloween: The Movie will also make its Florida premiere, starring Christopher Lloyd & Rachel Leigh Cook in a Nickelodeon meets The Goonies diabolical coming-of-age thriller about a group of kids inside a Spirit Halloween store overnight (the dream!)
Wicked Weekend runs September 28 through October 2. Check out the full lineup below.
WICKED WEEKEND FILM LINEUP
OPENING NIGHT
Smile
United States | 2022 | 116 Min. | Dir. Parker Finn
After witnessing a bizarre, traumatic incident involving a patient, Dr. Rose Cotter (Sosie Bacon) starts experiencing frightening occurrences that she can't explain. As an overwhelming terror begins taking over her life, Rose must confront her troubling past in order to survive and escape her horrifying new reality.

The Crow
United States | 1994 | 102 Min. | Dir. Alex Proyas
A man brutally murdered comes back to life as an undead avenger of his and his fiancée's murder in Alex Proyas' gothic revenge tale starring the late-great Brandon Lee.

Halloween 4: The Return of Michael Myers
1988 | 88 Min. | Dir. Dwight H. Little
Ten years after his original massacre, Michael Myers awakens on Halloween Eve and returns to Haddonfield to kill his seven-year-old niece.

Halloween 5: The Revenge of Michael Myers
1989 | 96 Min. | Dir. Dominique Othenin-Girard
One year after the events of Halloween 4: The Return of Michael Myers, the Shape returns to Haddonfield once again in an attempt to kill his now-mute niece.

I Know What You Did Last Summer
25th Anniversary Presentation
1997 | 101 Min. | Dir. Jim Gillespie
In screenwriter Kevin Williamson's iconic 90s thriller, four young friends bound by a tragic accident are reunited when they find themselves being stalked by a hook-wielding maniac in their small seaside town.

Near Dark
35th Anniversary Presentation
1987 | 94 Min. | Dir. Kathryn Bigelow
A small-town farmer's son reluctantly joins a traveling group of vampires after he is bitten by a beautiful drifter in Kathryn Bigelow's ultra-violent genre triumph starring Bill Paxton, Jenny Wright, and Lance Henriksen.

Scare Package II: Rad Chad's Revenge
North American Premiere
2022 | 98 Min. | Dirs. Aaron B. Koontz, Alexandra Barreto, Anthony Cousins, Jed Shepherd, Rachele Wiggins
When horror guru Rad Chad Buckley's funeral turns into an elaborate series of hilarious death traps, the guests must band together and use the rules of horror to survive the bloody game.

Spirit Halloween: The Movie
Florida Premiere
2022 | 87 Min. | Dir. David Poag
When a Halloween store opens in a deserted strip-mall, three friends, thinking they've outgrown trick or treating, decide to spend the night locked inside. But their night of spook-filled fun soon turns to outlandish survival in this coming-of-age thriller starring Christopher Lloyd and Rachel Leigh Cook.

Terrifier 2
Florida Premiere
2022 | 137 Min. | Dir. Damien Leone
Resurrected by occult forces, Art the Clown returns to wreak bloody havoc on the residents of Miles County, targeting a frazzled mother and her kids.
Celebrated as one of "The World's 50 Best Genre Festivals" by MovieMaker Magazine, Popcorn Frights recently wrapped its eighth edition this past August with more than 10,000 filmgoers and industry professionals attending its summer week of wicked films, events, and parties. The ninth annual Popcorn Frights Film Festival will take place August 10-20, 2023 across South Florida with submissions now open via Film Freeway. Shorts, features, documentaries, animation, film and video — all are welcome and can be submitted here.