Do you like Stephen King horror movies? Are you a big enough fan to have seen most or all of the films on this list? They are the final 17 films of the 48 fright films adapted from the King's works or scripted by King himself, as rated by film critics. This is the tail end of his filmography, including King's feature film debut and only film credit as a director. It would be a little too easy to dismiss these films offhand, but there are some exciting and fun movies among them, no matter what anyone has to say about them. Read more: Director Renny Harlin Reveals The Strangers' Origins In Upcoming Trilogy.
31. A Good Marriage (2014)
A married woman in a happy marriage finds out that her loving husband is a serial killer. Whoops. Joan Allen plays Darcy Anderson, and Anthony LaPaglia plays her husband Bob. Kristen Connolly and Stephen Lang fill out the rest of the cast. Stephen King adapted his own novella, and Peter Askin directed the film. It comes in at number 31 on the list, with an average of 32% of critical approval.
32. Needful Things (1993)
Needful Things comes in at 32 on the list, with a critical approval rating of 32%. It's interesting because the film has a cast stacked with great actors like Ed Harris, Max von Sydow, Bonnie Bedelia, J. T. Walsh, and Amanda Plummer. Max von Sydow stars as Leland Gaunt, a man who opens up a store in Castle Rock, Maine called Needful Things, and only accepts small amounts of cash and a prank that he names for the customer as payment. Directed by Fraser C. Heston, Charles Heston's son, the film was called unpleasant by critics. It seems they objected to the view of small-town human avarice that the film showed them. Read more: 5 Horror Movies To Watch In Theaters This Weekend.
33. Children of the Corn II: The Final Sacrifice (1992)
Children of the Corn II: The Final Sacrifice is the first sequel to the original, which was not highly rated by critics at a 22% average. This was not the final Children of the Corn, and even though they found a way to continue the series as direct-to-video sequels, it seems curious to seek to end the series with the second film. It was directed by David Price, son of Frank Price, the studio executive, and stars Terence Knox, Paul Scherrer, Ryan Bollman, and Christie Clark. Set in the neighboring Hemingford, Nebraska, it concerns the people who adopt the child survivors of the first film who bring back He Who Walks Behind The Rows.
34. Creepshow 2 (1987)
This sequel to the beloved horror anthology that was a collaboration between the two masters of horror, George Romero and Stephen King, is slightly less successful but still has its charms. Stephen King's stories were the source material for George Romero's script, and Michael Gornick directed the film. Creepshow 2 only has four stories, three tales, and one frame story that runs throughout the film, but in particular, the segment The Raft, based on the equally horrifying short story, is a fan favorite. It stars Lois Chiles, George Kennedy, Dorothy Lamour, and Tom Savini, a King cameo, and has a 29% average from critics, which honestly should be higher. Read more: Creepshow Season Four Now Has A Trailer And A Release Date.
35. Sleepwalkers (1992)
With a 29% critical approval rating, Sleepwalkers doesn't seem to be able to get a break. The film, directed by Mick Garris, is charming and has a wild premise, including an army of cats led by Clovis, the film's real hero. Yes, the film's hero is a cat supported by a clowder of cats who are the only protection from the mother and son team of werecats who prey on young women. It's all true, and you would think that would win more appreciation. The film has a great cast, too, with stars Brian Krause, Mädchen Amick, Alice Krige, Ron Perlman, and Dan Martin, who gives a charismatic performance, and many horror filmmakers cameos, including King himself. It seems more like a throwback to 50s horror movies, and that might have been the disconnect; then there's the werecat incest storyline, but I digress.
36. Dreamcatcher (2003)
Dreamcatcher is another film that, despite an excellent cast, seems not to have been a success. Seriously, it stars Morgan Freeman, Thomas Jane, Jason Lee, Damian Lewis, Timothy Olyphant, Tom Sizemore in a rare non-villain role, and Donnie Wahlberg. Dreamcatcher's critical average sits at 28%, which is remarkably low for a film with all the talent behind it. It's directed by Lawrence Kasdan and was co-written by Kasdan and Academy Award-winning screenwriter William Goldman. Goldman also adapted the acclaimed Stephen King film Misery. Bewildering. Read more: Review: Dreamcatcher.
37. The Mangler (1995)
Tobe Hooper directed the Mangler, and while I am at it, talking about King films that really shouldn't have been judged this harshly, Hooper's rococo vision of a Nightshift short story seems to have gotten the short end of the stick. Hooper is not only the auteur who made one of the greatest horror films to exist, The Texas Chain Saw Massacre, and what is unquestionably the best TV mini-series adaptation of King's work, Salem's Lot. He is an exciting, creative filmmaker who is one of the greats. It seems people didn't get it and only received a 27% approval rating. It is a film that stars Robert Englund and Ted Levine, after all, so it can't be that bad.
38. The Rage: Carrie 2 (1999)
Poison Ivy filmmaker Kat Shea made The Rage: Carrie 2, which was not initially a Carrie sequel but was fashioned into one with a script rewrite. Instead of a shy outcast, Emily Bergl plays the newest "Carrie" as a goth girl without a family. It also stars Jason London, Dylan Bruno, and J. Smith-Cameron and brings back Amy Irving as the character Sue Snell, who you might think would stay away from high schools after the first film. The Rage: Carrie 2 has a 23% average approval on Rotten Tomatoes.
39. Riding the Bullet (2004)
Riding the Bullet is a story about the fear of death and our own mortality based on a novella by Stephen King by the same name. Alan Parker (Jonathan Jackson) meets a specter of death on a ride to the hospital to visit his mother, who has had a stroke. It is another one of director Mick Garris' adaptations of King's work and has a more somber and reflective tone. It also stars Barbara Hershey, David Arquette, and Cliff Robertson and is rated at an average of 23% by critics.
40. Pet Sematary Two (1992)
Mary Lambert's sequel to her adaptation of Pet Sematary which stars Edward Furlong, Anthony Edwards, Clancy Brown, and Jared Rushton. It follows a new story with the framework of the original novel, but King had his name removed from the film before its release. For the purposes of this list, it has a 21% critical rating. Reportedly, director Mary Lambert wanted to tell the story of Ellie Creed, but the studio insisted on centering it on male characters instead.
41. Maximum Overdrive (1986)
One of the most infamous films on this list is Maximum Overdrive. The first and last feature film directed by Stephen King himself, it promised to be the definitive adaptation of a King story and, as the director said in the trailer for the film, "would do Stephen King right." and genuinely scare the audience. The audience and critics didn't agree. Maximum Overdrive had a comic tone that audiences have come to enjoy more over time, but the film has an average critics rating of 15%.
42. Stephen King's Thinner (1996)
Stephen King's Thinner was directed by Tom Holland, a genre filmmaker who also directed horror movies like Child's Play and Fright Night. Robert John Burke, Joe Mantegna, and Kari Wuhrer star in the film. It has a 16% approval rating from critics who were not kind to the movie. The movie's ending significantly differs from the sad and more tragic ending of the book, taking a more comic, cynical tone. Still, Stephen King does have a cameo in the film.
43. Children of the Corn (2020)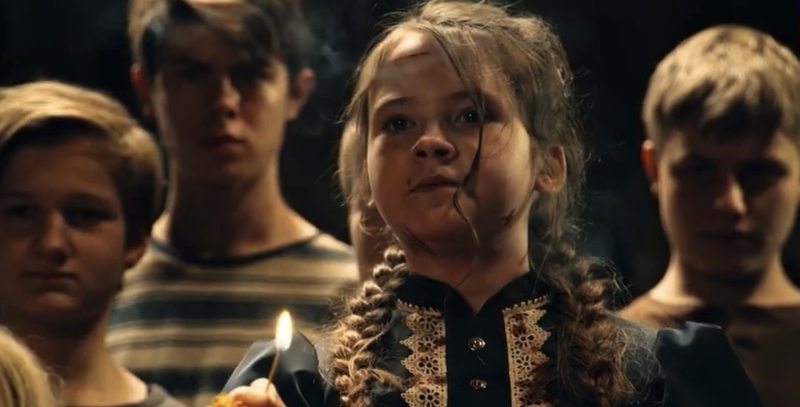 Children of the Corn (2020) is the latest movie in the Children of the Corn franchise. Yes, the series has lasted this long, mainly through direct-to-video releases. It stars Elena Kampouris, Kate Moyer, Callan Mulvey, and Bruce Spence. The story focuses on another town, Rylstone, where the crop has failed, and orphaned child Eden steps forward to lead. It is essentially the same story as the first film but shows the actual events that lead up to the sacrifice of the town's adult population and was meant as a remake. Only 12% of critics reviews of the film are positive.
44. Cell (2016)
Cell is the reunion of John Cusack and Samuel L. Jackson in a Stephen King adaptation after their first collaboration, the movie 1408, and stars Isabelle Fuhrman (Orphan), Owen Teague, and Stacy Keach. It is about a day when an electronic signal sent through cell phone signals drives everyone using a cell phone mad. The pulse turns people into "phoners' who are part of a telepathic hive mind intent on infecting all of humanity. Tod Williams directed the movie with a script co-authored by King himself. The movie has a critical average of 11%, even with the acting talent who worked on the movie.
45. Firestarter (2022)
This remake of the original adaptation of Firestarter fared even worse than the original. It stars Zac Efron, Ryan Kiera Armstrong, Sydney Lemmon, Kurtwood Smith, John Beasley, Michael Greyeyes, and Gloria Reuben. It did cast Native American actor Michael Greyeyes, who is a fantastic actor, in the role of Native American agent of the Department of Scientific Intelligence (DSI) and superhuman John Rainbird. DSI used the drug Lot 6 to create superhumans with various psychic abilities. DSI seeks to capture and control Charlie McGee (Ryan Kiera Armstrong), a powerful pyrokinetic, and her father, Andy (Zac Efron). Critically, the film, directed by Keith Thomas, has an 11% average, and the film was not a financial success, although critic Richard Roeper enjoyed it and gave it three stars out of four.
46. Lawnmower Man 2: Beyond Cyberspace (1996)
Lawnmower Man 2: Beyond Cyberspace is a sequel based on the first movie adaptation of the story, The Lawnmower Man, rather than the original story King wrote. Only one character from the first movie returned, Peter, played by Austin O'Brien. This sequel was directed by Farhad Mann and stars Patrick Bergin as Dr. Benjamin Trace and Matt Frewer as Jobe Smith. As one of the last films on this list, it has a critical average of 10% and did not have the financial success that the first film, The Lawnmower Man, had as it was the top money maker for New Line Cinema when it was released.
47. Graveyard Shift (1990)
Our time on this list has finally ended with the very last and lowest-rated Stephen King film adaptation. The honor goes to Graveyard Shift, which has a dismal average critical rating of 0% from seven reviews. Directed by Ralph S. Singleton and written by John Esposito, it stars David Andrews, Kelly Wolf, Stephen Macht, and Brad Dourif. While the movie had a small financial success, Stephen King has gone on the record as disliking it. It's hard to make a horror film with rats, even if it's based on Stephen King.