Editor's Note: This article contains spoilers for Stranger Things 4: Volume 1
---
Barrie Gower is no stranger to the world of horror. Growing up as a monster kid and eventually learning the art of makeup effects, Gower has worked on films like 28 Days Later, Last Night in Soho, The Green Knight, A Cure for Wellness, No Time to Die, Shaun of the Dead, AVP: Alien vs. Predator, and so much more. On the television front, Gower and his company BGFX have contributed to the legendary series Game of Thrones, most notably designing the iconic Night King character.
Most recently, BGFX has again made waves in pop culture with their phenomenal work on the newest Stranger Things season. That's right, Gower and co. are responsible for bringing this season's big bad to life - VECNA! In addition to conjuring the twisted, trauma-seeking creature, Gower had the opportunity to apply makeup on the one and only Robert Englund for his role as Victor Creel. While chatting for over an hour, Gower discussed the extensive Vecna design process, fanboying over Robert Englund, his eternal love for FANGORIA, and more in our two-part interview.
What have you been up to now that Stranger Things 4 is being released?
We've literally just finished a shoot in Canada. It was for a new HBO show called The Last of Us…We just had the director of Psycho Goreman (Steven Kostanski) working for us in our department, sticking in makeup effects and everything. So we've had quite a mix of talent. It's been a fun, fun twelve months or so. So we've just finished on that show, and then we've just started on Lord of the Rings here in the UK, we're doing the second season.
You're booked and busy!
Yeah, it's been a bit nuts. In the meantime, we've just been doing press the last couple of weeks for Stranger Things. I was just looking up online, I was trying to figure out when I bought my first issue of FANGORIA. It was 1986. So it was The Bloody Best of FANGORIA Volume 5. It had The Reanimator on the front cover. And that was the first issue I ever bought which is what, 36 years ago?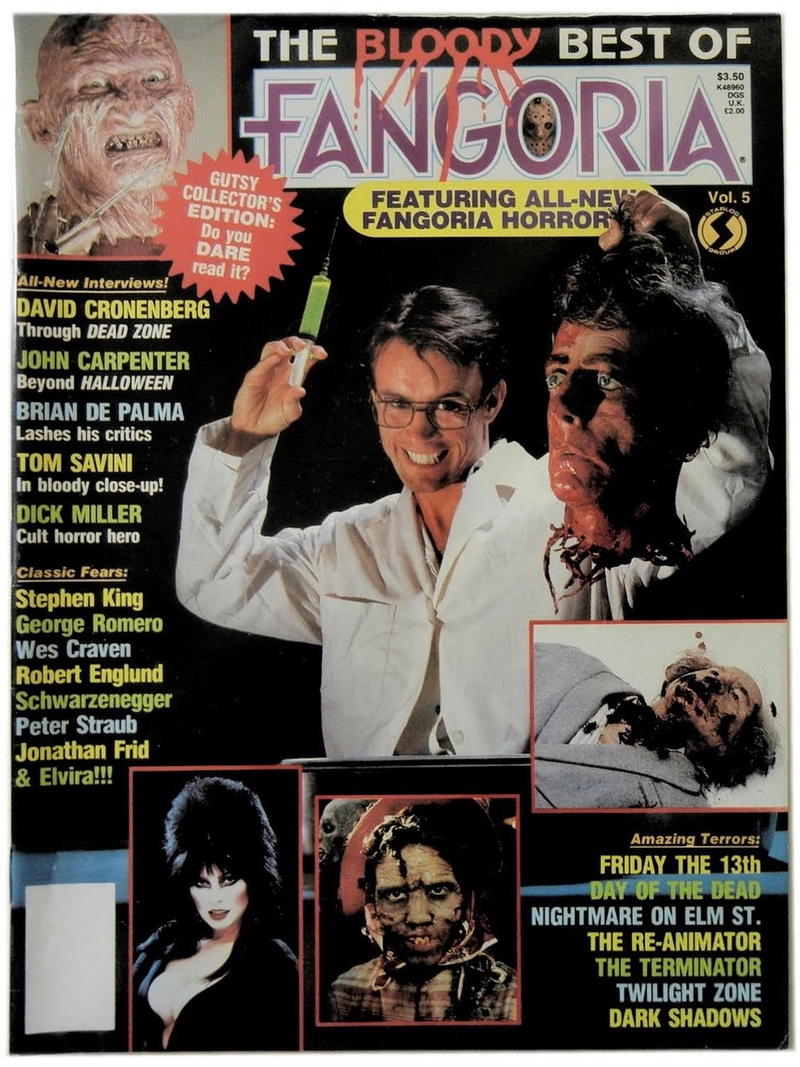 That's crazy. I wasn't even alive!
I was thirteen, I think. And then I got into Gorezone. And I already wanted to be a monster maker at that point. But that was my first introduction to FANGORIA. And you know, I've been an avid fan of Fango since. We were doing press quite a bit over the last couple of weeks, and this is one of the most exciting interviews I've been looking forward to!
Aww thank you!
My God, I've never been interviewed by FANGORIA! This is really exciting. We've had our company, it's myself and my wife Sarah, we run our company together. And we've only had our company for about maybe eleven, twelve years now. And then prior to that, I was just self-employed. I was working for all the different makeup effects companies. And we set ourselves up, and I had a little studio at home. And I was doing a couple of movies from there. And then we didn't get our first workshop until we joined Game of Thrones, which was back in 2013, I think, so we haven't really been going that long as a company. So it's good to finally be able to talk to you.
How does it feel to work on these mega pop culture projects like Game of Thrones and, of course, the newest season of Stranger Things?
It's nuts. It really is. At the time, we didn't realize we didn't join until season four of Game of Thrones. It was big, and it was getting bigger. I remember we were driving to the airport in England. And it was like 5 am or whatever, and it's all on the radio 'Game of Thrones Game of Thrones Game of Thrones' and this episode that had aired the night before, called "The Red Wedding." And the internet just went nuts overnight. Sarah and I go, 'What the hell have we got into here?..."
When we finished Game of Thrones that final year, we did Chernobyl for HBO. We've just been lucky since then. We did a Bond film, and we recently worked with Edgar Wright on Last Night in Soho. We kind of got the Stranger Things call out of the blue; it's 2019, the year before COVID, maybe October or November. We got a call from producer Iain Paterson on Stranger Things, who approached us. We spoke to him, and Matt and Ross, the Duffer Brothers.
They were basically saying that they wanted their own iconic villain for this season. They'd seen our work on Chernobyl and were big fans of that. They also are close friends with David Benioff and Dan Weiss, the two showrunners of Game of Thrones. The Duffer Brothers love the Night King as well, so they got in touch with David and Dan and basically said, 'we have our own Night King, basically our own iconic villain.' They already had concept art for Vecna in mind, they've got an amazing concept artist, Michael Maher, who's also head of their VFX department.
So he had these beautiful blueprints already of how they imagined Vecna to look, and about a month or so later, they cast Jamie Campbell Bower [in the role of Vecna]. So first thing was we got Jamie over to our studio, did a full body live cast, and then we started our build. We started in January, spent a few weeks on it, and then the whole world went into lockdown in March, and everybody stood down for three months, and we didn't work. Then slowly but surely, we came back to the workshop first of June. And so our build is pretty long with Vecna, it was quite unprecedented because turnarounds are usually super quick in film and TV, especially nowadays. We worked for about four or five months on Vecna. The first stuff we shot, I think, was for episode two when the character Fred is in the grave.
When that Stranger Things 4 trailer first came out, and the music fades out, and then Vecna lands from his tentacles. I was like, "Oh, this is gonna be the best season." And I'm loving it so far. I love the super horror vibes like the slasher Nightmare on Elm Street-ishness
Again, it's like when I started reading FANGORIA, I was like this huge Freddy fan. I had a shrine on the wall in my bedroom, which was basically FANGORIA and Gorezone. I just cut out all the Freddy photos, all these posters. It was basically just like a wallpaper of Freddy. When I was in my teens, I used to have this full-size, head-to-toe poster of Robert Englund on my wall, and I used to stick it on the wall with this stuff called blue tack. I've been in bed in the middle of the night, and just heard this "CHHHHH" and this poster was falling off onto my bed to scare the crap out of me. So it's like it used to haunt my dreams as a teenager. We were already big fans of Stranger Things prior to season four. To join it and then to design this iconic character, which has got so many nods to Freddy Krueger. And then we got to work with Robert (Englund).
I was going to ask, I'm sure he's pretty used to getting makeup slobbered all over his face. What was it like working with the King himself?
When we started on the show, we didn't know about his character. And then they approached us a few months in to say, 'Oh, we have this other character Victor Creel. And we need this makeup, and he's sliced his eyes out. He's got this old scarring.' And we're like, 'Yeah, that'd be great!' And then we found out it was Robert, and it was myself and my colleague Duncan, who worked on his makeup, and we were just so excited. It's just another tick on the bucket list to get to work with one of the biggest horror icons. The weekend before lockdown, we did a makeup test with Robert in London.
The first time we met him, we started this makeup, and what should have been like a two-hour makeup process, I think we spent about four hours sticking it on because we were just sitting there chatting with him and reminiscing. He was telling us all these anecdotes and stories about makeup effects heroes and his stories from A Nightmare on Elm Street. So we were like kids in a candy store.
Wow, that's got to be one of the top-tier horror experiences you could ever have as a fan!
To top it off, he's just a genuinely nice guy as well. We have to have good chemistry with the actors because we're going to spend a lot of time with them. We're the first people they see in the morning and the last people they see at night. We spend the whole day constantly poking them and pushing edges down and maintaining stuff. But Robert was just such a breeze. He had a shorthand with us about the techniques and everything. He knew exactly what we were going to do. He was always putting his head in the right place at the right time. On the flip side of that, working with Jamie Campbell Bower over the twenty-odd days we worked with them, never ever once complained, and his makeup process was ridiculous, a marathon. That first makeup test we did was about eight and a half hours. And then, after we really got into our stride, we got it down to about six hours, twenty-odd minutes.
What horror franchise would you love to work on in the future?
Hands down, it would be working on a new Nightmare On Elm Street franchise. The sad thing is with reboots, reimagining remakes, you know, it's difficult, isn't it? Because they can be a little hit or miss. I know there was a reboot of Nightmare On Elm Street several years ago as well. I think it's really difficult to reimagine something that is already an incredible franchise. I think it'd be lovely to be part of something like A Nightmare on Elm Street, or something like that.
Stay tuned for Part 2 of our interview with Gower where he breaks down the extensive Vecna makeup application process!
All episodes of Stranger Things Season 4 Vol. 1 are now streaming on Netflix. Click below to watch.