Though the original Scream was released 27 years ago, the franchise is still one of the youngest of the iconic Slasher franchises. With the success of last year's Scream and the anticipation and excitement surrounding the upcoming Scream VI, the series has a growing, newfound generation of fans. One aspect of the series that has always been shrouded in mystery since the beginning is just exactly where the iconic design of the Scream mask originated. Seasonal novelty company Fun World legally owns the design and is credited for its creation, but for a group of talented, accomplished artists, there is a lot more to the story. FANGORIA spoke with these artists and learned the genesis of the pop culture icon known as "Ghostface."
In the fall of 1990, Loren Gitthens was a special effects makeup artist working in Los Angeles at Tony Gardner's Alterian Studios. Inevitably, on Halloween, Gitthens says, "An artist from one of the effects shops would throw a party. It was an opportunity for the community of effects artists to let loose and come up with unique designs. My costume idea was an advanced take on the classic Halloween costume of a bedsheet with eye holes for a ghost, which integrated a formed buckram ghost face mask. The face design was inspired loosely by a mask I made in 1985 that I had called 'Screamer Long Jaw.'"
Loren Gitthens sculpting his "Screamer Long Jaw" mask for Alterian. Photo credit: Loren Gitthens
The earliest incarnation of "Ghostface"; Loren's 1990 Halloween costume, which would become a prototype for Alterian's Ghost Maker kits. Photo Credit: Courtesy Loren Gitthens
Tony Gardner remembers in the following months, "There wasn't much film work. Everyone working at Alterian was always way into Halloween and felt like there weren't very many cool Halloween masks out on the market at the time. We thought we could use our downtime to create a line of Halloween masks. We started out by designing and creating six different character masks and ran an ad in FANGORIA to see if there was a market." Tony decided to, "start a second business based on the response to the masks, and came up with the name The Alterian Ghost Factory."
While coming up with mask design ideas, Loren "Suggested we make a line of masks from my bed sheet ghost idea. We put together a kit that included a rigid, vacuform plastic ghost face, glue, and paints. We called it 'Ghost Maker.' The idea was that you would use your own bed sheet, then attach it and blend in the ghost face." The Alterian Ghost Factory created a group of six ghosts, with some sized down for kids to wear. Loren's wailing ghost design from his Halloween costume was used, with Chet Zar designing others.
Bill Boes original Alterian Ghost Factory Ghost Maker Kit package insert artwork. Courtesy of Tony Gardner.

Alterian hired Loren's childhood friend, Bill Boes, to create hang tags and product art for the Ghost Maker Kits. Boes was a toy designer for Galoob Toys at the time and familiar with creating product artwork, "Alterian was trying to put these mask kits out, and Loren contacted me in '91, to do the package artwork. He sent me a 'Wailer' mask for reference, and it was done old school illustration style, penciled out and painted on illustration board".
The Alterian Ghost Factory brochure given out at the 1991 Halloween trade show in Chicago. Courtesy of Tony Gardner.
In 1991, Loren drove cross country with fellow Alterian Ghost Factory artist Jim Eusterman to the annual Halloween trade show in Chicago. It was the largest event of its kind for novelty companies to show their products. Tony recalls, "It was in March of 1991. We showed and sold our Ghost Maker kits there - they were the cornerstone of our booth display." Loren and Jim Eusterman dressed in white lab coats taking orders on clipboards.
Alterian Ghost Factory's trade show display pieces. Photo Credit: Courtesy of Tony Gardner
Within months after the trade show, Fun World gave their new in-house designer, Brigitte Sleiertin-Liden, a recent graduate of The School of Visual Arts in Manhattan, a project to adapt existing designs into their own line of Halloween ghost masks. "When this project was given to me, I was given a picture of something similar to what the finished masks would eventually look like. I was asked if I thought these could be made as masks and to do some drawings with a similar look and feel. So I did a bunch of sketches of different faces with that same white, melty face with simplistic black facial feature shapes. I didn't make the decision on which of my drawings would become sculpted into the masks for that assortment. Alan Geller, Stanley Geller, and one of the other product managers at the time decided which ones they liked and moved forward with those."
The original assortment of Fun World's 1992 Fantastic Faces Ghost Masks with shrouds. Photo Credit: John Louis Evilsizor.

The final four masks were ready for retail in 1992 and listed in Fun World's catalog as "Item #9206 Glow-in-the-Dark Ghost Mask with Shroud", available in an assortment of four styles, with either white or black cotton shrouds. Looking at the four masks, it would be very hard to imagine the inspiration came from anywhere other than the Alterian Ghost Maker ghosts. In particular, Loren's striking "Wailer" design.
About a year later, Loren left the special effects industry, "I was tiring of trying to sell masks and work in the makeup effects business, and I gave it all up and moved to Santa Cruz to start a new life with my wife." A year or two later, at the start of the Halloween season, Loren saw something surprising, "I was in a drugstore and saw Fun World's mass-produced, knock-off versions of my 'Wailer' and other Ghost Maker faces. But instead of being sold as a kit, it was a face already attached to a small, head-sized 'sheet'. Clearly, it appeared to be a direct rendering of my original creation. I was a bit amused but didn't pursue looking into it any further as I had left that part of my life behind and was on to a new one."
In March of 1995, Wes Craven was just a few weeks away from principal photography on Scream. Craven and his production team, including producer Marianne Maddalena, were location scouting at the time. There was one unresolved issue looming over them. Marianne Maddalena remembers how hard it was deciding what exactly the perfect mask for the killer would be, described in the script only as a 'ghostly white mask':
"KNB Effects Group had a lot of design sketches and sculptures, but we had not found the look, and it was getting late. We were scouting a house, and I went up to this little bedroom upstairs and saw the mask. I took it, ran downstairs, and showed it to Bruce Miller, the production designer, Wes, and probably Nick Mastandrea, our first AD. I said, 'oh my god, you guys, look at this mask! How about this?' and they said, no… we want to create our own mask'. I begrudgingly put it back in the bedroom. A couple of weeks went by, and I got Wes to take another look at it, and he said, 'let's go with it.' Of course, we had to call and get the rights from Fun World."
The "Wailer" featured on a 1991 Alterian Ghost Factory Xerox Mailer.

Scream was a phenomenal hit, grossing $173 million on a budget of $14.5 million. Tony Gardner remembers he was "Genuinely flattered that they had used our mask design. I really enjoyed the movie and thought it was a great compliment that 'Wailer' was up there on the big screen and in such a great film. I was a bit naive at the time and assumed that since it had been years since we created the mask, there would be no way to fight for it. I also assumed that the movie was a one-time deal and that the ship had already sailed." In 1996, Fun World trademarked the design and named it "Ghostface."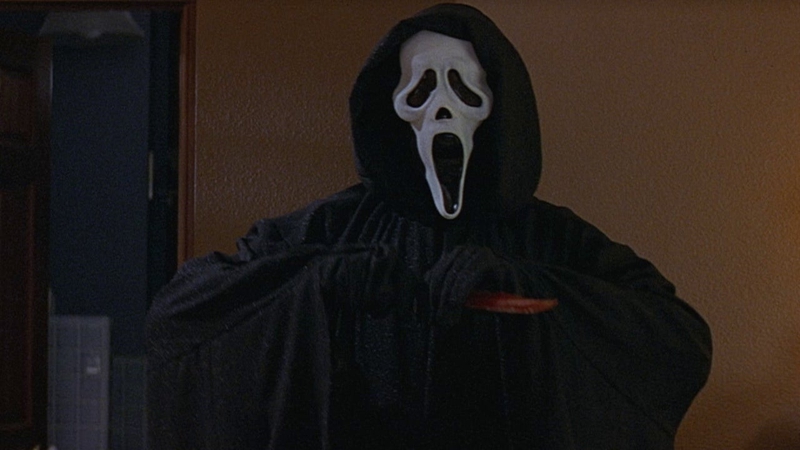 An interview in FANGORIA issue #189 from January 2000 with Brigitte Sleiertin-Linden and Stanley Geller, noted, "The mask was actually designed by Fun World employee Brigitte Sleiertin prior to the movie's conception. Brigitte stated, "The idea is something I worked on with Alan Geller, the vice president of the company… Of the entire assortment, that face was the strongest one." Chet Zar wrote in the July 2000 issue of FANGORIA #194, saying, "I recently read an article in Fango on a company called Fun World that said they designed the mask used in the Scream movies… Well, this is simply not true. The mask was originally created by Loren Gitthens at a company called the Alterian Ghost Factory…The only difference was that it was sold as a mask and not a kit."
From then on, Brigitte's involvement would be denied or ignored in any interviews with Fun World representatives. Today, Alan Geller, President of Fun World, is credited as the sole creator of the design on their website.
Tony Gardner remembers The Alterian Ghost Factory as "A labor of love that was completely self-financed by my wife Cindy and I, with employees like Loren Gitthens, Chet Zar, and more, who shared our same passion for Halloween and all things spooky. So the years that the Ghost Factory existed were a real joy. The fact that our designs were so well liked made the experience all the more enjoyable, and if the artists at Alterian that were involved can get acknowledgment for their creativity and all of the time and hard work that went into launching our business, that would be the most rewarding aspect of all, especially with a design that's become so iconic at this point."
Brigitte Sleiertin-Linden today still looks back fondly on her involvement with the design, "The Scream Ghost is one of many projects that make up my vast portfolio of creative work over a thirty-five plus years career. It has its place in my past and in some ways, it shaped my future. I am always in gratitude for the experience."
For Marianne Maddalena, "This is such an exciting time because I knew when I first laid eyes on that mask that it was special and magical. I'm fascinated with the origins, and if you go to my website, you can see some of the earliest designs of what would become the mask. I'm quite obsessed with the mask, and I'm so glad that so many other people are!"